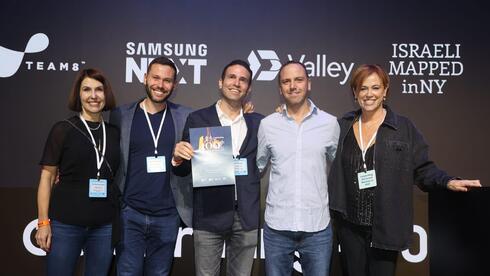 Mind The Tech NY 2022

Israeli entrepreneurs celebrate 400 startups in the New York ecosystem
The announcement was made by Guy Franklin, Founder of Israeli Mapped in NY, at an event during Mind The Tech
New York has officially welcomed its 400th startup which was founded by an Israeli entrepreneur. The announcement was made during an exclusive event with founders, investors, and senior industry leaders who have contributed to or supported the milestone. The event was hosted by Israeli Mapped in NY who awared the certificate, alongside Team8, Samsung Next, and Valley Bank in partnership with Calcalist during its flagship Mind The Tech conference.
"I created Israeli Mapped in NY a few years ago when there were only 56 Israeli startups in New York City," explained Guy Franklin, founder of Israeli Mapped in NY, a crowdsourced map showing people the Israeli startup companies that established a base in New York City, whether by founding or relocation. "Since then, I've been tracking the number of Israeli startups in New York. It is amazing to see the evolution and the change in the verticals of the startups and what the focus is now as opposed to a few years ago."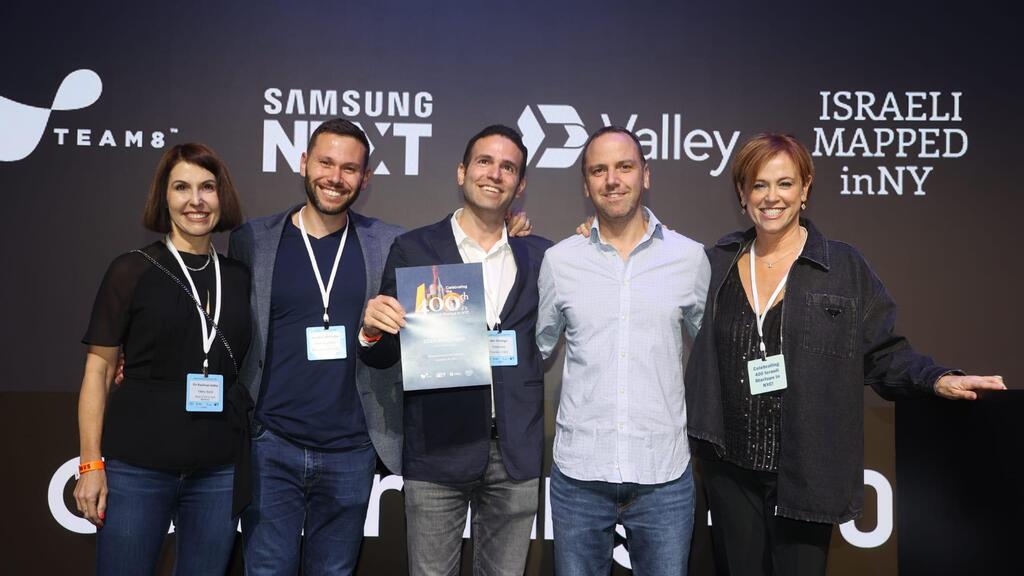 Of course, Franklin is referring to many events that have shaken up the startup world and New York in recent years. The pandemic disrupted the growth of many companies in certain sectors while helping others, notably Cybersecurity and PropTech. Supply chain issues brought on by the conflict in Ukraine have also played a part, although the presence of Israelis in New York appears to be steadily increasing as time goes on.
At the event, it was revealed that Israeli companies Statement and Tweed were officially the 400th and 401st companies to arrive at the New York City scene. Their CEOs Idan Vlodinger and Michelle Latzer were presented with awards on the stage by Guy Franklin as well as Managing Partner at Team8 Group Rakefet Russak-Aminoach; Ori Kaufman Gafter, Bank Leumi's Head of International and Tech Banking; and Jonathan Machado, Managing Director at Samsung Next. Latzer said: "It's amazing to see how much the relationship between the Tel Aviv and New York technology scene has grown, and we are so happy to be a part of it." Vlodinger confirmed it feels "fantastic" after coming to New York in 2015 as a graduate student and today running one of the companies marking the 400th from Israel.
"New York has become a leading alternative for the U.S headquarters for Israeli startups," said Team8 Co-founder and Managing Partner Liran Grinberg. "Compared to Silicon Valley, the time difference is easier to manage, and while in the past New York was missing relevant tech talent, in recent years the city's tech ecosystem progressed significantly and there is more of a talent pool to tap into, across all high-tech industry professions. This includes marketing, customer success, product management, and more."
The venture capital group chose New York City for its U.S headquarters and has had numerous portfolio companies following it in basing their U.S presence in the city. This includes Curv (acquired by PayPal), VisibleRisk (acquired by BitSight), identity security company Illusive, and XIoT Security leader Claroty.
After being one of the hardest hit communities by Covid-19, the event is a testament to how New York City rebounded and accelerated its growth as a major technology hub. "The intersection of industries including finance, healthcare, real estate, and media, coupled with New York City's diversity of culture, provide global entrepreneurs an ample playing field to enter the U.S market," explained Jonathan Machado, Managing Partner in Samsung Next. He himself recently relocated from Tel Aviv to New York City and expects to add to its growing portfolio of Israeli founders in New York City.
The event included the presence of DJ Omri Anghel, who treated the audience to a performance as food and beverages were distributed. The event had an eclectic group of entrepreneurs, investors, VCs, and bankers who each see value in Israelis who seek to strengthen the connection between the two countries.
Ori Kaufman-Gafter, who serves as Head of International and Tech Banking at Bank Leumi USA, added: "Despite volatile economic conditions, and the fact that new infusions of capital are becoming increasingly difficult for technology and innovation companies to source, our data shows that the New York region still proves to be the second largest market in the country in terms of deal activity and value… as part of Valley Bank, we have expanded our line of business to serve PropTech companies by leveraging our success and reputation as one of the premier commercial real estate lenders in the country. We also continue to support FinTech startups through our growing partnerships and by providing access to our experienced product and innovation teams."
The event coincided with Calcalist's Mind The Tech, its flagship conference which brings together experts, industry leaders, and entrepreneurs to discuss pressing economic and cultural issues.