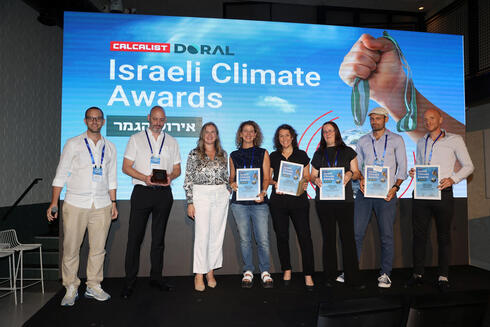 NitroFix wins Israeli Climate Awards
The company, which competed against dozens of other companies, works to produce ammonia in a clean way, with zero carbon emissions
The winner of the Israeli Climate Awards competition, sponsored by Doral Energy-Tech Ventures and Calcalist, is NitroFix, an agriculture and green energy company that works to produce ammonia from water and air without carbon emissions. NitroFix was founded by CEO Ophira Melamed, Meital Alon, and Yehuda Bornstein and has raised $6.3 million so far.
As the winners of the competition, NitroFix will receive several awards including a cash prize of 50,000 NIS ($13,493), advertising credit in Calcalist worth NIS 50,000, $50,000 for piloting the company's technology on Doral sites worldwide, consultation from the Pearl Cohen law firm, and the possibility of a strategic investment from Doral.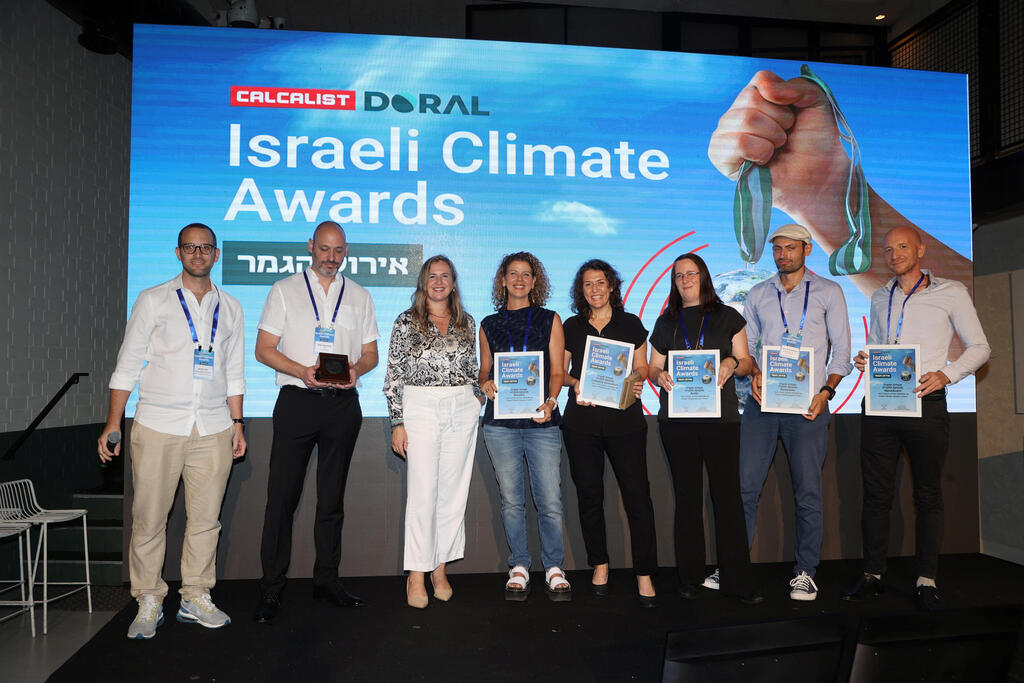 Dozens of companies registered for the competition, with 15 finalists selected for the semi-final round to make their pitch to the panel of judges. Only five companies made it to the final round of the competition, which aims to support new startups in the energy and climate sectors and find Israel's next big breakthrough in the fight against the climate crisis.
One of the finalists was SolOr which develops materials that can be embedded using a spray coating technique on buildings or vehicles, at low temperature and without suction systems. The result is 30% savings in installation costs and a 40-70% reduction in carbon dioxide emissions compared to traditional silicon solar cells.
Criaterra Innovations, another finalist, offers the first technology without cement and without reinforcement for construction products, using a patented protected substitute called BioGeo Agglomerated Stone for bricks. Its manufacturing process emits significantly less carbon dioxide to the atmosphere, without the use of cement, at a low cost and with a short installation time.
Another finalist in the competition was NanoScent, which manufactures solutions for quality control in gas and liquid pipelines using sensors to detect molecules at low concentrations. The company's VOCID H2Confirm solution addresses all pain points and provides quality fuel monitoring throughout the value chain, including fueling stations, green fuel production, and gray fuel production. The advantages of NanoScent include reduced logistics, cost savings for periodic testing and monitoring, and ease of use.
The last finalist was Bomvento, which developed an economic solution for decomposing greenhouse gasses from the atmosphere on a large scale. Bomvento achieves this by converting wind turbines into assets with a dual purpose. In addition to energy production, the company's technology turns the turbine into a tool capable of removing up to 10,000 tons of carbon dioxide annually.
"After the rocky week we went through, there is something optimistic about events like these," said Noa Tamir, CEO of Calcalist. "Above all, we have a planet to live on, and where we must continue to live. We feel the rise in temperatures and understand the implications, but as humans, we are busy with our daily lives. If we don't zoom out from everything, look at things globally, and start working on all the damage humanity has caused to the Earth, we won't be able to continue living here."
According to Tamir, "In recent months, I have been exposed to many startups that operate in areas that are going to improve the world, reduce carbon emissions, and address global warming. It makes me hopeful to see that through technology and creating new ideas, we can solve essential issues critical to humanity. I'll finish with an optimistic message: do not despair and continue to act against all the negative things happening."