Tel Aviv Suburb Ramat Gan to Sprout 520-Meter-Skyscraper
Ramat Gan recently approved plans to add nine additional stories to an already approved skyscraper, bringing it to 120 floors and making it Israel's tallest building
Tel Aviv-suburb Ramat Gan is planning to build the tallest tower in Israel. Last week, Ramat Gan's Local Planning and Building Commission approved a plan to construct a 520-meter-high-rise, a spokesman for the Israel Diamond Exchange confirmed in a phone call with Calcalist Sunday. Israeli newspaper Yedioth Ahronoth first reported on the approval of the construction plan on Sunday.

For daily updates, subscribe to our newsletter by clicking here.

Called Tower 120 after the number of planned floors, the new building is one of three new skyscrapers due for construction in the Israel Diamond Exchange complex in Ramat Gan, complementing its three existing towers.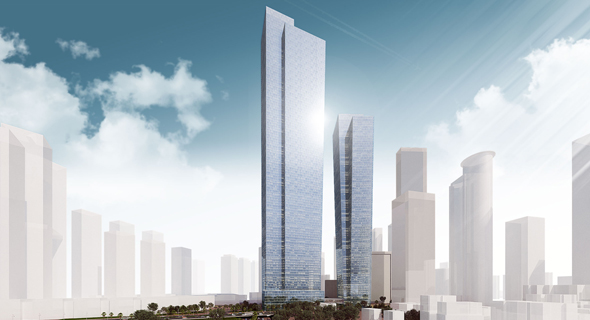 Tower 120 (simulation). Photo: Yashar Architects

Originally approved to have 111 stories, Tower 120 will be Israel's tallest building surpassing the 350-meter, 91-story spiral tower currently under construction at Tel Aviv's Azrieli Center and the 100-story, 400-meter Bein Arim Tower planned for construction on city-owned property on the eastern outskirts of Tel Aviv. As of now, Israel's existing tallest building is the 61-story, 238.5 meters tall Azrieli Sarona tower, located in the vicinity of Azrieli Center, which was completed in 2017.

The revised plan, actively promoted by newly elected mayor of Ramat Gan Carmel Shama-Hacohen, is still pending final approval by the city's District Planning and Building Commission, according to a Sunday statement by the Israel Diamond Exchange.