List
Scale-Up Nation: Six Trends of the Israeli Tech Industry in 2019
From mega acquisitions and funding rounds to new exit opportunities, 2019 has so far been an incredible year for Israeli startups and entrepreneurs, writes venture capitalist Amit Karp
Only four months ago, when the stock market tanked, it seemed like Israel was heading for a very tough year. However, so far, it has been a phenomenal year for Israeli startups—one of the best starts to a year I can remember.

For daily updates, subscribe to our newsletter by clicking here.

Below are some of the top trends we have witnessed so far this year.

Mega acquisitions

Intel's acquisition of Mobileye two years ago for $15.3 billion set a new bar for how high Israeli companies can aim. This year, by buying connectivity chipmaker Mellanox Technologies Ltd. for $6.9 billion, Nvidia reaffirmed that Israel still holds the potential to grow multi-billion dollar companies.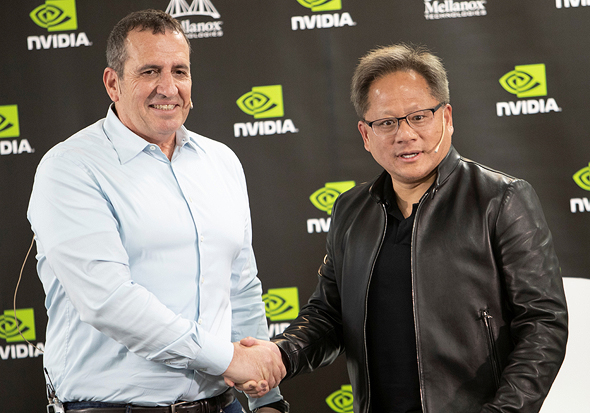 Mellanox CEO Eyal Waldman (left) and Nvidia CEO Jensen Huang. Photo: Gil Nehushtan

These mega-acquisitions paired together with an emerging crop of newer publicly traded Israeli companies finally debunks the myth that Israel is only good for early stage startups. Website building company Wix.com Ltd., worth $6.1 billion, and information security company CyberArk Software Ltd., worth $4.3 billion, to name a few, are not just leaders in the Israeli tech scene, but across the globe.

New set of buyers

We are seeing a new set of non-traditional buyers eyeing Israeli technology and looking to benefit from the local ecosystem in the same way that most of the tech giants have done in the past. Forget Microsoft, Google, and Intel—I believe the acquisition of web personalization startup Dynamic Yield Ltd. by McDonald's for $300 million last month may be a first in a trend of non-traditional acquirers. Just a few weeks ago, Walmart CEO Doug McMillon visited Israel searching for interesting startups.

The emergence of new buyers in Israel opens the door to potential collaborations and acquisitions for Israeli companies.

Cyber is heating up

The Israeli cybersecurity industry has long been recognized as a major source of innovation. However, until recently, many Israeli cybersecurity startups have focused on building a solid product, and then, quickly sold the company to one of the larger cyber incumbents.

This trend has changed over the past few years with many Israeli cybersecurity startups aiming to become category leaders. It was ratified this year as we saw Israeli cyber companies raising larger amounts. Just this month, virtual container security startup Aqua Security Software Ltd. announced a $62 million round, and IoT security company Armis Inc. announced a $65 million round. We have also already witnessed impressive cybersecurity exits this year with Palo Alto Networks Inc.'s acquisition of information security firm Demisto Inc. for $560 million and Symantec Corp.'s acquisition of security company Luminate Security Ltd. for an estimated sum of over $200 million.

IPOs are back

After a long drought in Israeli startups going public, Cybersecurity company Tufin Software Technologies Ltd. listed on the New York Stock Exchange earlier this month and is currently trading at a market capitalization of about $714 million. Tufin is only the first of many Israeli startups poised to go public, assuming macro conditions remain stable. Companies such as online gig marketplace Fiverr Int. Ltd., cloud backup company Zerto Ltd., and online payment company Payoneer Inc., are all rumored to be eyeing an IPO.

Slew of acquisitions across sectors

Since the beginning of 2019, we have seen a large number of Israeli startups getting acquired across a wide range of sectors. Among the companies acquired since January are cloud infrastructure companies Alooma Inc. and CloudEndure Ltd. (acquired by Google and Amazon, respectively); the aforementioned cybersecurity startups Demisto and Luminate; IT service software company Samanage Ltd. (acquired by New York-listed IT management company SolarWinds Worldwide LLC for $350 million) and Dynamic Yield, also mentioned above; video creation startup Magisto Ltd. (acquired by video streaming company Vimeo); and semiconductor company Corephotonics Ltd. (acquired by Samsung).

Mega funding rounds

This upsurge in activity goes hand in hand with a large increase in funding for Israeli startups. Just over a week ago, online insurance company Lemonade Inc. announced a $300 million funding round which brings its total funding to $480 million. Such enormous rounds were unimaginable for Israeli startups just a few years ago. While not all these companies will succeed, this virtuous cycle should lead to more mega exits and larger public companies coming out of Israel, which will improve the pool of talent and further increase funding.

Though the market will have to cool down at some point, it still appears that Israel is rapidly turning into a scale-up nation.

Amit Karp is a partner at the Israeli office of venture capital firm Bessemer Venture Partners, headquartered in Menlo-Park, California. This article was originally published on Medium .