Top Startups
Top Israeli Startups 2020: Most Promising MedTech Companies
CTech publish the Calcalist's list of the most forward looking startups in this promising field, which was only strengthened by the outbreak of Covid-19
Medical technology is one of the sectors that is seeing the biggest boost amid the coronavirus (Covid-19) health crisis. The global pandemic has highlighted new needs and opportunities and expidited innovation. Israeli entrepreneurs who were smart enough to join forces with the country's top medical professionals are now reaping the benefits and delivering products and services that are marching the healthcare sector into the future. Investors around the world are taking note too and if they don't have medtech companies in their portfolios yet, they will be sure to add them in the months to come. Calcalist, with the aid of a committee of investors, consultants, and entrepreneurs, compiled a list of the most forward looking startups in this promising field, which was only strengthened by the outbreak of Covid-19. Make sure to check out our full list of the top 50 most promising Israeli startups.
Tyto Care
Product: remote medical diagnosis tool
Year founded: 2012
Founders: Dedi Gilad, Ofer Tzadik
Number of employees: 50
Funding raised: $105 million
Investors: Insight Partners, Olive Tree Ventures, Qualcomm Ventures, Orbimed, Cambia Health Solutions, LionBird
Tyto Care Ltd. developed a device for remote medical testing and diagnosis. Using a cheap and easy to use tool that non-medical personnel can use on themselves to check their lungs, heart, throat, and ears, Tyto Care's tool delivers the collected information to medical practitioners who could be anywhere around the world.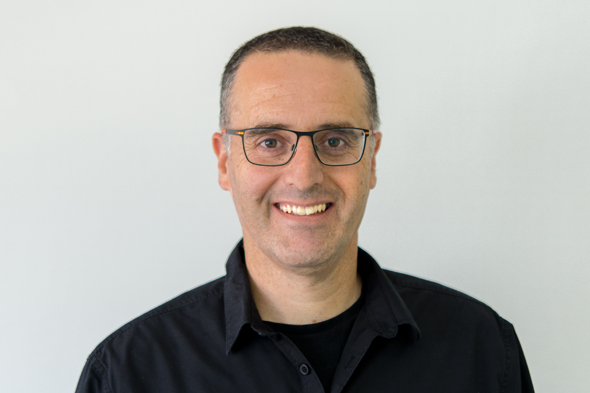 Tyto Care co-founder: Dedi Gilad. Photo: Tyto Care
Tyto Care's device seems to have been made especially for the global healthcare crisis brought about by Covid-19, as it gives patients and caregivers a convenient and accurate method to conduct tests without having to come into the clinic.
Tyto Care announced earlier this month that it had completed a $50 million funding round led by Olive Tree Ventures, Insight Partners, and Qualcomm Ventures LLC. The new funds will allow the company to expedite its development efforts and reduce the cost of its device.
Aidoc
Product: AI-based medical imaging software
Year founded: 2016
Founders: Guy Reiner, Elad Walach, Michael Braginsky
Number of employees: 100
Funding raised: $40 million
Investors: TLV Partners, Magma Venture Partners, Square Peg Capital
Tel Aviv-based Aidoc Medical Ltd. develops artificial intelligence software designed to quickly analyze medical scans, help doctors prioritize the most urgent cases, and expedite treatment of critical cases. The company received four U.S. Food and Drug Administration (FDA) approvals for scans to detect blood hemorrhaging, strokes, pulmonary embolism, and cervical spine fractures. Aidoc's technology is in use in over 300 hospitals worldwide.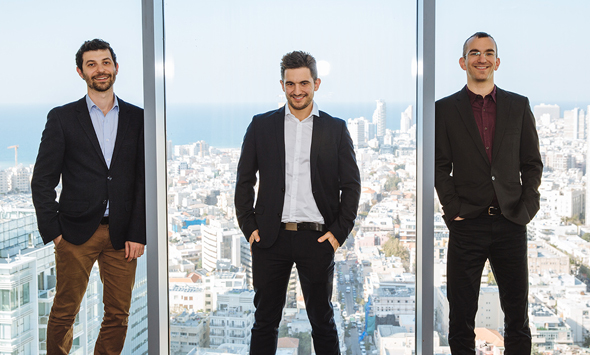 Aidoc's co-founders. Photo: PR

Companies like Aidoc will play a significant role in the world's efforts to return to routine in the post coronavirus era. After a significant period of time in which hospitals prioritized coronavirus patients, all other patients will soon be lining up and efficient technologies capable of determining which patients are in the greatest need of assistance will be essential in providing efficient treatment.

Clew

Product: Predictive medical diagnostic tools

Year founded: 2015

Founders: Gal Salomon, Avigdor Faians

Number of employees: 30

Funding raised: $20 million

Investors: Pitango Venture Capital, Relyens, Agate Medical Investments

Clew Medical Ltd. develops predictive diagnosis technologies meant to help medical teams foresee which patients are likely to experience life-threatening complications. The technology became even more relevant in light of the coronavirus crisis, as one of its main features is monitoring respiratory systems to predict whether a patient needs to be connected to a ventilator between six and 12 hours in advance of the crucial moment.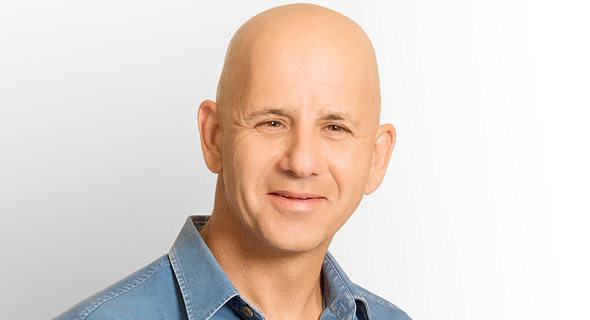 Gal Salomon. Photo: PR

Clew's system can also monitor patients in distant or isolated hospitals and care facilities, relaying real time information to experts in a control room, who can help the local team make medical decisions. This means even a temporary facility that lacks sufficiently skilled manpower can be assisted by remote personnel to save lives in extremely complex cases or during busy times.

Emedgene

Product: machine learning genomic analysis

Year founded: 2016

Founders: Einat Metzer, Shay Tzur, Niv Mizrahi

Number of employees: 40

Funding raised: $8 million

Investors: OliveTree Ventures, Mindset Ventures

Gene medicine is one of the most intriguing and fastest-growing fields in the health industry. In recent years the cost of genetic mapping has decreased 20-fold and the number of new tests hitting the market increases every year. As research in the field progresses, the options to use genetic information in medical decisions grows. The main challenge facing the industry is analyzing the information and its clinical significance, which is where Emedgene Technologies Ltd. fits in with its technology that automates the analysis and interpretation of genetic information at scale. The company's system is already operational in several hospitals and research labs in the U.S. and was recently selected to participate in clinical research on genetics and coronavirus.

Healthy.io

Product: home urine testing kit

Year founded: 2013

Founder: Yonatan Adiri

Number of employees: 120

Funding raised: $96 million

Investors: Samsung Next, Aleph Venture Capital, Ansonia Holdings

Anyone who ever required a urine test must have surely wondered when it would be possible to conduct the embarrassing procedure at home rather than at the clinic. Healthy.io is one of the pioneers in the use of smartphone cameras in telemedicine, using computer vision and artificial intelligence algorithms to analyze chemical color changes to the dipstick and provide users with instant results, including a range of infections, chronic illnesses, and pregnancy-related complications. The company already received U.S. Food and Drugs Administration (FDA) clearance for its smartphone-based urine test back in 2018, meaning it was perfectly placed for the current pandemic.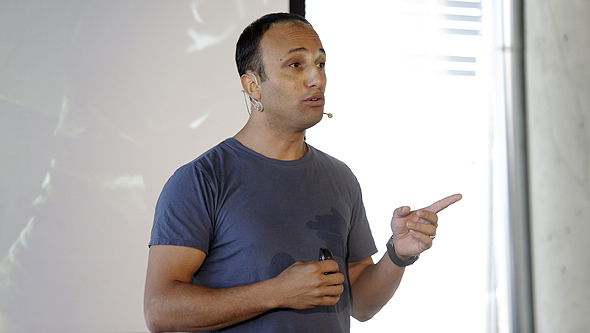 Yonatan Adiri. Photo: Amit Sha'al
K Health
Product: personalized primary care application
Year founded: 2016
Founder: Allon Bloch, Israel Roth, Ran Shaul, Adam Singolda
Number of employees: 110
Funding: $97 million
Investors: Mangrove Capital Partners, Comcast Ventures, Primary Ventures, 14W, Anthem
At a time when millions of people are locked in their homes, their access to doctors and hospitals has become extremely limited, at times, nonexistent. As a result, the significance of Israel-based K Health Inc.'s app has increased substantially. The company—which counts among its co-founders veteran entrepreneur Alon Bloch and Adam Singolda, CEO of content distribution company Taboola.com Ltd.—develops an app that performs initial diagnosis based on existing medical data.
The app uses a database provided by Israeli health maintenance organization (HMO) Maccabi Healthcare Services, that includes anonymous information on about 2.2 million doctor visits collected over 25 years. Once K Health app's review is complete, the app allows users to connect to a doctor for online consultation. Just before the coronavirus outbreak, the company completed a $48 million round, which secures its footing for the future.
MDClone
Product: patient privacy system
Year founded: 2015
Founders: Ziv Ofek , Boaz Gur-Lavie, Erez Luz
Number of employees: 70
Funding: $41 million
Investors: aMoon, OrbiMed Advisors, Lightspeed
Israel-based startup MDClone Ltd. developed a tool to protect patients' privacy by creating a database that synthesises real patient data with fictitious personal information, to ward off would be attackers and minimize the risk of sensitive medical data leaking out.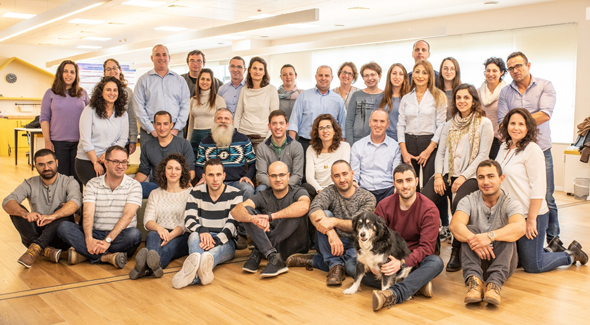 MDClone's team. Photo: MDClone
Maintaining the privacy of patients is becoming ever more crucial with the spread of the coronavirus pandemic. MDClone recently partnered with Israeli hospitals in Tel Aviv and Haifa and with health maintenance organization (HMO) Maccabi Healthcare Services to establish a coronavirus patient database that would allow the transfer of data between medical establishments and researchers, without violating privacy.
Click here for our selection of 2020's most promising cybersecurity startups
Click here for our selection of 2020's most promising deep tech startups
Click here for our selection of 2020's most promising unicorns
Click here for our selection of 2020's most promising logistics and e-commerce startups
Click here for our selection of 2020's most promising entertainment and media startups