Top Startups
Top Israeli Startups - 2020: Most Promising Unicorns
CTech and Calcalist list the one-in-a-million companies that will continue to lead the local tech sector into the future
Crises like the current coronavirus (Covid-19) one can come and go, but unicorns are here to stay. From Monday.com to Via, CTech publishes Calcalist's list of 2020's most promising unicorns. The list highlights the companies we believe may even benefit from the current circumstances and continue to lead the local tech sector into the future. Check out our full list of the 50 most promising startups for 2020.
Monday.com
Product: customizable workflow management solutions
Year founded: 2012
Founders: Roy Mann, Eran Zinman
Number of employees: 470
Funding raised: $234 million
Investors: Sapphire Ventures, Vintage, Stripes Group, Insight Partners, Entrée Capital
Arguably the biggest unicorn of the Israeli tech sector, Monday.com Ltd is currently estimated to be valued at $2 billion. The company ended 2019 with annual recurring revenue of $120 million, a sharp rise from its $50 million in ARR in 2018. The company said it expects to surpass $250 million in ARR in 2020, and all of that without ever leaving Tel Aviv.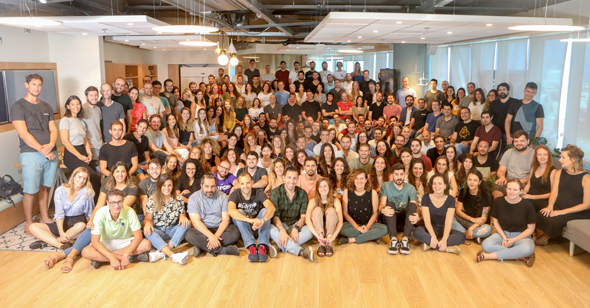 Monday's team. Photo: Shlomi Joseph
Monday.com develops and markets a team management platform for organizations and businesses. Customers can use its platform to manage and track projects, manufacturing lines, and schedules. Approximately 100,000 organizations use the platform, according to company statements, including McDonald's, Hulu LLC, and Danish brewery the Carlsberg Group.
In February the company launched Monday 2.0, a work operating system (work OS) that enables users to build custom workflow apps in a matter of minutes. Monday.com's new operating system includes a marketplace, enabling developers to create and package apps, custom widgets, and workflows for use by their own organization or for commercial use by other organizations.
AppsFlyer
Product: marketing analytics
Year founded: 2011
Founders: Oren Kaniel, Reshef Mann
Number of employees: 850
Funding raised: $294 million
Investors: Qumra Capital, General Atlantic, Pitango, Magma Venture Partners, Israeli businessman Eyal Gura
Unlike many other tech companies, AppsFlyer Inc. was fully prepared when the coronavirus crisis started. The company had already established a major facility in China and Co-Founder and CEO Oren Kaniel told Calcalist on several occasions that he realized early on that the pandemic would not be limited to China. Kaniel instructed the company's entire workforce to shift to remote work practices and made appropriate adjustments to its business plan. Before the outbreak, the company, which offers marketing analytics tools, raised $200 million and is confident regarding the upcoming months. AppsFlyer has more than 12,000 clients including leading brands like NBC, Tencent, HBO, eBay, Nike, and Universal Studios.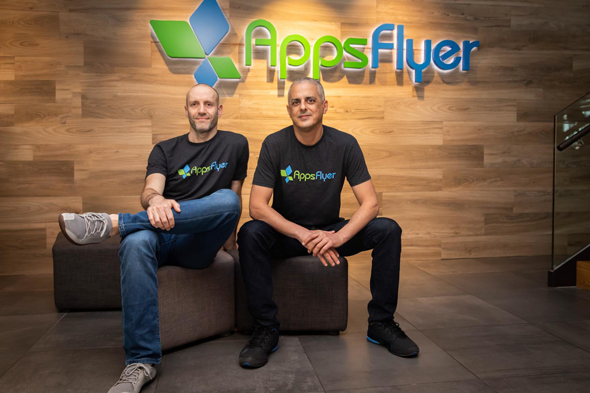 AppsFlyer co-founders. Photo: AppsFlyer
JFrog
Product: software automation tools
Year founded: 2008
Founders: Shlomi Ben Haim, Frederic Simon, Yoav Landman
Number of employees: 550
Funding raised: $226 million
Investors: Battery Ventures LP, Scale Venture Partners, Dell Technologies Capital, EMC Ventures
One of the most profitable companies on this year's list, JFrog Ltd., prefers to keep a low profile. It is considered one of the leading players in the software update industry and counts among its clients giants including Google, Netflix, Mercedes, and Uber.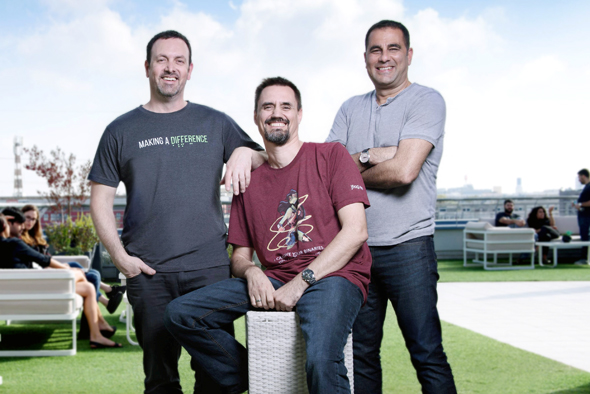 JFrog co-founders Shlomi Ben Haim, Frederic Simon, Yoav Landman. Photo: Shachar
JFrog develops binary code management tools for software developers and DevOps teams. The company's products integrate with different development environments, enabling more efficient application development and update release processes.
Lightricks
Product: content creation apps
Year founded: 2013
Founders: Zeev Farbman, Amit Goldstein, Itai Tsiddon, Nir Pochter, Yaron Inger
Number of employees: 350
Funding: $205 million
Investors: Viola Ventures, ClalTech, Insight Partners, Goldman Sachs
Lightricks Ltd., the Jerusalem unicorn that was bootstrapped for several years, is considered among the leading companies in the world for photo processing mobile apps. The company's founders used knowledge accumulated through years of academic research to develop apps for professional and amateur photographers who use a smartphone camera.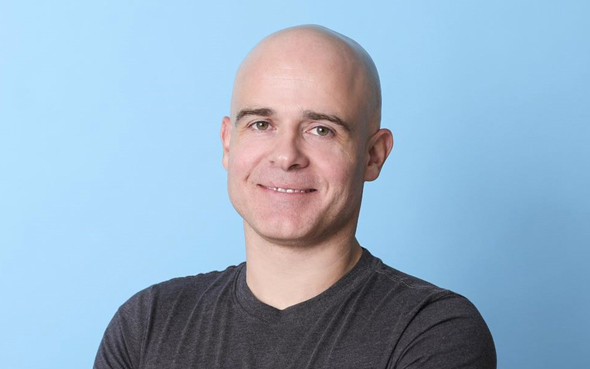 Lightricks co-founder and CEO Zeev Farbman. Photo: Eyal Marilos
Like many other companies related to hobbies and leisure activities, Lightricks has seen a boost in its number of users since the coronavirus crisis started.
SentinelOne
Product: enterprise AI cybersecurity system
Year founded: 2013
Founders: Tomer Weingarten, Almog Cohen
Number of employees: 500
Funding: $430 million
Investors: Insight Partners, Sound Ventures, Qualcomm Ventures, Tiger Global, Samsung, NextEquity, Third Point Ventures, Redpoint Ventures, Data Collective, SineWave Ventures
Israel-linked cybersecurity company SentinelOne, incorporated as Sentinel Labs Inc., stormed into 2020 with reports of a $200 million round led by New York-based venture capital and private equity firm Insight Partners. This investment, coming just seven months after a previous$120 million round, gave SentinelOne a $1.1 billion valuation and a prominent spot on the global map of leading cybersecurity companies.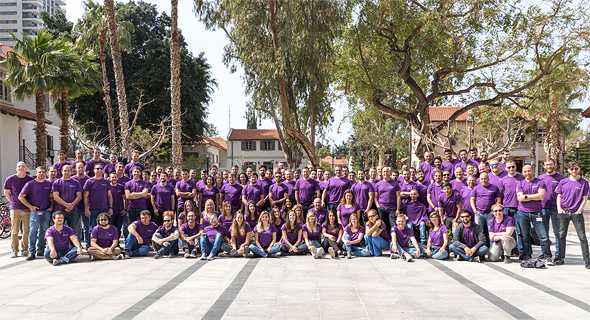 SentinelOne's team. Photo: Dima Revelis
SentinelOne's technology uses artificial intelligence to identify abnormal behavior in enterprise networks and detect cyberattacks in real time. In the coronavirus era, many companies have transitioned to remote work, meaning they now have to protect numerous new endpoints at employees' homes. SentinelOne has thousands of customers and, in light of the crisis, has recently begun to offer some of its services free of charge.
Via
Product: ridesharing and smart transportation services
Year founded: 2012
Founders: Daniel Ramot, Oren Shoval
Number of employees: 500
Funding: $787 million
Investors: Pitango Venture Capital, 83North, Exor NV, Daimler AG
With its latest $400 million round—the largest by an Israeli company in the first quarter of 2020—and a valuation of $2.25 billion, Via Transportation Inc. joined the herd of Israeli unicorns, offering assurances to both the company and its employees, that it is capable of withstanding a few new bumps in the road. The company that started out as a ridesharing service provider began, over the past few years, to provide an increasing number of municipalities with management services for smart public transportation.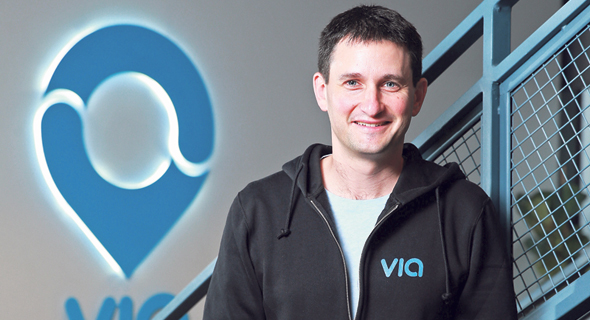 Oren Shoval. Photo: Orel Cohen
As the coronavirus outbreak led to the complete shutdown or significant reduction of public transportation in many parts of the world, Via harnessed the data and insights it had gathered over the years to launch smart shared-transportation services for vital workers in several cities around the world. Via is also currently working on developing tools to better monitor public transportation in the post-pandemic era.
Vast Data
Product: flash-based storage
Year founded: 2016
Founders: Renen Hallak, Shachar Fienblit, Jeff Denworth
Number of employees: 150
Funding: $180 million
Investors: Siemens' Venture Arm Next47, 83North, Mellanox, Dell Technologies, Goldman Sachs
In the new coronavirus world, data is crucial and the major challenge faced by many companies is finding storage solutions. In addition to storing the data, companies and organizations also need to find ways to process and use it efficiently, instead of letting it sit and accumulate virtual dust, in outdated storage solutions. Vast Data Inc. develops software for flash storage designed to provide tiering of data across different types of storage systems, making flash storage more accessible.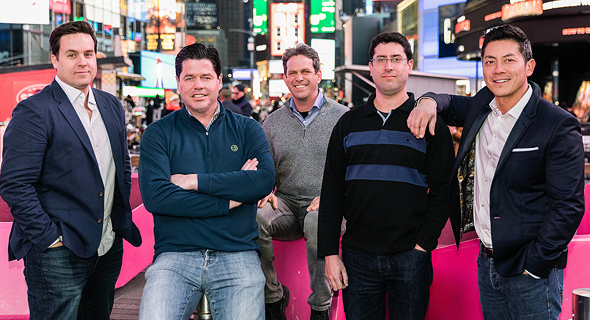 Vast Data's team. Photo: Vast Data
Vast Data lists among its clients Harvard Medical School, medical analytics company Zebra Medical Vision Ltd., and the U.S. Department of Health and Human Services, which uses its services to process vast amounts of data collected on Covid-19.
Earlier this month, Vast Data managed to close a $100 million series C funding round at a company valuation of $1.2 billion, despite the global medical and financial crisis currently unfolding.
Click here for our selection of 2020's most promising cybersecurity startups
Click here for our selection of 2020's most promising deep tech startups
Click here for our selection of 2020's most promising logistics and e-commerce startups
Click here for our selection of 2020's most promising entertainment and media startups
Click here for our selection of 2020's most promising MedTech Companies