Innovation in healthcare technology is setting Israel up as a global powerhouse
The 2020 Covid-19 pandemic catapulted the global medtech industry a decade into the future and Israeli companies were in place to benefit
Home to roughly 1,500 companies operating in the healthcare and life sciences sectors, there is no doubt that Israel is a global powerhouse when it comes to medical innovation. It is second only to the U.S. in the number of companies researching and developing medical technology, with more than 100 new companies on average being founded in the space every year.

The Israeli HealthTech Gateways:

Yair Schindel: aMoon's healthtech anchor

Eyal Zimlichman: Sheba's agent of innovation

Guy Ezekiel: helping healthtech companies grow

Michal Geva: improving digital healthcare systems one at a time

Samuel Cronin: Bridging the gap between the U.K. and Israel

The outbreak of a once-in-a-lifetime global pandemic infused the already red-hot sector with even more energy and capital, as Israeli companies, particularly those dealing with digital health or telemedicine rushed to innovate or adapt their existing solutions to help battle the spread and find ways to cope with Covid-19. As many in the sphere have noted, the outbreak accelerated a decade's worth of gradual adoption into a period of weeks, in which things like remote diagnostics and AI-based triage transformed from aspirations into necessities.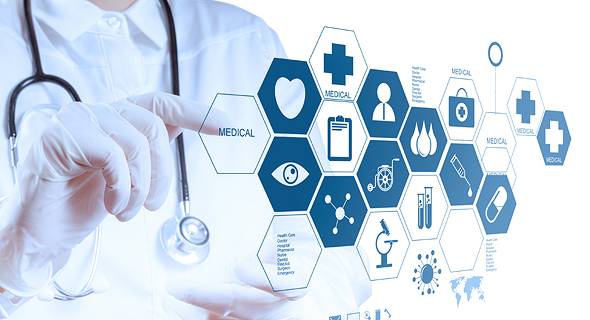 Israel emerges as a healthtech powerhouse. Photo: Shutterstock

According to recent data compiled by Tel Aviv-based research firm IVC Research Center, Israeli life sciences companies raised a total of $1.5 billion in 2019, similar to the sum raised in 2018 ($1.53 billion) and accounted for 17% of the total fundraising sum of tech companies in 2019. So far in 2020 according to Start-Up Nation Central, the digital healthcare sector saw more than $700 million raised in roughly 25 rounds.

According to a report by Israel Advanced Technology Industries (IATI), an umbrella organization of the tech and life science industries in Israel, the percentage of life science companies in advanced stages has been stable over recent years, making up roughly 35% of the ecosystem. An additional 4% are in the revenue growth stage, and the remaining 62% of the companies are still mainly in R&D stages, with fresh investment rounds being launched on nearly a weekly basis.

As befitting such a vibrant innovation ecosystem the healthtech sector has a wide array of sub-sectors ranging from wearable devices to remote diagnostics solutions. According to IATA figures, medical devices is by far the largest sector, making up roughly 40% of all companies, followed by healthcare IT and therapeutics at roughly 30% and the remainder split between half a dozen other subsectors, including diagnostic solutions, agrobiotech, bioinformatics, and industrial solutions. The ultimate tinkerers, Israeli innovators are quick to adopt new technologies and combine them with existing ones to create new and useful solutions. Lately, the major developments have come from the field of AI, machine learning, and deep tech, offering new insights into diseases and ways to cure or treat them.

Focusing specifically on medical devices, biopharma, and digital health, a recent report by leading VC Pitango Capital Partners' HealthTech fund found that 250 companies active in the space had raised a total of $6.5 billion.

But it's not only startups that make up the innovation ecosystem. Israel is also home to scores of technology hubs, R&D centers, incubators, and multinational corporations, all seeking to capitalize on the vibrant local entrepreneurial spirit and solid knowledge foundation provided by the country's top-tier academic institutions such as the Technion - Israel Institute of Technology and the Weizmann Institute and the country's top hospitals such as the Sheba Medical Center and Hadassah, which provide companies a fertile training ground for tests and clinical trials.

The Israeli government also does its share to promote the sphere. In 2018, it approved a $300 million budget to support digital health as the country's next strategic economic growth engine and, earlier this year, government investment arm, the Israel Innovation Authority (IIA) invested tens of millions more in life science companies, particularly those who offered possible solutions for curbing the pandemic. The organization has already identified bioconvergence as the next strategic field it wants to promote, practically guaranteeing the emergence of a new slew of startups that will emerge in the space.

In addition to the government, there is also a vibrant private investment community for Israeli healthtech, which includes angel investors venture capital firms, incubators, innovation hubs, and growth accelerators.

A few of the leading funds investing in the space are Pitango HealthTech, Triventures, aMoon, Sanara Ventures, Insight Partners, Olive Tree Ventures, Qualcomm Ventures, Samsung Next, Aleph Venture Capital, and Mangrove Capital Partners.

Though few of the companies are what you'd call household names, some of the most prominent companies in the industry include Theator, Tytocare, Healthy.io, Nanox, MDClone, and Clew.

As Covid-19 continues to disrupt the world in general and the healthcare sphere in particular, in addition to pervasive problems like hospital overcrowding, malpractice lawsuits, and an unending proliferation of environment-caused sickness and disease, you can be certain that Israeli startups will be on the frontlines of the battle, employing the newest and most innovative technology to help save and improve the lives of people around the world.