Covid-19, technological shifts, and piles of cash have resulted in a "perfect storm for cyber"
Glilot Capital's Kobi Samboursky discusses the sector's historic quarter and why there's no turning back from the shift to the cloud
Israel's cyber industry just completed a record-breaking month in terms of capital raised, rounding up a quarter that saw a total of $1.5 billion dollars invested in companies that are active in the local ecosystem. With sums on this magnitude, Israel comes second only to the U.S. in terms of investments in the scorching sector.

The recent developments are a continuation of a trend that saw record sums invested throughout 2020, reaching an accumulated $2.9 billion. That year saw a 70% increase in investments in Israeli cyber companies, which made up 31% of total worldwide investments in the sphere.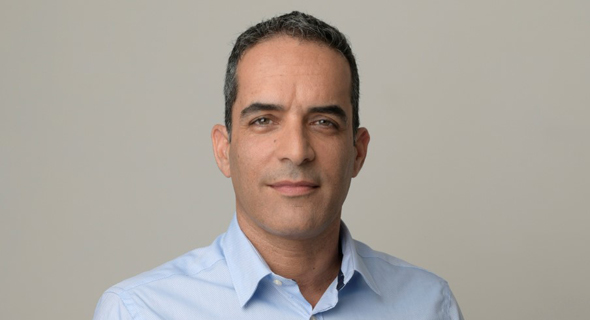 Kobi Samboursky, founder and Managing Partner at Glilot Capital Partners. Photo: Ben Yitzhaki
Funding rounds of $100 million to $200 million and valuations in the billions have become commonplace over the past quarter, with standout rounds by Snyk, which raised $300 million at a valuation of $4.7 billion, Orca Security, which raised $120 million at a valuation of $1.2 billion, Aqua Security which raised $210 million at a valuation of $1 billion, and Fireblocks, which raised $133 million. Perhaps the starkest example of the state of the industry, however, is Wiz, a company that was founded only a year ago and has already raised $230 million and hit a valuation of $1.7 billion.
Few people are better suited to attest to the levels of activity in the market than Kobi Samboursky, founder and Managing Partner at Glilot Capital Partners, who has been involved in the industry, first as an entrepreneur and later as an investor for well over a decade. Glilot Capital Partner was founded in 2011 by Samboursky and Arik Kleinstein, who were later joined by Nofar Amikam and Lior Litwak. The fund manages $500 million and recently launched Glilot+, a $170 million growth fund focused on software and cyber companies.
"What we're seeing now is a perfect storm made up of the effects of the Covid-19 pandemic, technological developments — chiefly the widespread transition to the cloud— and a robust investment ecosystem," he said in an interview with CTech. Samboursky maintains that the conditions justify the high valuations and capital raises, assuring that we are not in the midst of another tech bubble, but does not shy away from pointing out the potential pitfalls that some companies may see down the line.
"It's impossible to overestimate the importance of the transition to the cloud that we've experienced to a heightened degree over the past year and its importance to the Israeli tech sector. It's essentially a new category and Israeli companies have an opportunity to take on leading positions," he said, noting that the new Israeli players were in a strong position because, unlike traditional cyber companies that deal primarily with network security, they are predominantly focused on the cloud.
"Companies that built themselves up from scratch to provide solutions to the cloud environment have better potential even than the large players, like Microsoft, Check Point, or Palo Alto, who may have acquired such solutions, but were not born into the cloud," he said.
Another element that needs to be addressed when talking about the contemporary investment ecosystem is the reemergence of special purpose acquisition companies, or SPACs, which have taken the local sector by a storm over the past year.
"SPACs became eager to enter the space just as the traditional stock market began looking further off. For us, it is beneficial because it brought Nasdaq closer within reach, but it isn't an option that should be pursued at any cost," Samboursky stressed. "Several of our portfolio companies were approached by SPACs that promised mergers at extremely high valuations, but we advised against it. I think that founders should weigh everything that goes into being a publicly traded company before saying yes to such an offer. If the CEO thinks they can meet the demands, I think they should consider it. My issue is not with the process, but with the company's level of readiness to the strict demands."
Samboursky doesn't believe that the market conditions will alter significantly once the pandemic has evaded and things like social distancing and travel restrictions are gradually eased. While recognizing that the transition to remote work, education, and shopping played a big part on the demand side, particularly as a result of the dramatic increase of cyberattacks and the need to protect a wider attack surface, he says that the return to normal won't reverse things.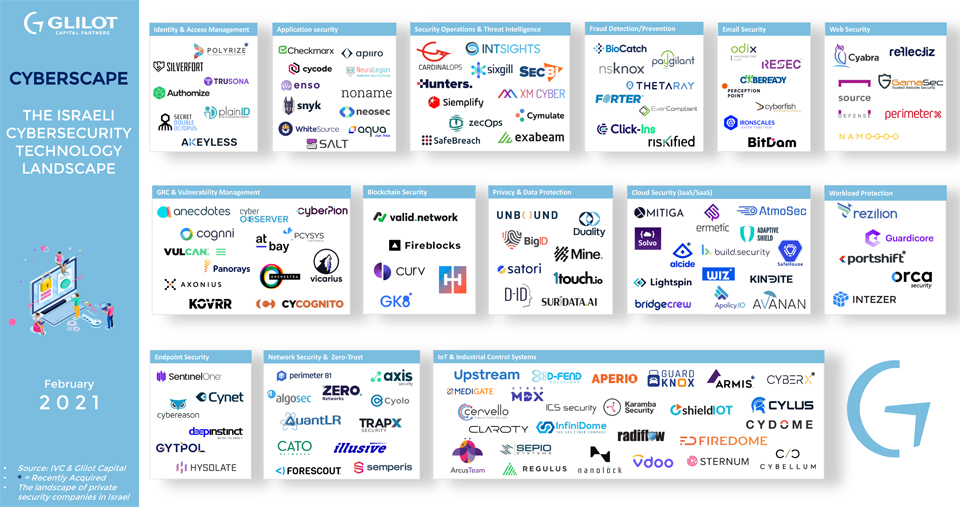 Glilot Capital and IVC's Israeli Cybersecurity Technology Landscape 2021

"Anyone who has already transitioned to the cloud, won't go backwards now and won't throw away the infrastructures they've already put in place," he said. "There may be a brief period of indecisiveness or uncertainty, but what the pandemic did was essentially fast forward the space several years into the future. You don't hit the rewind button after you've done that."

Not only that, Samboursky says that there are some cyber sectors that are only taking their first steps and in which Israeli companies have the potential to take on market-leading positions. He noted, in particular, the 'Shift Left' trend which introduces cyber considerations earlier on in the development process, bringing developers into the security game with specialized tools, the world of IoT protection, which is still in its early days, and the potentially massive market when it comes to connected vehicles that has the entire industry salivating.

Where does all that leave VC firms like Glilot? Samboursky said that on one hand, the task of raising capital for funds has become a lot simpler, "I'd even call it very easy," he quipped, but when it comes to getting a seat on the investor's table, things have seldom been tougher. "We need to explain to investors why they should take money from us and not the dozens of other offers that they're receiving," he said.

Samboursky said that the team at Glilot has built a set of tools to help entrepreneurs, with a majority of the company's personnel, the company's Value Creation team, currently dedicated to that end. The funds' advisory board boasts nearly 100 experts, with more than half of them specializing in security. The fund also offers its portfolio company founders a profit-sharing model, which sees them receive a stake in the fund. All that help and expertise are necessary, Samboursky said, because the demands of the market are much higher than they used to be. "The market is very accepting of new technologies, but it requires results quickly. Nowadays, you are expected to be a market leader within a year or two after the launch." He noted that a majority of the funds' work comes after the investment is over, in an effort to help the companies grow and scale up and be better placed for the next round or the anticipated exit.

Perhaps the biggest pain point in the local cyber industry these days is the shortage of qualified personnel. "The manpower obstacle is there in every stage of the startup's life, from development to sales and marketing, and is another reason for the large funding rounds. In order to remain competitive, companies have to be prepared to offer high salaries, though having a buzz around the company and having a reputation for being innovative also helps recruit top-tier talent," Samboursky said. He noted that the talent shortage is already causing some companies to look outwards, beyond Israel's borders in their quest for constant growth. "It frustrates me to see young startups work with programmers in Ukraine, but on the other hand, they can't afford to sit around for months waiting for a local hire to be trained. This is a unique opportunity to bring new people into the fold." In addition to his role at Glilot, Samboursky co-chairs an organization called Power in Diversity Israel, a joint venture of over 40 Israeli VC firms and over 120 Israeli start-ups, with the goal of promoting diversity and inclusion in the industry. "We'd love to see more women, ultra-Orthodox people, and minorities involved in the sector and with CEOs seeking to expand, there is a great convergence of interests."

At the end of the day, Samboursky maintains that despite the challenges, the Israeli cyber sector is destined to continue to grow. "It's not to say that there will be an uninterrupted string of successes, there are sure to be some companies that fail, but the market has shifted considerably. Even the bad guys have realized that cybercrime is their future, so the game of cat and mouse is not going to end."