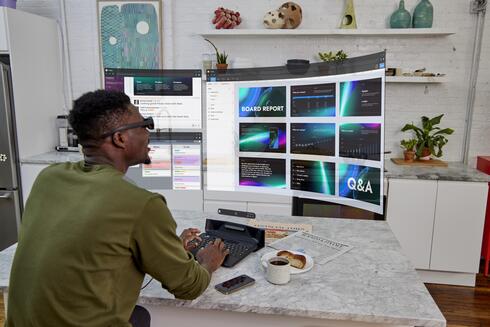 Review

Looking good: Israeli startup Sightful takes on Apple in AR glasses race
Sightful's Spacetop, a laptop with no physical screen that comes instead with augmented reality (AR) glasses, is being sold for $2,000, far cheaper than the $3,500 Apple is asking for Vision Pro. Calcalist shares a first look at the Israeli company's technology
What is the ideal size for a computer screen? The answer depends on various factors. If it is a stationary screen, you have to consider the available free space on your desktop. In stores, you can find screens larger than 40 inches. If you're using a laptop, the next question is whether you intend to carry it around. If portability is a priority, you may prefer a smaller screen and a lightweight computer. However, if it will mostly stay at home, then a larger screen can be chosen. Some people work with two screens and, if necessary, connect their laptop to a docking station.
Israeli startup Sightful offers an alternative solution—a virtual screen that is incredibly large. Their product, called Spacetop, is a laptop without a physical screen. Instead, it primarily consists of a keyboard to which augmented reality (AR) glasses are connected via a cable. Additionally, there is a webcam located in the middle of the keyboard. The result is a large screen experience (with the company boasting about 100 inches) that is accessible anywhere, but only visible to those wearing the glasses.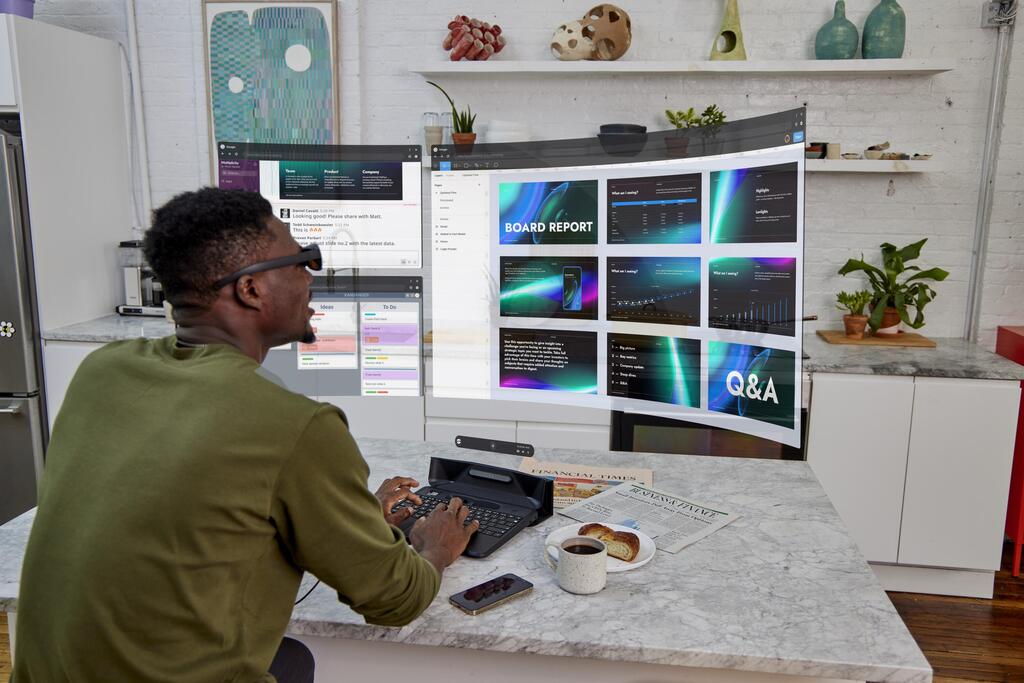 The company has been developing this device for approximately three years and recently launched it for a limited sale. They are offering a thousand units at a price of $2,000 each. The founders, Tamir Berliner and Tomer Kahan, are eager to receive user feedback from both the company's tests and customers who purchase the computer. They are keen to hear what users would like to see in Spacetop.
Berliner was one of the founders of Primesense, which was behind the XBOX Kinect camera, and was later sold to Apple for $350 million. After the sale, Berliner moved to Magic Lip, which developed augmented reality glasses, and managed the development center in Israel. Kahn also worked at Magic Leap, which developed augmented reality glasses, and managed the development center in Israel. Kahan also worked at Magic Leap (after working at N-Trig, which developed touch screen technology) and the two left the company to found Sightful.
Berliner was one of the founders of Primesense (the company behind the Xbox Kinect) which was sold to Apple for $350 million. Following the acquisition, Berliner joined Magic Leap, a company specializing in augmented reality glasses, where he managed the development center in Israel. Kahan, who previously worked at N-Trig (known for touch screen technology), also worked at Magic Leap. Eventually, the two decided to leave the company and establish Sightful.
The glasses don't cut you off from the environment
During a visit to the Sightful offices in Tel Aviv, I had the opportunity to briefly experience the device. So, how does it work? I put on the glasses, and a concave virtual screen appeared in front of me with several open windows scattered across its length and width. The glasses, manufactured by Nreal, resemble sunglasses but are slightly heavier with thicker arms. They are not sealed, do not stick to the head, and do not obstruct the user's view of the surroundings.
Users who wear prescription glasses will receive lenses with the appropriate prescription that attach to the computer glasses. Personally, I require glasses for distance vision but don't need them when using a computer. However, when using the Spacetop, I found that the additional lenses were necessary.
The windows appear to hang in the air against a black background. However, I could still see the room between and around the windows. If I needed to look at the keyboard, it was also visible. I reached for the keyboard and started rearranging the window positions, resizing them as needed. In the background, Berliner and Kahan expressed their satisfaction, saying, "Did you notice that we didn't explain how to use the computer? You already know this environment."
The various windows displayed YouTube, Gmail, WhatsApp Web, a Google search window, and more. Instead of a "Start" menu, the system developed by Sightful is based on Android. Berliner explains that this allows the company to make adjustments. In the center of the screen, there is a bar-like interface that, when clicked, shows the various applications that can be opened.
Under the hood, Spacetop features Qualcomm's Snapdragon 865 processor, 8 gigabytes of memory, and 256 gigabytes of storage. These specifications are more reminiscent of a smartphone than a traditional computer. The company encourages users to rely on network services rather than local storage. Therefore, Sightful assesses the needs of each potential buyer to determine compatibility. During the brief demo, the computer experienced a momentary freeze and reboot, indicating a need for more powerful hardware, which is likely to be developed in the future.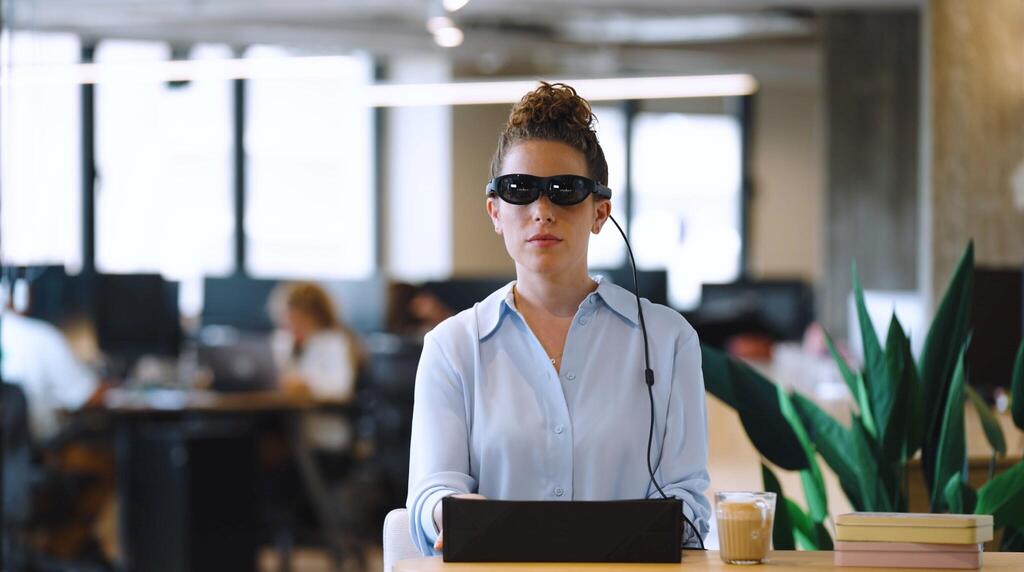 A new order for multi-tasking
Although the virtual screen remains fixed in place, it does not restrict user movement. I tested this by moving to another side of the room while keeping the computer and glasses connected. Surprisingly, the screen remained in front of the chair I had been sitting on. Even when I moved to the opposite side of the table, I could see the back of the virtual screen.
To relocate the screen, users can press two shift keys on the keyboard. The keyboard also includes a button to temporarily hide the screen, allowing users to communicate with others and see them without removing the glasses. To focus on a single window or zoom out to see all open windows, users can perform a three-finger gesture on the mouse pad. These features require a separate explanation, but beyond that, the work is similar to using any normal computer. There is no need to learn special gestures, reach for a virtual screen, or use special accessories.
Initially, it may seem cumbersome to move the window you want to work on to the center of the display each time. For example, if YouTube is open at the bottom, you can easily move it up to bring it in front of you. However, I quickly adapted to this new arrangement. You only need to turn your head slightly to switch to another window, which is similar to working with two screens or a large screen. Not all windows require constant and prolonged attention. It's effortless to glance at WhatsApp, check emails, and then return to another window.
Berliner explains that when working with a computer, we often perform multiple tasks simultaneously, even if we don't realize it. We create our own arrangements—organizing open tabs, grouping them, arranging windows in a specific order, and more. It's easy to get lost between windows. Sightful aims to replace this complex arrangement with a layout that combines all windows on a single screen, and there is logic behind this approach.
In its developer conference on Monday, Apple unveiled its own AR headset, which it named Vision Pro. Berliner and Kahan didn't seem concerned when discussing potential competition from Apple or Microsoft when I discussed it with them last week. "Bring it on," they unequivocally responded.
"If such large companies launch such a product, it means that our situation is excellent," said Berliner. As far as the founders of Sightful are concerned, they already have a product out there, even if only in limited circulation. They value feedback and have plans for the future. If they are not the only ones in the market, it signifies their success.
In addition, the Spacetop is set to go on sale for $2,000, far cheaper than the $3,500 Apple is asking for Vision Pro.
Apple's Vision Pro, pitted against Meta's Quest line and PlayStation VR from Sony Group, marks the iPhone maker's first foray into a new product category since the Apple Watch was launched nine years ago. The headset, that looks like ski goggles, blends virtual and augmented reality features, allowing its wearer to see digital content superimposed on their surroundings. Users can virtually project the apps onto the space around them and control interactions with the apps through eye movement, hand gestures and voice.
Reuters contributed to this report
First published: 16:05, 06.06.23