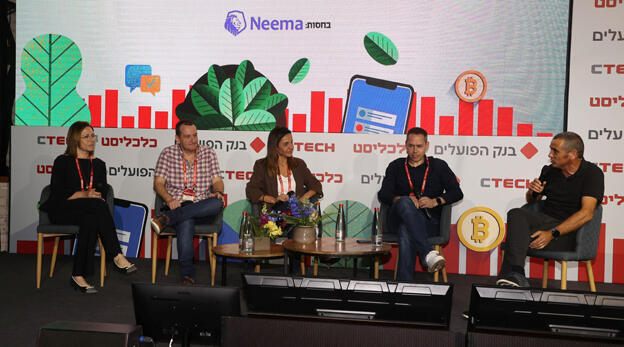 "In the next two years there will be a significant collapse in the fintech field"
Avi Eyal, co-founder of Entrée Capital, said that in the last quarter the amount of investment in fintech fell by 23% and he believes it will continue to fall. Yodfat Harel Buchris, Managing Director at Blumberg Capital, doesn't agree. "I do not recognize a decline in the trend but a change in the mix"
The upcoming trends in fintech investment were at the center of a panel held this week at Calcalist's fintech conference featuring Avi Eyal, co-founder and Managing Partner of Entrée Capital; Yodfat Harel Buchris, Managing Director at Blumberg Capital; Avivit Bender, Chief Corporate Development and Fintech Officer at Bank Hapoalim; and Tomer Michaeli, General Partner at Viola Fintech.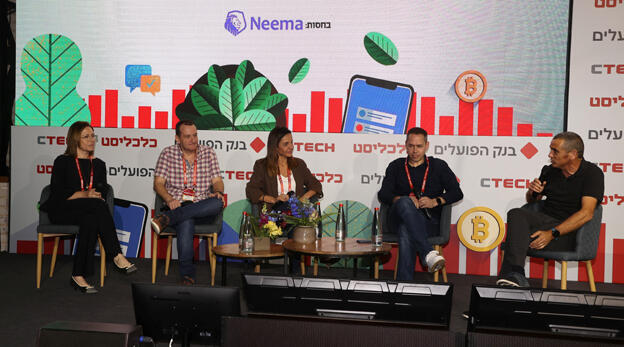 Fintech in 2022 is not the fintech of 2021. What are you expecting this year?
Avi Eyal: "Our specialty is in fintech. In the last quarter, the amount of investment in fintech has decreased by about 23%. I believe it will continue to decrease because there is a macro crisis and fintech will also have a big crisis. Companies that have raised a lot of money acquire users for insane amounts. There will be a significant collapse in the fintech field in the next two years and one has to think carefully about what is going to happen. The cheap money of the past will be gone."
Yodfat Buchris: "I am a partner in an American fund and also a director of a competing bank, I see the world from two angles and I do not see a change of trend. Israel ended the first quarter with $1 billion in fintech investments and I do not recognize a decline in trend but a change in the mix. There is less money from foreign investors in the industry and the trend is to go to the worlds of capital market and wealth tech. We see a decrease of 18% in the value of financial investments but an increase of 7% in the amount of transactions. We saw a sort of investment binge by the big funds and now there is a return of focus to the early stages."
How do you see the change in the industry?
Avivit Bender: "As long as we are in a rising interest rate environment, the volume of investments will be lower. We see excellent companies that compromise on their value to try to expand funding rounds. The value remains the same and is no longer on the rise. Also in the stock market the value of technology companies is eroding and that slows the pace a bit. But fintech is here to stay, it is not going anywhere and we will see a significant volume of investment. Bank Hapoalim has a very broad strategic view, we invest in fintech companies and we have a goal - to give customers the best value proposition. It is not a matter of cheap or expensive money but of a strategic partner and the entrepreneurs see tremendous value. We do not only invest in existing fintech companies but also find business partners and we establish fintech companies from the ground up."
How do you see the issue of investing in fintech companies?
Tomer Michaeli: "I think there is a bit of justice being done, because what we see is that there is a decrease of about 20% in fintech investment, although in Israel we do not see it yet. If there is a decline it will be temporary, a kind of counter-reaction to 2021 that was disproportionate. We are very enthusiastic about Israeli and international fintech. I think that even if there is a decline, it will be temporary and the money will flow to fintech in the coming years. "
Are there any future scenarios in which there may be layoffs of employees in fintech?
Avi Eyal: "There will be layoffs in every field. There are a few things happening in the market that produce consolidation, one of which is that there are wallet products like Amazon's wallet that will expand their capabilities. When such entities add another feature from their system - it strengthens their app but hits small companies."
So what will investments look like this year?
Yodfat Buchris: "We need to be responsible with money. I want to say we are seeing a change, we are seeing a decline to early stage and it is not certain that valuations have gone down. In the fourth quarter and first quarter of the year we saw massive entry into the industry and it will lead to consolidation. Big companies have entered this technology, they will acquire it, they will be aggressive. We as early stage investors will have a harder job - identifying trends. We will change the mix and for sure, we will not invest more in payments but in more interesting things. There are now companies that deal in specific areas, such as loans to certain doctors' clinics - they will no longer exist but will merge."
Will there be more collaborations?
Avivit Bender: "The attitude has changed both on the part of the bank and on the part of fintech companies. In terms of trends that interest us, there is the issue of embedded finances, content companies that want to make products and services accessible, financial institutions that want to make services accessible, the world of online commerce, companies that provide infrastructure solutions for businesses and the crypto world. Crypto is not just for speculators, everything interests us."
Will web 3.0 take a step forward this year?
Tomer Michaeli: "We recently published our annual fintech report and we really see in the report the maturity of certain verticals. We see very significant growth in crypto and blockchain and this trend will continue. This is a very interesting opportunity."