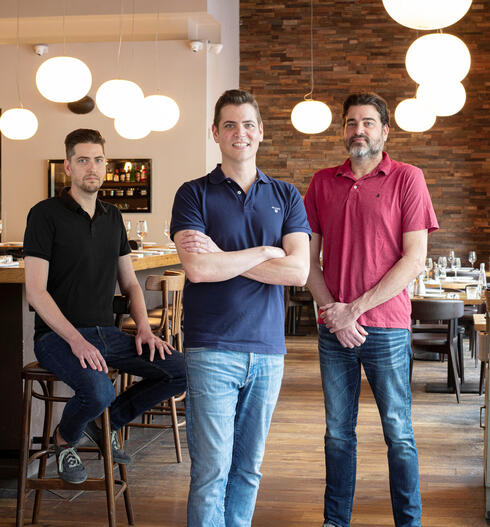 Reservation Nation: How startup Ontopo is revolutionizing online restaurant booking
Danny Glikman hated the fact that to make a reservation at a restaurant he had to pick up the phone. So he founded Ontopo and invented a restaurant seating management system that allows customers to reserve a table online and has already reached a value of $50 million
Danny Glikman (41) was supposed to be a professional basketball player. This was the dream and that is what everyone around him intended for him, as someone who was the captain of the basketball team of Kiryat Ata in his youth. But then, at the age of 17, Glikman tore the ligaments in his knees during a game and the dream was cut short.
The injury completely changed the course of his life. "My plan was to become a professional athlete or a combat soldier. But because of the injury, I was given a low military profile and that led me to a course in computer programming at Mamram," says Glikman, who walks around with a constant smile on his face, "and here is where my older brother Nir joins the story. He got a computer at the age of 3 and has been a builder and programmer ever since. But in the army he was a combat medic in southern Lebanon because he had a high profile. So like a big brother, he told me 'go test out for the programming course, but there's no way you'll pass'. And that gave me even more motivation. Then when I was accepted, he told me: 'Well, you'll be kicked out in the middle of the course anyway.' Later, when I went to the officers' course he told me 'why are you trying to become an officer, you'll be rejected anyway, it doesn't suit you.' It was all about him teasing me and that's how he pushed me further and further to succeed."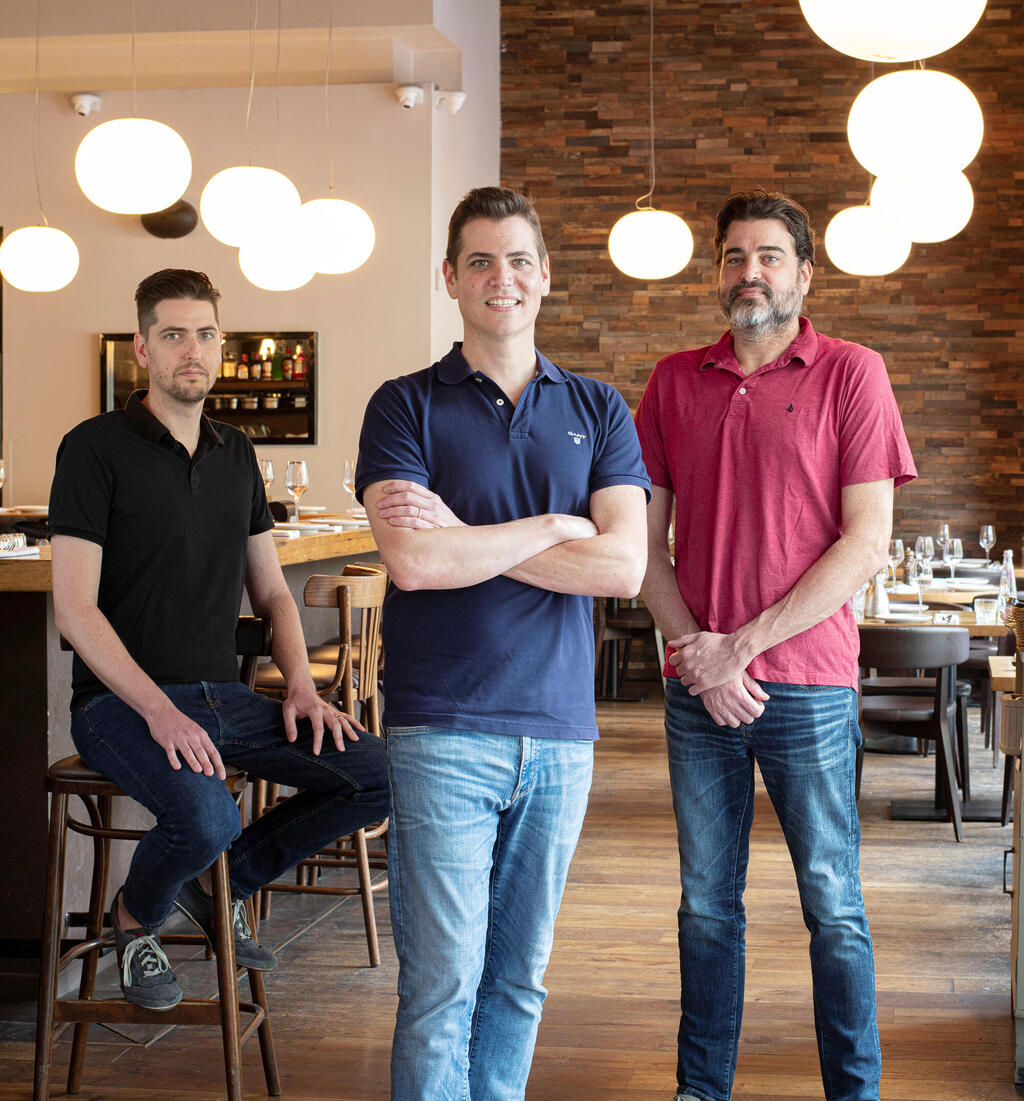 This push, and also the family feelings, went very far. Today Danny is the CEO of the company he and his three brothers founded - Ontopo, a platform for restaurant reservations, which identified the big hole in the field and took it over in a short time.
This is Glikman's first media interview and the company's first exposure, even though it already dominates the market and works with 730 restaurants out of 1,300 in Israel where reservations can be made in advance ("In Israel there are over 10,000 places that are defined as places that sell food, but there are only 1,300 restaurants with food service and waiters"). According to Glikman, dozens of restaurants join Ontopo every month. "We also provide service to cafes, bars, and wineries that were open during the pandemic and became part of the recreation culture. Since the beginning of the year, more than 5 million people have searched for a place through Ontopo, and about 1.6 million reservations have been made through us."
How was the idea for a restaurant reservation company born?
"I like to solve problems. In the office, people always came to me with problems and I solved them. In 2016, I identified a market failure in the field of culinary entertainment: those who wanted to go out to a restaurant would get stuck on the phone, calling the restaurant, hearing the hostess say, 'Wait on the line, I'm checking', only for her to come back on and say that there is no room. I said to myself: there is an opportunity here and we can correct this."
There were reservation services even before Ontopo.
"True, Rest and ClickATable were working then. But their service was: leave your details and the hostess will get back to you when she has time - and in parentheses - never," says Glikman, laughing. "We realized that in order to provide a real solution, we needed not only to connect the restaurant with the customer, but above all to help the restaurants manage their availability in an optimal way. So we built a system for managing orders and tables, which along the way also helps the restaurateurs to maximize profits. Based on the system, we were able to build a website that shows the customer what really is available, so that they can independently book a place without waiting for a person on the phone."
But restaurants have always worked with a place management system.
"Before Ontopo, their process was complicated. The hostess would go around the restaurant and look at the tables to see if there was a table free, or check a written list. We built a system that tells them exactly where there is room, for how many people, in a smoking area or not. This will streamline seating."
Your system is not always accurate. Sometimes Ontopo shows that there is no room in the restaurant, when in fact there is.
"The system we built takes into account many considerations, many of which are not visible to the naked eye. For example, how many guests can the kitchen receive given its staffing status during that shift. Or what time the wait staff and kitchen workers have breaks. It may be that the restaurant does not look full, but within 15 minutes, all the guests who reserved places arrive all at once. Many things related to the management of the restaurant itself are taken into account at the time of reserving a table on the website. However, it is true that there are considerations that the host or hostess can take into account on the spot, which Ontopo cannot."
Ontopo's business model is based on a monthly subscription fee - $200 - paid by every restaurant that uses its system. The system, which is managed in the cloud, allows the restaurant not only to manage orders and customers, but also to save manpower because it allows customers to make reservations even during hours when the restaurant is not operating. "This way there is never a problem of availability," says Glikman.
But there is a matter of privacy. With each order, the customer leaves personal details in your system such as phone number, email address and culinary preferences. This is data that can be sold to restaurants that want to target potential customers.
"Ontopo does not collect personal information. All the data taken from the consumer is transferred to the restaurant, and is not kept by us. We only collect statistical information, such as when do most people want to sit in the restaurant? Are most of the orders for couples, or parties of three or more? What is the preferred time to dine for most customers? Again, this individual information is only in the hands of the restaurants, who use it to optimize their operations."
And yet, the fact that your system allows restaurants to keep information about customers - there is still an element of invasion of privacy.
"This is statistical information, not marketing. A restaurant can use it to know which area is most in demand, when it should have more servers and if it should open earlier. It is not used for advertisements to customers, unless the customer has explicitly confirmed to the restaurant that they are interested in becoming a club member or agreed to be added to their mailing list. This is similar to HMOs where you make an appointment with a doctor, and then they call the number you supplied the day before your visit to confirm your appointment. It's the same idea.
"We advocate strongly for a privacy policy and operate according to the spam law. There are also no pop-up ads for special offers on our website. It is important to us to keep the service clean, and for it to only be used to log in and reserve a table. Just as you order a taxi with Gett, you order a place at a restaurant on Ontopo, in a very clean way."
Ontopo's story begins with four brothers - Tal (54), Nir (48), Danny (41) and Roni (39) Glikman - who were born to a Dutch mother and an Israeli father, a navy man, and wandered between port cities depending on their father's work: Tal and Nir were born in Haifa and grew up in Eilat, Danny and Roni were born in Eilat and grew up in Kiryat Yam. Today Nir and Roni are residents of Tel Aviv, Danny lives in Hod Hasharon and Tal lives in the United States, and all are active partners in the company: Nir is VP of Technologies and Product, Roni is VP of Development and Tal is a shareholder.
The family reservation empire was not born at a sought-after table in a glittering restaurant in Tel Aviv, as one might have assumed, but in the storage room of Glikman's Tel Aviv apartment. At the beginning of 2014, he was working at CSSN, which developed a platform for document scanning, when he decided to establish a startup based on his idea for a restaurant management system. In order to fulfill the dream, he first had to recruit his brother for the mission. "I learned everything I know from Nir. He always told me where to study and what to do, and later helped me make the right career decisions. He is also a technology guru for me, because he was always up to date on everything. He worked at Texas Instruments and HP, and was a senior manager in large American corporations in the worlds of development and programming. So when I thought of starting a company I said 'I have to do it with Nir', and I started putting pressure on him. I told him to 'leave the American companies and let's do something of our own'."
How do you convince someone to leave a comfortable job in favor of an idea that his little brother has in mind?
"It took some time, but in the end I probably caught him at the right point in time, where he said to himself: 'I've been in big companies for years and years, let's try something new'. And in the first phase we developed the company while continuing our salaried jobs. We sat and built everything in my guest room or in the storage room."
The next goal was to recruit Roni, the youngest brother. "After almost a year, Nir and I worked on the initial product, we realized that we needed more personnel to move things forward, and that I needed to take a step back from programming to move into management. And who better than my brother, whom I trust completely and who is the most talented person I know? He worked as a programmer in an information systems startup, and he was on a meteoric rise after a total of two years in the field. He also had to be convinced to give up all that and return to the minimum salary of a student."
"The moment Roni joined the company, we said that we are not leaving any brother out, therefore we must include Tal as well. He has lived in the United States for 30 years, is a partner in several restaurants, and we offered him to join and invest money in the company, while we had fewer means." And so in 2016 the four brothers opened Ontopo and hit the road.
"For three years, we only used our own capital. We are not a family with large financial means, but we all worked in high-tech for a few years, so we had some breathing room. We sat and built everything in my guest room and in the storage room and did not take a salary."
Why was it important for you to recruit all your brothers?
"What keeps us together and sets us apart as founders is that each of us brings to the table a different set of tools than the other and we complement each other. It is very difficult to start a company where all the founders are graduates with master's degrees in computer science, because then everyone brings the same type of character and the same abilities. But for my brothers and I we all have different approaches to life, to how one should deal with the daily tasks. And this is one of the reasons for our success."
How did you finance the establishment of the company?
"In the first three years of the venture, we brought in 1.5-2 million shekels from our own capital. Since we built the system ourselves, in the first years we were able to not pay ourselves salaries and we had no need to rely on external funding sources. That's why we were considered an oddball in the startup community, because we had no financial backing. The company existed on its own merits. When the product was ready, I started working in sales. I personally went to the restaurants, knocked on doors, marketed the reservation system to them, and I even sat with the hostesses and taught them how to use it. That's how I recruited the first 20 restaurants - the first was 'Little Italy' in the Sarona complex, which no longer exists today."
How did you manage to dominate the booking market?
"It is a very difficult market for two main reasons: one is that each restaurant is a private business in itself, and there are not many large restaurant chains. So we had to go door to door, and explain to each restaurant owner ourselves what our product does, what its advantages are and how it saves them money. That's why it took a long time to build our name.
"The second reason is that the restaurant industry was low-tech, and we brought high-tech into it. Companies have a CEO, a marketing manager, a human resources manager, vice presidents. In a restaurant, there is only a restaurant manager and an owner, and they have to manage many areas. When we started operating in 2016, only 15% of people tried to make a reservation online instead of by phone, while today 60% of restaurant reservations are made online. We brought restaurateurs automatic and smart management tools that allow them to concentrate on what they love: hosting diners and cooking."
How long did it take you to gain momentum?
"In the first two years, weeks and months passed between recruiting one client and the next. They didn't know what to do with us. No one wanted us to take away from their earnings and it was very challenging. They told me, 'Come back to me when you have a more serious client, when you take on a restaurant my size'. The significant leap came In 2018, when we managed to recruit a top-class chef restaurant - Hudson. With their name as our client, it was already easier to convince others. Then a snowball effect started - restaurants started to approach us on their own initiative and said 'we want a system like our competitors have'. Then we finally could also recruit our first employee - a marketing and sales manager. Today, the company already employs 30 people."
At the beginning of 2019, Ontopo brought in two groups of investors who poured in about $3 million: the first was a group led by Journey Ventures, the Fattal Group's investment fund, and Aviv Medical's Spring Ventures. "They really liked us and our product and decided to make an initial investment in the company. This helped us bring in more employees, take another leap and grow," says Glikman. "A year after that we continued to grow and we were approached by a second group of investors that included Alon Stern, Hadar Goldman, and the former CEO of Osem, Itzik Saig. It was important to us that those who joined the company come with added value. That everyone who enters the company is a true partner, who brings their own unique contribution and understanding to this venture. And these days we are raising our third fundraising round at a value of $50 millions."
"The company is balanced and not leveraged. It is intentionally unprofitable because it is still growing, so as we increase revenues we increase expenses. Ontopo has not even started its real growth yet. People are amazed to discover, for example, that everything we have done up until now has had zero marketing expenses and advertising. The restaurants knew us by word of mouth and the guests came following a Google search for the restaurant."
In 2020, Ontopo's rise was severely hampered, when the pandemic broke out and the closures shut down the entire restaurant industry. "It was a complete shock. Suddenly we had zero customers. I had to stop working with 700 restaurants in one day. Luckily, we had investors who supported us, and this period was used to develop new tools."
And at that time Wolt took your place.
"Whoever orders at Wolt doesn't come to the restaurant, they get it delivered to them, so I don't see Wolt as my competitor. We are two different entities that provide different services to restaurants. Some of the chef restaurants that work with me don't even have a delivery service at all."
And yet Wolt's massive penetration into the market hurt you. How did you cope?
"There was a time when we were a bit involved in deliveries, such as chef deliveries that we did sporadically on New Year's Eve, but this is a different and competitive field in itself, fighting for the customer who is at home and getting the delivery to them on time. The delivery companies helped the restaurateurs continue to survive and operate during the Corona period, but today, when people want and can go out to hang out, the businesses are back to being more waiter-based and with real dining — and these are Ontopo-based businesses. At the same time, there are also delivery-based businesses, but our customers are restaurants that people come to as part of an entertainment culture. And in the end, the passion of a chef or a restaurant owner is to entertain people, not send them food in a box that is heated in the microwave."
Immediately after the pandemic, the depression turned into a crazy tidal wave. In Tel Aviv it is currently difficult to find a place in the reputable restaurants, and you have to book weeks in advance. Can you tell if the recession and price increases are now slowing down the celebration?
"People spend money first of all on vacations, and secondly on restaurants and entertainment. Ontopo is a barometer for this, and we definitely see an increase in demand and that the restaurants are filling up. You can see it immediately in the number of orders and in people's interest. Even the CBS contacted us to get data on the number of orders. At this time of the year we are in peak demand, and despite inflation the demand remains high, mainly because of the long summer holiday - people are just looking to go out and have fun. Towards the winter there is always a natural slowdown, but we have our hand on the pulse and help the restaurants to prepare."
One of the ways that Ontopo has helped restaurants is by educating Israelis to stop canceling reservations at restaurants without prior notice. "The rate of cancellations in Israel was very high - 12% of the reservations made by customers did not actually materialize, meaning that one out of every eight customers would cancel without prior notice. This is very damaging to the restaurant, which keeps the table empty and holds it for another 15 minutes in case of delays instead of giving it to a customer who happens to be there waiting. And the only thing the restaurants could do to counter this was overbooking, like they do on flights - knowing that more than 10% of those who reserved would not arrive. But that is not a good solution at all.
"We have developed a feature that allows restaurants to take credit card information as a deposit. The restaurant is the one who decides in which situation - that is, on what days and hours or for what size group of people - it charges the credit card as a deposit."
Isn't that a bit forceful?
"This is to ensure that people bother to call and cancel in time, so that the restaurant can seat people from the long waiting list it has. In addition, we made sure that the system sends a reminder SMS to the customer on the morning of the order, which greatly helped to reduce the number of no-shows. Because most customers do not have the energy to pick up the phone to the restaurant and notify them that they will not arrive, but canceling via SMS is very easy for them. These tools have been working on the market for almost two years, and they have cut the number of no-shows to less than 2%. People suddenly discover their sense of responsibility."
The next stage: A bank of restaurants
The next step for Ontopo is to "become the marketplace of the restaurant sector." Two weeks ago, the company quietly launched an application that allows the customer not only to place an order for a specific restaurant, but to perform a broad search using their culinary preferences — for example, kosher, Italian restaurants, in Tel Aviv, for a couple, on Thursday evening — to get a variety of restaurant options with available seats at that time. The app already has 100,000 downloads before the advertising campaign has even started.
"According to our statistics, only 35% of users search for a specific restaurant and 65% want to eat according to a style of food and don't know where they want to go out to and just want us to direct them. Friends of mine and my wife Shira always call us and say: 'You work at Ontopo, book me a place for Thursday night. Then I start asking them questions like: What do you like? What style? In which city? Are there kosher/vegetarian/vegan restrictions? Do you need a place for children? So we developed an application that asks all the questions according to the customer's specific preference, instead of them checking every single restaurant to see if there is space available. We built a tool for my friends that tells them to 'go to the app and type in your preferences' instead of calling me," says Glikman, laughing. "We have a database of more than 700 restaurants and we want to be a bank of sit-down restaurants."
Ontopo has even further expansion plans in its sights. "After we have created banks of restaurants, wineries and bars, we want to open a marketplace of private chefs to compete with eatwith (a service that matches up the general public with people who cook and host in their homes). People want to go out and have a good time - it can be a restaurant, a home cooked meal or a drink at a bar - but they don't want a hassle. Just like today you don't type in Google 'hamburger delivery', but go into Wolt and check what options are available - that's exactly how we want you to go to Ontopo so you can have a good night out outside your home."
What is the app's business model?
"The application is free for diners. Abroad, the models are based on commissions collected from restaurants per diner, but it was important to us not to enter as partners in the restaurants' revenues. Instead, our model is based on paid restaurant content promotion. If a restaurant wants, for example, to promote happy hour, brunch, a new menu or just to promote itself, it can do so by paying."
Do you have ambitions to take it abroad?
"Israel is the best place to build a product, certainly in the world of restaurants. And like any typical Israeli startup, our goal is to conquer more destinations in Europe and the United States and make our product international already at the beginning of next year, starting with Italy, the Czech Republic, Poland and Romania."
First published: 10:43, 15.08.22