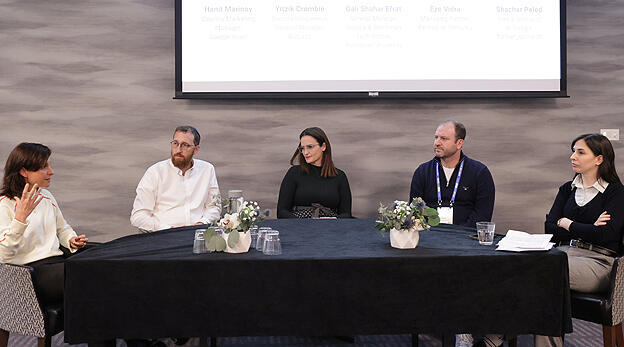 Mind The Tech London 2023

"Employee diversity is seen as a luxury, but precisely in the current situation it's important to invest in it"
Eze Vidra, managing partner at Remagine Ventures, was speaking in a panel on diversity in the high-tech industry held as part of the Mind The Tech London conference. Yitzik Crombie, a Social entrepreneur and General Manager at BizLabsi, added: "There are many barriers to the ultra-Orthodox joining high-tech"
"The coronavirus and the economic crisis set us back in a devastating way regarding the diversity of employees in technology companies," said Eze Vidra, managing partner at Reimagine Ventures. Vidra spoke as part of a roundtable discussion which dealt with diversity in the high-tech industry at the Calcalist and Leumi Mind the Tech conference in London. The session was moderated by Shahar Peled, a media expert and content creator at Google, which was also one of the sponsors of the event.
"Laterally, companies are in an existential crisis," he added. "Diversity, which was important in the past, has become a luxury. But even though the situation is so dire, now it is more important than ever to invest in diversity, which provides a long-term return on investment. Diversity in the workplace produces better decisions, and makes it possible to create products for a more diverse audience. This is a real challenge in the technological ecosystem. But it has a positive effect on the bottom line and makes it possible to produce the best of all worlds."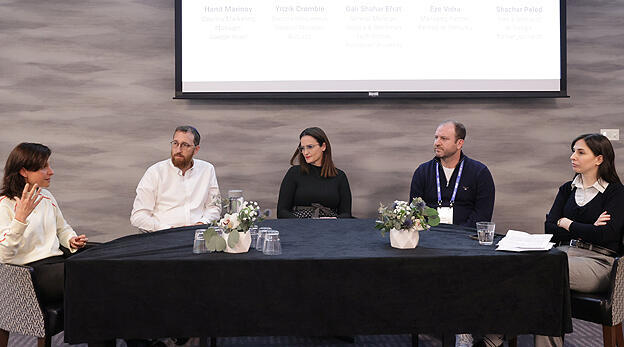 Yitzik Crombie, a social hi-tech entrepreneur and director of the BizLabs program, spoke about the importance of integrating the ultra-Orthodox population into the high-tech industry: "The ultra-Orthodox community is growing very quickly. In 20 years they will be 20% of the working-age population. But today only 53% of ultra-Orthodox men are part of the workforce, and their salary is 55% of the average salary. There are many barriers to them joining high-tech. The ultra-Orthodox education system does not teach math and English at all. To take someone at the age of 22, and most of them already have children by that age, and to close gaps - this is very difficult to do. Today, only 1% of the employees In high-tech are ultra-Orthodox men, the same rate as in 2012. Many plans and resources have been invested, but there has still been no change."
Gali Shahar Efrat, General Manager, Google & Reichman Tech School, Reichman University, explained how it is one solution to the problem of diversity. "The school was created to solve problems, she said. "Technology is no longer an industry, it is everywhere and touches every aspect of our lives. Therefore it should be inclusive. In the past, jobs in the field were open to a very exclusive club. The club needs to be opened up even more to other groups. But these groups have barriers. We are creating a school that will train different groups that suffer from underrepresentation, the groups of the economic and geographic periphery, and will help them find quality jobs. We base all our activities on academic theory and collaborations with industry."
Hanit Marinov, Country Marketing Manager of Google Israel, added: "Google Israel has focused on the startup nation and growth for the last decade. Everything we do in Israel is to enable entrepreneurs to realize their dreams and grow. To do that, they need the right pool of talent. This is where we come into the picture. We want technology companies to be able to build their companies in Israel and stay in Israel. We look five years ahead, this is a long-term plan. We have a program for teenagers that trains them in the fields of science and engineering, at Reichman we locate possible candidates for industry to find them their first jobs. We want to create sustainable companies, resulting in a more sustainable economy and society."
Later, in a conversation with Lior Noy, head of startups and strategic partnerships at Google Israel, Rob Pierre, CEO of the digital advertising company Jellyfish, spoke about the latest trends in the industry. "It's getting harder and harder to keep people's attention. People consume information in a very decentralized way. The challenge is to convey a message in small segments of time. It requires a lot of infrastructure and a lot of diverse skills and abilities, different technologies and platforms, to run a global campaign. It becomes more complicated, more demanding and requires more support. We help brands understand where their audience is, what information the platforms have for other factors that can be leveraged, and how to deliver the right message to the right people."