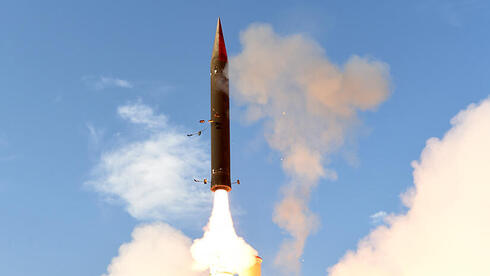 ISRAEL AT WAR

While their stand in Dubai is empty, Israeli weapons makers present their technology on the battlefield
The exhibition stands of Israeli weapons makers remained vacant at the Dubai Airshow amid the Israel-Hamas conflict in Gaza. Nevertheless, the Israeli weapons industry continues to showcase its latest technologies on the battlefield, including Arrow 3 and David's Sling
The exhibition stands of Israeli weapons makers Israel Aerospace Industries (IAI) and Rafael Advanced Defense Systems were empty at the start of the opening day of the weeklong Dubai Airshow on Monday, amid the Israel-Hamas war in Gaza.
It was not immediately clear why there were no staff at either exhibition stand, which were located close to the pavilion of United Arab Emirates state arms maker EDGE. IAI and EDGE signed joint development programs at the last Dubai Airshow in 2021.
IAI and Rafael did not immediately respond to emailed requests for comment on their participation. The IAI exhibition stand was blocked off with red rope. An exhibition stand for the locally registered company of Israel's Elbit Systems was staffed, although one staff member declined to answer press questions on their participation.
Arab and Muslim nations over the weekend called for a halt in arms sales to Israel as the mounting death toll from Israel's invasion of Gaza – launched in retaliation for cross-border attacks on Oct. 7 by the Palestinian Hamas militant group that governs the enclave – has provoked outrage in Arab capitals.
Elbit System established the UAE-registered company in 2021 with the stated aim of establishing long-term cooperation with the Emirati military. The Israeli parent company has in recent weeks publicly stated its support for Israel and its military. Israeli companies have only openly participated in UAE exhibitions and conferences since 2020 when the Gulf Arab power and Israel established ties under a U.S.-brokered agreement.
The UAE intends to maintain those diplomatic ties despite the international outcry over the mounting toll of the war in Gaza, sources familiar with UAE government policy have told Reuters.
The UAE became the most prominent Arab nation to establish diplomatic ties with Israel in 30 years under the U.S.-brokered Abraham Accords in 2020. That deal broke with decades of pan-Arab policy that called for a Palestinian state before normalization and paved the way for other Arab states to build ties with Israel.
Emirati Vice President Sheikh Mansour bin Zayed Al Nahyan, a brother of President Sheikh Mohamed, attended the extraordinary joint meeting of the Arab League and Organisation of Islamic Cooperation (OIC) states that called for the arms embargo on Israel.