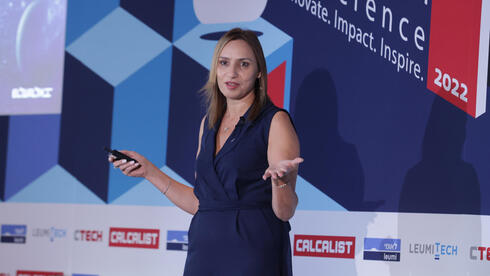 Mind the Tech NY 2022

EL AL CEO: "Our biggest available asset is our people"
In a presentation titled, "Above the Skyline: The New Experience of Aviation", EL AL CEO Dina Ben Tal Ganancia, shared with the audience at Calcalist's Mind the Tech 2022 Conference how Israel's national airline weathered the global pandemic and its flight plan going forward
"Every month that our airplanes are parked and are not flying, $30 million just fades out from our bank account," EL AL CEO Dina Ben Tal Ganancia, told the audience at Calcalist's Mind the Tech 2022 Conference in New York "During the pandemic we sent 7,000 employees home and we were less than 200 still working."
With borders being shut down and passenger flights canceled, the outlook looked bleak for Israel's national airline. However, EL AL found innovative alternatives. "Let's fly cargo," Ben Tal Ganancia said. "A box doesn't call you and complain or ask for a discount or an upgrade. We also brought medical equipment to China. We imported eggs and placed those boxes in business class seats, all so Israelis could have eggs for Passover. In addition we arranged rescue flights for young Israelis stuck in Peru, Mumbai, Australia and other parts of the globe to bring our locals home."
Stressing 'spirit & focus', Ben Tal Ganancia, related the steps EL AL took during the pandemic and is taking to bring the airline back to their leading position, including a new direct flight from Tel Aviv to Tokyo to start in early March.
Ben Tal Ganancia concluded her remarks by saluting the EL AL team. "Our biggest available asset is our people."
You can watch the full presentation in the video above.