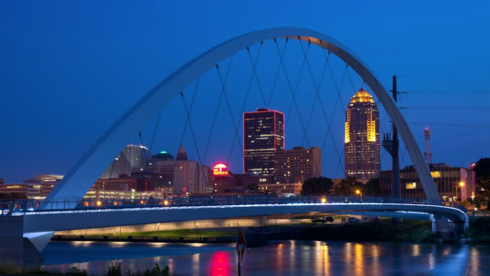 In Iowa, support for Israel transcends the drama of national politics
The Hawkeye State is a melting pot of agtech, finance, and political professionals - something Israelis can work with regardless of party affiliation.
Political aficionados will know about the significance the U.S. state of Iowa plays in American politics. As a variety of Republican presidential hopefuls attend the State Fair currently taking place ahead of its caucus in January, the state receives national attention every four years as the official kick-off region of increasingly contentious election cycles.
Those less familiar with the state might be surprised to learn about its agtech and fintech innovations that are helping transform it from America's farmland to a place with booming business entrepreneurship. For Israelis, this tech farmland can act as a whole new playground for business and transcend the political battles that can sometimes distract from the local missions.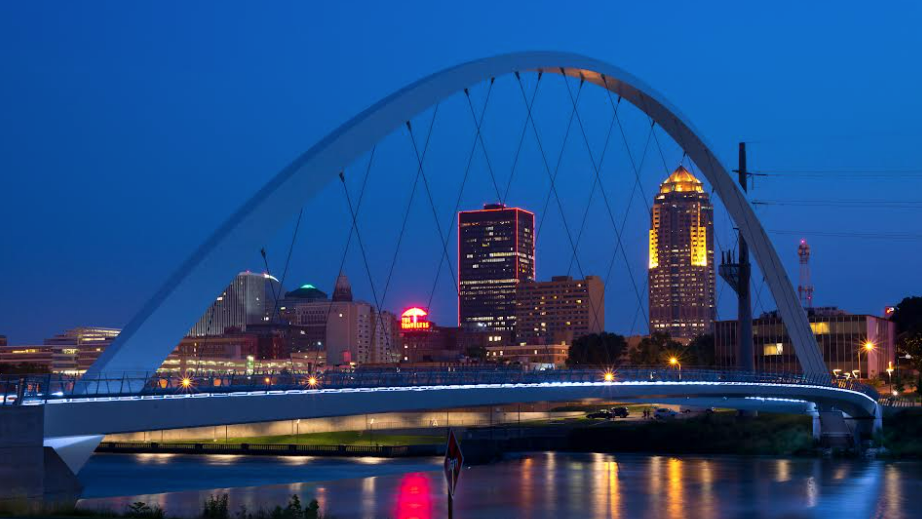 "We may be exhausting our land and we need to talk to Israel about the things they've done to bring the desert into productive types of environments," said Tom Henderson, Co-Chair of Iowans Supporting Israel. "We also have exported a lot of farming equipment to them… when you think of some of the things you can do with Israel and Iowa, the dialogue could be incredible."
Iowans Supporting Israel is a non-profit bipartisan organization that helps encourage support across Iowa and America and Startup Nation. It was established in 2013 and focuses on a myriad of industries but pays special attention to agtech, medicine, and finance. Henderson, a Democrat and former Chair of the Polk County Democrats, co-chairs the organization with the former Republican President of the Iowa Senate Charles Schneider. "It is bipartisan because we believe the policy for Israel has to be bipartisan. If it isn't bipartisan, then I think Israel is put in jeopardy," Henderson explained.
Iowa is a relatively small U.S. state with only 3.1 million people, but its position as an agricultural hub speaks for itself. It ranks first in corn exports ($3.1 billion), second in soybean and egg exports ($3.7 billion), and second in the U.S. overall for agricultural exports, totaling an impressive $14.3 billion. Its labor force reaches 1.73 million and has the highest concentration of agricultural engineers in the United States.
Another booming industry in Iowa is its insurance and financial services. In terms of percentage of GDP, the state takes the top spot for insurance as an industry and has the second highest concentration of insurance employees in the nation. It is home to more than 7,300 finance and insurance companies and Iowa ranked third in the whole country for opportunity, according to U.S News and World Report.
It also has the Global Insurance Accelerator (GIA), which is the world's first business accelerator focused on insurtech including mentor-driven programs designed to foster innovation in the insurance industry.
It is for these reasons alone that Iowa would be interested in partnering with Israel to collaborate on technologies and partnerships, and why Startup Nation might want to look within the country's center while looking west for business. "Iowa's relationship with Israel is undeniably a strong one, at least that's how we feel as a state," added Schneider. "We've passed anti-BDS legislation at the state level, we have adopted the definition of antisemitism… I think people would generally feel friendly for Israel and understand our national interest in being supporters of Israel for all kinds of reasons… we call ourselves a flyover country because normally people come to visit the East or West Coast, but I think Iowa really has a lot of untapped potential in ad-tech, insurance, and agtech."
This year, Republican state governor Kim Reynolds
signed a proclamation
of support for the State of Israel on the occasion of 75 years of independence and she is currently hosting presidential candidates at the State Fair ahead of the Iowa Caucus for the Republican nomination in the 2024 election. While the
Democratic National Committee
plans to rearrange its historic place in the primaries calendar due to claims of chaos seen in 2020 and President Biden's weak performance last cycle, there are no plans to change the rota in the GOP which is set to take place in January as planned.
Candidates like former President Donald Trump, Florida Governor Ron DeSantis, former Ambassador to the UN Nikki Haley, and businessman Vivek Ramaswamy are all spending time among the locals. It is an occasion that briefly puts the Hawkeye State in the national spotlight - at least for a moment - as candidates bond with voters and try to boost their national profiles. Henderson recalls in 2008 then-candidate Barack Obama was "terrific" and "had the best grassroots organization of any candidate I have ever seen… If California and New York were the first two primaries, Hillary Clinton would have been the nominee in 2008."
"I think generally candidates are very positive about Israel on both sides of the aisle when they campaign here," Schneider added. "Israel doesn't get a whole lot of attention just because Americans are focused mostly on domestic issues when it comes to campaigns… But I don't think I've ever heard a presidential candidate say anything negative about Israel."
Last month, Iowans Supporting Israel hosted a Lunch and Learn event with the Director at Iowa Economic Develop Authority (IEDA), Debi Durham, and Dan Keough, Chairman and CEO of Holmes Murphy & Associates on the topic of Israel and its importance to Iowa business.
"We take a very holistic approach to growth, it is all about building a business culture in which our businesses can prosper," Durham told CTech speaking after the event. The IEDA is a large organization that helps with the funding of all major infrastructure projects as well as anything that touches the economy, from business development to community development. "That is taxation, regulatory, infrastructure, and workforce training; but it's equally as important today to build communities where people want to live, so that's about housing and quality of life… We are looking for those opportunities that really raise the standard of living for Iowans. We are looking for opportunities and partnerships in which we can provide opportunities for our citizens to thrive."
Durham also works with Peggy Kerr from the International Trade Office to help market Iowa internationally and help its companies expand into international markets. In 2022, the state had $9 million in exports to Israel and received $29 million in imports from there, according to the
US-Israel Business Alliance.
Three main verticals Durham highlighted within Iowa that Israel could partner in are advanced manufacturing (in line with the state's manufacturing population), insurance and finance, and biosciences, which include fuels, biodiesels, ethanol, regenerative agriculture, vaccines, immunotherapies, and medical devices. "For me, personally and professionally, I have traveled the world but [Israel] was one of the most impactful trips I have ever attended," Durham said of her trip in 2017. "The innovation culture that is there and felt there throughout the economy and in every single meeting we had, and the intensity I think in which people operate there - the sense of urgency is refreshing, and it is something that spoke to us."
For Israelis, Iowa's bilateral support for Israel felt on a business and government state level can encourage a move to tap into its agtech and finance sectors. "The entire Midwest of the country is becoming a stronger value proposition - people are leaving the coasts," she concluded. "We received more residents from California than any other state that is moving to Iowa… I think people are looking at the cost of living in the Midwest, which is a lot cheaper, but the opportunities still abound."