UK Ambassador: "I don't think anyone comes to Israel and is not convinced that technology is the future"
Outgoing UK Ambassador to Israel Neil Wigan spoke to CTech about his time at the post and some of the lessons he's learned along the way
British Ambassador to Israel Neil Wigan is set to depart from his position in June after a four-year stint in Israel. Previously serving as Head of Israel's Political Section at the British Embassy 20 years ago, the Ambassador is no stranger to Israel and the changes it has seen on both a local level and in the eyes of international media.
"When I was here 20 years ago if you read a newspaper article in Britain about Israel it was almost certainly about the Palestinian conflict, that was maybe 90% of the coverage," he said, speaking from his residence in Ramat Gan. "But now it may well be about technology."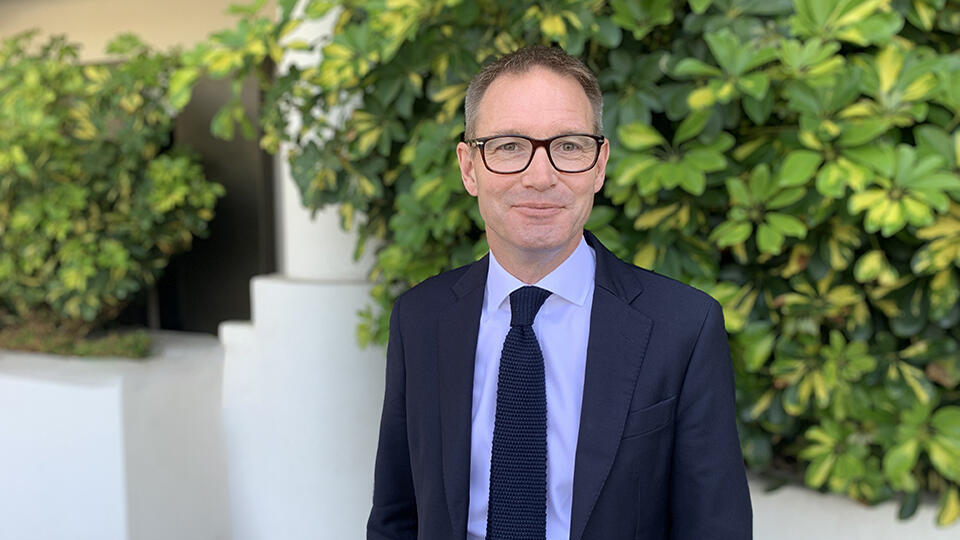 The Ambassador invited CTech to reflect on his time stationed in Israel during unprecedented change for both countries. In his four-year tenure as Ambassador between 2019 and 2023, Israel saw four elections and three Prime Ministers - with the return of Benjamin Netanyahu overseeing the start and end of his tenure. Britain, on the other hand, has only seen one election in four years - but the Ambassador has represented four Prime Ministers and two Monarchs overseas. "We've had a series of British politicians who wanted a relationship with Israel. We've had Israeli governments who have felt the same way," he confirmed.
Despite the constant change at the top, the Ambassador has cited the partnerships between the two countries - highlighting technology and science in both private partnerships and academia - as a personal point of pride during his time in Israel and how it has changed the world's perception of Startup Nation. The current Free Trade Agreement (FTA) in negotiation following Brexit was first discussed by Prime Minister Neyantayu, continued when Yair Lapid took over, and is still continuing under Netanyahu's latest government. Britain has also remained dedicated to the Agreement despite its turbulent few years at home.
"I think technology focused people on the idea of Israel as a modern progressive country," he continued. "I think things like Pride and an open attitude towards LGBT people have really helped Israel's image in the world. A lot of British people come to Israel… a quarter of a million people every year are seeing the reality of Israel rather than how it used to be portrayed in the media."
The FTA in the works was launched in July 2022 to serve as a new 'innovation-focused' FTA. It hopes to be a radical change from the one the UK currently has with Israel from 1995 when it was part of the European Union, which omits the word 'internet' entirely. Earlier this year, British Secretary of State for Business Kemi Badenoch visited and met with Ministers, Israeli companies, and stakeholders, symbolizing its commitment as Israel's biggest European trade partner and third biggest after the US and China. Today, roughly 500 Israeli firms operate outside the UK and 20 Israeli firms are listed on the London Stock Exchange.
"We're both countries where more than half of our exports are services, but that is not reflected in the bilateral trade agreement between us," he explained. "Where Israel's biggest import is tech, financial services are one of our biggest, we think there is much more we can do around services."
In 2023, the British Council in Israel established scientific collaborations between the two countries with the help of its BIRAX (Britain-Israel Research and Academic Exchange Partnership) program. A series of events took place in March as part of Science Week in the UK highlighting research and scientific relations between Israel and the UK.
Despite strong universities in the UK, Ambassador Wigan praised Israel's ability to turn academic research into business propositions. Notably, areas in Be'er Sheva where corners are shared by high-tech companies, the IDF, universities, or academic institutions. "In Israel, they deliberately clustered bits of the high-tech world together… ideas really flow. That's something we want to do in the UK, which is to break down some of the divisions between those different worlds."
Ambassador Wigan also oversaw the operations of the UK-Israel Tech Hub, the first of its kind globally from the British Embassy. Established in 2011, the non-profit helps drive economic growth by helping British companies partner with tech from Israel. To date, it has facilitated 250 tech partnerships, generated £1.2 billion ($1.3 billion) in Foreign Direct Investment (FDI) from Israel to the UK, and created 16,000 UK jobs. The Ambassador has every intention to take this emphasis on tech and science that he has overseen in Israel into his new role as UK High Commissioner to Kenya, which he starts later this year and also has a UK Tech Hub there.
"I'm fascinated by tech," he shared, despite admitting to "low" technical ability himself. "I don't think anyone comes to Israel and is not convinced that technology is the future and what is going to drive everything in the future - we all need to get with that. I think Israel brought that out of me. Everyone said the tech scene in Israel is amazing…then when you come and see it you think that it is absolutely amazing."
One challenge the Ambassador faced during his tenure was the lack of freedom to "be out and about and meeting people and doing things," during the stricter months of the pandemic and the prolonged lockdowns experienced around the world. "I have a lovely house but I didn't want to spend my time in Israel sitting in it." Despite this, he confirmed that going forward, the biggest priorities for the two countries remain the confirmation of the FTA and honoring the bilateral roadmap between the two nations - a moment he singles out as his proudest moment as Ambassador.
The benefits of being a diplomat bring with them benefits and drawbacks which can, at times, take a toll on relationships. Living in a country for almost half a decade offers opportunities to make friends, fall in love with cafes, and travel to exciting regions for holidays in your spare time with loved ones (Timna Park near Eilat being his favorite place in the country). It is also "tough on families" and difficult to leave and start those processes again once relocation is back on the books. As the Ambassador prepares for his new adventure in Kenya, he leaves feeling content with the life he leaves behind.
"You sign up for this job because you want to represent your country, and so being the face of the UK and representing the King, the government, and the British people is an enormous privilege… Israel is an amazing country to be a diplomat. You want somewhere where the work is interesting and challenging, and the country is exciting to be in. Israel does both of those massively," he concluded.