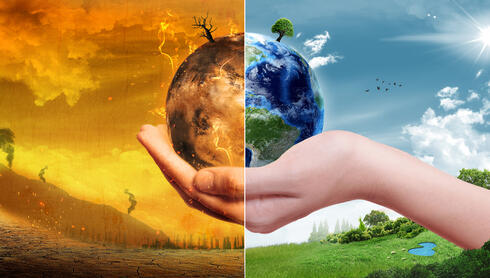 "There is no bigger challenge than the climate challenge, but it is also our biggest opportunity"
Speaking at "The Future is in ClimateTech" panel sponsored by Calcalist and Start-Up Nation Central, Yael Weisz Zilberman, Head of Climate-Tech at Start-Up Nation Central, emphasized the potential, opportunities and performance of Israel in the field and noted that there is more to be done
"We are hugely behind schedule and everyone knows it. When you are behind schedule and face a serious problem, you should go to the root: stop burning fuel. That is, we must stop burning more fuel because these emissions have killed many people for too many years," said Harold Wiener, founder and managing partner at Terra Venture Partners in a panel entitled "The Future is in ClimateTech" sponsored by Calcalist and Start-Up Nation Central. "It can be done, but in order to be able to move forward to the next step we must have alternative energy sources: solar, wind, water, and in the future also nuclear. These options are ready for use and are even cheaper - certainly much healthier - than today's alternative. We must make an immediate and massive deployment and application of those alternative energies. What it boils down to is a matter of making a decision. Of course you need money to finance all of this, but those who understand the field know that there is no money problem here. What is missing is the ability to make decisions and take responsibility for our own future, that of our children and grandchildren."
According to him, "If you want to make a real impact, you have to rebuild the business sector because we need huge businesses here that will serve billions of customers. Philanthropy won't help here because it is too big a task. To talk about 2030 is ignorance. To talk about 2050 is even greater ignorance because there is no time and there is no need to wait all this time. The change must come from the business community. Governments cannot be relied upon. They mainly follow and have a vision of a maximum of four years, in our case - it's only one year. They can provide financial support, like the current U.S. government, which spent $15 billion to promote the same technologies, but this happened now because they discovered again - that there is dependence on China - which is the queen of alternative energies. China did things the right way 15-20 years ago and built the entire chain of alternative energies - solar and wind - exactly as it should be because the Chinese are looking at very long terms. The war in Ukraine is actually an opportunity because now everyone is waking up and realizing the price of dependence on Russian gas. It's amazing that they only just discovered that there is a pipe! But this is what happens when there is no forethought."
Daphna Nissenbaum, co-founder and CEO of TIPA, also emphasized the urgency of the issue and pointed out that there are still too many forces that are stopping the required change. "It is urgent and there are already those who claim that we are already at the point of no return in certain areas. That is, some of the damage is already irreversible. Beyond emissions, there is the plastic issue. Plastic stays forever. There is a crazy amount of consumption that only increases year by year and there is no care for the 'end of life' of the plastic product: that is, every piece of plastic that was created is still here - even if we don't see it. So this damage is also increasing and nothing or very little is being done. Surely not enough. The reason for this is that there are companies that lobby and worry that nothing here will change. These companies work all over the world, with all their might, against every invention that comes out to prevent change. So the new administration in the U.S. is changing the direction a bit, but it is still not at the pace that is desired for real change."
According to her, companies, corporations, governments, and civil society all have a role in the change, "but history shows that revolutions occurred when the 'people' - the final consumers -the simple users, led the revolution. As soon as there is a demand and even a cry from the citizens that they are not ready to consume or buy something that does not match the agenda anymore. The electric vehicle industry is a relatively new great example. But the automobile industry is an excellent example: because when the first car was created, there were no roads, no traffic lights, and no gas stations, and the consumer demanded them because there was a need for them. So the change will come from the consumers who will demand that the companies take the extra step and adopt the technologies but in this case I am more pessimistic because I am on the side of the startups who are trying to convince the companies to adopt the same technologies and those who really think that in 2030 or 2050 everything will be fine are making a fatal mistake because we simply don't have another 30 years. We are doing things 'too little, too late'."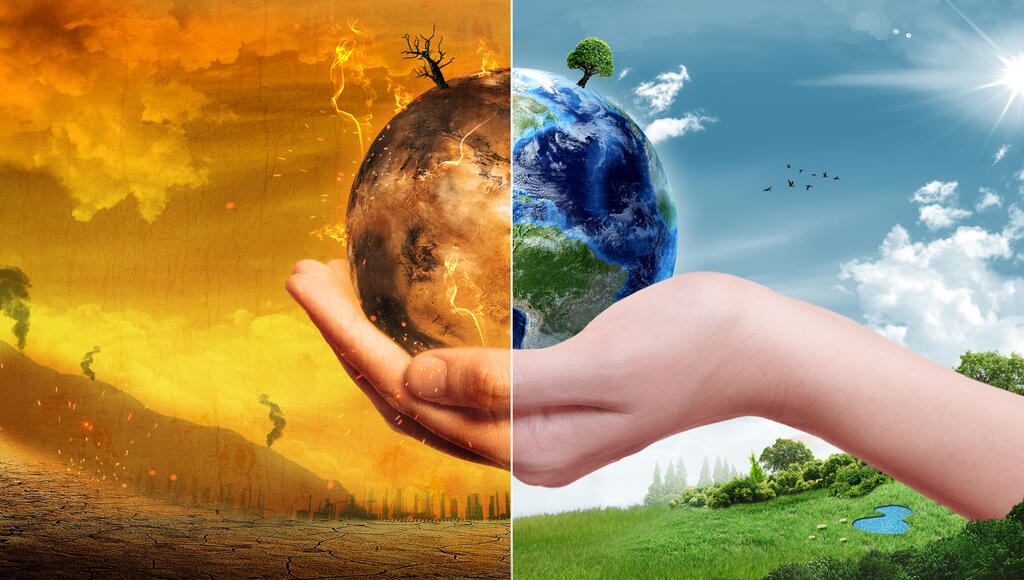 On the other hand, Moran Haviv, Director of Strategic Innovation at Microsoft Israel R&D, sounded much more optimistic. "I am optimistic because I see more and more companies that set themselves more and more climate goals and they are more and more aggressive goals. We see more companies that are looking for technological innovation to make the change. I meet entrepreneurs with technologies that used to go to the more traditional places like cyber and AI now looking at climate-tech."
According to her, "all the players together must make and spend the money, make different decisions than usual. But I think we will. So it is true that more needs to be done, but things are being done. We see our customers turning to us and asking for these solutions. Global companies want to emit less and learn how to get to Zero Waste. Of course, you need an action plan that sometimes also includes executive compensation. Microsoft opened a fund for climate innovation two years ago to develop technologies with the goal of reaching scale. We mustn't forget that There is no bigger challenge than the climate challenge, but it is also our biggest opportunity. All industries will have to adapt themselves to this challenge in the end, but we will also see new industries arising as a result of this challenge."
Yael Weisz Zilberman, Head of Climate-Tech at Start-Up Nation Central, emphasized the potential, opportunities and performance of Israel in the field and noted that there is more to be done. "Alongside those who do not want the change, we are witnessing a significant awakening of demand for climate solutions. Already one third of the largest corporations in the world are committed to emission reduction goals. Those demands stimulate entrepreneurs to develop more of the technological solutions which, together with the new regulation that is required, are the key," she said.
"At Start-Up Nation Central we see that Israel has a hub of innovation in the world of climate that is already beginning to receive recognition in the world. There are delegations that came to us last week from all over the globe - from Canada to Singapore - to be exposed to those technologies. Therefore, the Israeli ecosystem has a great opportunity. There are over 700 startups in the climate worlds that we have mapped in SNC that meet the criteria. But again, there is a need for more innovation because of the demand that comes from traditional companies for climate technologies (energy and recycling) but also from software worlds that have also committed to reducing emissions. We have been blessed here with an ecosystem saturated with the presence of giant international corporations that already see the opportunities."
Weisz Zilberman emphasizes that this is a global market that reached $27 billion in the first half of 2022 alone, of which approximately $1.13 billion were spent in Israeli companies, "so there is probably something here in Israel in the field of climate.
"Moreover, before everyone started calling this field climate-tech, Israel has already proven that it has advantages in regards to technologies related to water for example. We must not forget that agriculture, for example, concentrates about 20% of the total emissions in the world. But there are more areas and it is clear that there is potential here. This is another opportunity for early stage Seed investments that will take the market, the business opportunities, and the entrepreneurs forward," she concluded.