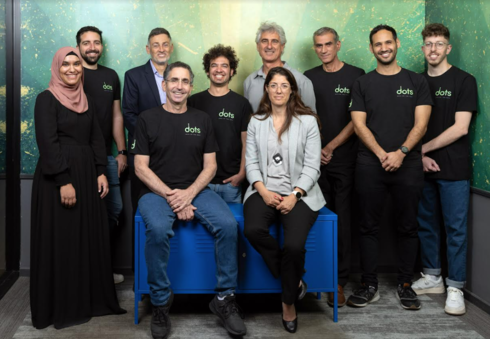 Boarding Pass

Connect the DOTS: How one company is helping farmers with their fertilization efforts
DOTS has raised a total of $1.9 million to develop a system helping farmers monitor their fertilizer levels in the soil
"The idea for DOTS came from Prof. Ofer Dahan, one of the founders of DOTS, after over 20 years of researching the impact of intensive agriculture on groundwater degradation," said management at DOTS. "He concluded that only real-time monitoring of fertilizer levels in cultivated soil could prevent the over-application of fertilizers and reduce contamination of groundwater in aquifers below the soil. However, the lack of appropriate technology made it challenging to monitor soil fertilizers effectively."
In 2021, DOTS founders Prof. Dahan, Dr. Elad Yeshno, and Prof. Shlomi Arnon joined forces to develop algorithms that they claim save most of the 40-60% of fertilizer that is wasted by farmers each year. "The team demonstrated that real-time data from the sensor could be used to optimize and control fertilizer application, resulting in a decreased application rate without compromising crop yield," the company said.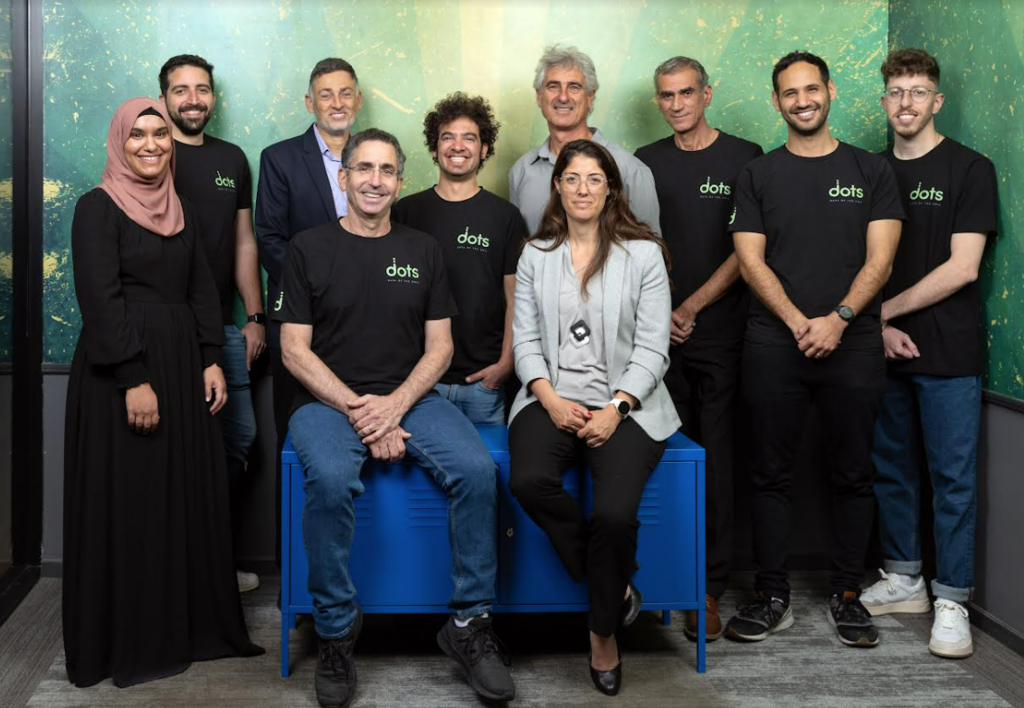 You can learn more about DOTS via the interview below.
Company Name:
DOTS - Data Of The Soil
Sector:
AI/Agritech-Climatetech
Product/Service description:
While solutions for monitoring soil-water content are available, no technology currently offers affordable data measurements for in-situ nutrients. As a result, farmers rely on fertilizer application tables created by fertilizer companies and agronomists. Unfortunately, these tables commonly use metrics that overdose the soil with fertilizers to ensure that no crops are lost due to nutrient deficiencies. Even experienced farmers waste between 40-60% of applied fertilizers every season. The excessive use of fertilizers not only leads to financial losses but also contributes to groundwater pollution, extensive GHG emissions, and tremendous ecological damage.
To address these challenges, the DOTS team has developed a unique technology based on electro-optical sensors and a patented algorithm, which allows for real-time nitrate monitoring in agricultural soils. Through trials, evaluations, and four registered patents, the team has created a system that provides continuous and precise information to support decisions on irrigation and fertilization. With this innovation, farmers no longer need to periodically bring soil samples for analysis. Instead, they can rely on real-time data to optimize their farming practices and minimize the environmental impact of excess fertilizers.
Rafi Levi, CEO: Rafi is a seasoned engineer and project manager, with over 35 years of field, project management & business experience. Rafi served in the Israel Navy for 20 years, mostly in R&D positions, project development, and command, and has three years of operation management at the Navy Dockyard (over 1,000 employees), where he directly managed work plans, construction, refitting, and Ship overhauls. Rafi joined DOTS, bringing with him vast experience and know-how in development activities, interdisciplinary management, and business.
Dr. Elad Yeshno, CTO: During his academic research in hydrology and electro-optics, Elad developed advanced spectroscopy methods to enable aqueous nitrate in porewater samples from agricultural soil. As such, Elad was deeply involved in the R&D process of the nitrate sensor in aspects such as designing and executing laboratory experiments and data analyses, engineering, coding, and integration between engineering, software, and technical teams.
Prof. Ofer Dahan, co-CSO: Ofer Dahan is an Associate professor at the Zuckerberg Institute for Water Research, Ben-Gurion University of the Negev. Ofer is a leading expert in vadose zone hydrology, land use impact on groundwater quality, contaminant transport, and vadose zone remediation. Ofer had developed a patented, subsurface monitoring technology for soils which is one of our key assets and core technologies for the nitrate sensor.
Prof. Shlomi Arnon, co-CSO: Prof. Shlomi Arnon is a Professor in the Department of Electrical and Computer Engineering. He is also the director of the Center for Quantum Science and Technology (BGU-QST) at Ben Gurion University of the Negev (BGU), Israel, and the director of the Satellite and Wireless Communication Laboratory at the university. He is the Israeli representative at NASA Solar System Exploration Research Virtual Institute (SSERVI). Prof Arnon has more than 25 years of vast experience in research and development in industry, startup, defense, and academia.
Last Investment Round:
$700,000
Last Investment Stage:
Pre-seed
Date of Last Investment:
September 2021
Total investment to date
: $1.9 million
Investors
: Lab 02, Israel Innovation Authorities, and Mata
Current number of employees:
7
The idea was conceived by Prof. Ofer Dahan, one of the founders of DOTS, after over 20 years of researching the impact of intensive agriculture on groundwater degradation. He concluded that only real-time monitoring of fertilizer levels in cultivated soil could prevent the over-application of fertilizers and reduce contamination of groundwater in aquifers below the soil. However, the lack of appropriate technology made it challenging to monitor soil fertilizers effectively.
In 2014, Dr. Elad Yeshno joined a master's and Ph.D. program under the supervision of Prof. Dahan with the co-guidance of Prof Shlomi Arnon (also a co-founder of DOTS). Together, the team used advanced algorithms for spectral analysis and soil sampling methods to develop a sensor for real-time and continuous monitoring of nitrate in the soil, the primary fertilizer that contributes to contamination from the over-application of fertilizers.
Additionally, the team demonstrated that real-time data from the sensor could be used to optimize and control fertilizer application, resulting in a decreased application rate without compromising crop yield.
What is the need for the product?
The current lack of technology for monitoring fertilizers in cultivated soil has led farmers to over-apply fertilizers in order to maintain yield and avoid nutrient deficiencies.
This resulted in the loss of 40-60% of the applied fertilizers in form of down-leaching from the root zone, primarily in the form of nitrate, leading to severe groundwater contamination making them unsuitable for human consumption.
It has also caused significant financial losses to farmers, consumers, and governments in the form of health issues and water rehabilitation costs.
DOTS has developed a system that allows for the monitoring of fertilizer levels in the soil, thereby enabling optimization of fertilizer application, reduction of food production costs, and decreased environmental impact by the agricultural industry.
How is it changing the market?
The DOTS solution has a significant impact on the market with several benefits for most stakeholders in the sector, including:
Farmers shall reduce their variable expenses, while obtaining similar yields, enabling them to grow more for less. Moreover, by reducing fertilizer application, they may also earn carbon credits for decreasing GHG emissions.

Optimal application of fertilizers is expected to increase product shelf life, allowing consumers to enjoy more affordable products with longer longevity.

Seed companies can gain a competitive edge in the market by collaborating with DOTS to develop growing protocols that reduce fertilizer consumption, delivering the same yields.

Technology companies in the ag-tech space can integrate DOTS data into their systems to provide farmers with a more comprehensive solution.

Fertilizer companies may fine-tune their slow-release smart fertilizer products based on data obtained from the DOTS sensors.
How big is the market for the product and who are its main customers?
The global fertilizer market has an annual value of $200 billion. However, the DOTS market potential is much greater when considering the benefits of GHG credits, water resource rehabilitation expenses, and health improvements through reducing exposure to contaminated water resources.
Does the product exist already? If not - at what stage is it and when is it expected to hit the market?
DOTS currently holds a patented and proven technology, with a minimum viable product (MVP) that has undergone field trials and proof of concepts (PoCs). Currently, DOTS is in collaboration with a company specializing in engineering solutions for the productization of the MVP into a market-ready product, expected to be ready by 2024.
Who are the main competitors in this sector and how big are they?
Most existing Agtech solutions were developed to secure or enhance yields, so they are mostly focused on ensuring there is no deficit in water or fertilizer content. Some are in the soil, measuring water and other soil parameters, some are observing the canopy, looking for any disorder, reflecting a deficit.
DOTS, intended to optimize fertilizer application, is continuously monitoring nitrate levels in the soil, ensuring adequate levels are constantly available to the plants, while also ensuring that there is no overapplication.
What is the added value that the founders bring to the company and the product?
The DOTS team is composed of highly skilled and diverse professionals, which is essential for the success of this project. Their expertise includes soil hydrology, solute transport in soils, advanced techniques for soil chemical and hydrological monitoring, and spectral analysis of aqueous solutions. Additionally, the team includes experts in electro-optics, computer software, and algorithm engineering, who will be crucial in transferring our technology from the controlled laboratory environment to a fully functional market-ready system.
What will the money coming in from the round be used for?
The funds coming in the current round will be used towards scaling up our operations (team enhancement), expanding marketing efforts both domestically and internationally, executing multiple field demonstrations internationally, and conducting research and development for our future generations.
In the
"Startup Boarding Pass"
section, CTech will cover the (relatively) small investments made in companies during the early stages of their existence - and the entrepreneurs and startups who have not yet had the opportunity to reveal their stories to the world. Please use the
linked form
and fill it out according to the guidelines.
This form
is intended for startups raising between $500,000 and $3 million from venture capital funds, angels, or official grants from Israeli and foreign institutions. If relevant, someone at CTech will be in touch for follow-up questions.