Forecasts 2020
To Maintain Current Prosperity, Israel Must Stop Focusing on Short Term Policies, Says Economist
Leonardo Leiderman, a professor of economics at Tel Aviv University and the chief economic advisor to Bank Hapoalim, spoke Tuesday at Calcalist's Forecasts 2020 conference in Tel Aviv
The past decade was good for the Israeli economy, according to Leonardo (Leo) Leiderman, a professor of economics at Tel Aviv University and the chief economic advisor to Bank Hapoalim, one of Israel's two largest banks. Leiderman spoke at Calcalist's Forecasts 2020 conference held Tuesday in Tel Aviv in collaboration with Bank Hapoalim and Israel-based Psagot Investment House Ltd.

"The gross domestic product (GDP) and quality of life standards in Israel grew substantially over the past decade as did the rate of employment and some socio-economic indicators," Leiderman said. Israel's markets remained stable despite turmoil in global finances, including a severe financial crisis in the European Union, he added.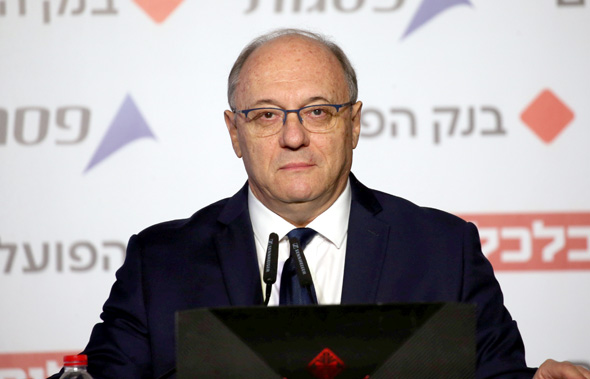 Leonardo Leiderman. Photo: Yariv Katz

The employment rate shows the most impressive improvement by 10% percentage points, from 68% at the beginning of the decade to an all-time high of 78.3% this month, Leiderman said. This increase is mainly representative of improved labor force participation rates among the ultra-Orthodox (Haredi) Jewish community and among Arabs with Israeli citizenship, he added. "Employment rates rose particularly among weaker population groups that until recently did not participate in the labor force," he said.

Israel's macroeconomics policy acted as a stabilizer in the past decade, Leiderman said. The Bank of Israel helped maintain low inflation rates. Sticking to the state budget, along with accelerated growth in the market, led to a decrease in national debt from 71% of the country's GDP to 61%, he added.

However, not all is bright, according to Leiderman. The Israeli market's capabilities are very high but, but the country lacks an organized long term strategic plan that addresses structural issues and demands extensive reforms. Without it, Leiderman said, Israel will not live up to its potential. Among the more problematic aspects of the Israeli economy Leiderman namedIsrael's low productivity compared to other western countries; the fact that it is lagging behind in investment in infrastructure; its excess regulatory hurdles and bureaucratic red tape; employees' low basic skills, according to the OECD's Programme for the International Assessment of Adult Competencies (PIAAC); its congested roads and the low usage rate of public transportation; the country's underperformance in the Programme for International Student Assessment (PISA) tests; the high price of housing; and a failure to adopt innovative technologies by national authorities and traditional industries.

The turn of the decade is an opportunity to part with short-term policies while the market is prospering and invest in long term plans for the decades to come, he concluded.