Top Startups
Top Cybersecurity Startup Axonius Says Covid-19 Drove Customers Their Way
CEO Dean Sysman describes what steps his company took to survive and grow despite the global pandemic
Axonius
Product: cybersecurity asset management service
Year founded: 2017
Founders: Avidor Bartov, Dean Sysman, and Ofri Shur
Number of employees: 80
Funding: $95 million
Investors: YL Ventures, Bessemer Venture Partners, OpenView, Vertex Ventures
The coronavirus (Covid-19) epidemic and the remote work momentum catapulted Axonius Inc., which mapped out corporate networks and secured them. After raising $58 million at the peak of the crisis, CEO Dean Sysman said in a recent interview with Calcalist that "this is the opportunity for any entrepreneur to test himself as a leader."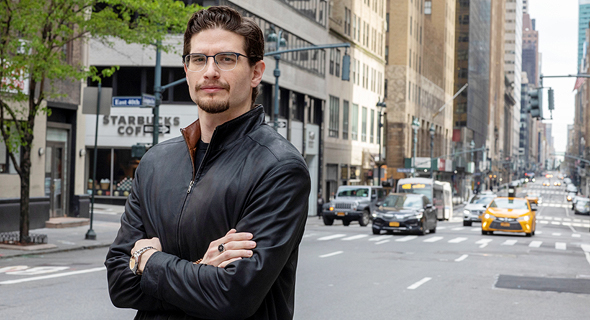 Axonius CEO Dean Sysman. Photo: Tomerico
Axonius' $58 million round announced at the end of March proves two things: that the company's investors are very experienced in severe crises, and that they recognize long-term potential, perhaps especially during the crisis. In the remote working age, which is now experiencing a bigger push than ever before, Axonius enables its customers' employees to work from their homes or laptops on the road, without fear of hacking.
Axonius develops a cybersecurity asset management service that integrates information from connected devices such as desktop computers, laptops, mobile devices, and IoT devices, enabling IT and security operations teams to manage and secure them at scale.
"We come to the organization, connect to its sources of information without any requirement, and within minutes provide a complete breakdown of all the devices," says Sysman, in an interview from the company's New York headquarters. "We connect to all the organization's infrastructures including the network and the cloud, consolidate information and provide the level of security required for each device," he said.
"I basically thought up the idea behind Axonius when I was at Symmetry, a company that I co-founded and has since closed down. I worked there with a lot of organizations, and we wanted to find advanced attackers. In one of the organizations, we detected an attack by a Chinese intelligence organization and discovered that the problem was in one of the organization's computers that no one had noticed. The idea that a company could miss a computer that it owned shocked me, and I realized that this was an opportunity, so in 2017 we set up the company," Sysman said.
How long did it take you to get started?
"A year and a half until we started delivering the product to first customers, at the end of 2018. In 2019 we grew at a crazy pace: we started with six customers and 18 employees and finished with 66 customers and 65 employees. Today we have 80 customers and by the end of 2020 we will be employing more than 100 people. Our customers are of varying sizes, from 300 to 300,000 employees, and in a variety of industries: finance, manufacturing, media, etc." Sysman explained.
How do you cope with the uncertain period we are all facing now?
"There are, of course, organizations that froze purchases, but because of remote work, the computing ecosystem is changing, and many organizations are approaching us because of the coronavirus pandemic, so we are still growing, even if at a slower rate than were it not for the pandemic. There are customers whose products have become critical, for example, a Fortune 500 company in which nearly the entire company has been sent on unpaid leave, except for the security team that is still working with us.
Have your marketing and sales efforts changed?
"A lot of conferences aren't currently taking place, so we focus instead on content and webinars. We've also decided to help as much as we can, and we offer a product-use service and a free estimate to any healthcare organization."
How did you adjust to working from home?
"There's a small chunk of the company that works from home anyway, in Texas and California, and almost every organization is capable of working from home. We're a very modern organization, all meetings take place on Zoom and all internal messaging occurs either on Slack or by Email."
"For me personally, a crisis, be it a private one or one that's on a global scale, is the real leadership test. This is an opportunity for me and every other entrepreneur to prove to themselves that they are worthy of the trust that employees, customers, and investors put in them."
"As far as employees are concerned, we have workers in Israel and the U.S. and also a few in the U.K. and Costa Rica, and I'm proud of them all."
Axonius featured in Calcalist and CTech's 2020 list of Israel's most promising startups.
Click here for our selection of 2020's most promising cybersecurity startups
Click here for our selection of 2020's most promising logistics and e-commerce startups
Click here for our selection of 2020's most promising unicorns
Click here for our selection of 2020's most promising medtech startups
Click here for our selection of 2020's most promising deep tech startups
Click here for our selection of 2020's most promising entertainment and media startups