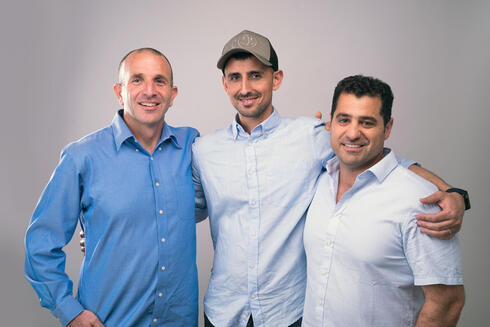 Interview

"Our vision is to create the first map product to access the world below us"
Startup 4M Analytics is using a combination of satellite and other data to map underground infrastructure to assist linear construction companies
What happens when construction companies dig to find an underground system that ruins their plans? Perhaps there is a way to detect underground infrastructure, and not only through satellite data, surmised one Israeli data startup. That startup, 4M Analytics, uses layers of data - from remote sensing satellite technology, topographical maps, underground infrastructure and location data to build the first "map" data product, 4Map, says Itzik Malka, co-founder and CEO.
"There's an entire system of power grids, oil and gas pipelines, and fiber optic cables underground. There's an entire unseen world below us," Malka told CTech in an interview, adding that civilization began building underground infrastructure without mapping the exact locations. "The mentality was out of sight, out of mind, but this turned taking a risk into causing a liability." And that is where 4M Analytics enters the picture with its solution to map out the underground world, assisting linear construction companies in the process so that they won't have any "surprises" mid-construction.
Malka has a history in detecting underground surprises. During the course of his military service, he served in the "Yahalom" unit of the Combat Engineering brigade in the Israeli military, specializing in dealing with buried explosives, IEDs, landmines, and more. "I wanted to impart part of my experience in combat and use it to make a positive impact in the tech world," he relayed. That's where he came across the idea of "reverse engineering" - to detect and clear landmines in Israel and around the world, by building a data map that could predict the precise location of buried landmines without requiring physical entry. His first startup was coined "4M Defense" and had a technology that relied on multi-remote sensing capabilities to detect landmines and hazards in warring countries. But that's when challenges arose: he struggled to raise capital as venture capital firms weren't interested in something quite so "explosive."
"At that point, we went back to the audit room, and researched other subsurface challenges related to our evolving technology," he said. The team discovered the subsurface utility engineering industry, which is a $38 billion fragmented market, and requires risk mitigation, utility coordination and management. This started to become a concern to insurance companies in the early 1980s, and by the 2000s was adopted as a requirement by the American Society of Engineering in at least seven states.
"Today when you want to pave a road or put a pipeline in the ground, there are still existing buried utilities in the ground, and construction companies invest a lot of resources in detecting, locating, and mapping utilities before excavators begin digging," Malka explained. The trio saw the need prevalent in the market, and set in motion their idea. In 2019, 4M Analytics was founded by Malka, Yoav Cohen (a former head of the Israeli military's geospatial intelligence Unit 9900,) and COO Nir Cohen, a serial entrepreneur who has partnered with Malka in founding other startups.
Mapping an underground world
The company's geo-mapping technology 4Map relies on several layers of data - including satellite data - to provide a clear picture of what's going on underground. "Our vision is to create the first map product to access the world below us. We use several layers of data to build a model that is highly reliable and can be used as a dependable information source for construction projects in their earliest stages," Malka said. And 4M Analytics hopes to launch its product over the next quarter, making it easy-to-use and helping building companies simply retrieve data online via a subscription model. "This will help companies scope out what's going on underground at the earliest phase of construction," he added.
The company's proprietary technology relies on a combination of computer vision and machine learning, to conflate data - whether that includes satellite imagery or existing infrastructure records that need to be verified. "Our core technology takes layers of data, and makes something usable out of it for the end user," he explained. To that effect, the company has a team of highly trained geospatial analysts to add proprietary mapping techniques to the final product.
The technology's distinction lies in the fact that it relies on multiple layers of data - not simply satellite data - and can be accessed remotely and swiftly, for a compelling cost. "We don't just rely on sensors," Malka reiterated, "we rely on hard core data." So far, the company has mapped out the subsurface of the entire state of Texas, and has plans to map out other locations in the U.S. too. For now, 4M Analytics is focusing only on courting linear construction customers - namely creating data for companies involved in water distribution, sewage, electricity, oil, gas, telecommunications, renewable energy (such as wind farms, solar panel fields), and roads, and not real estate.
So far, 4M has raised $18 million from Viola Ventures, F2 Capital, and other angel investors. The company employs about 100 people, and hopes to go public in the near future. However, first it aims to launch 4Map in Q3 of 2022. "Our game plan is to one day be a $100 billion company. We could become a platform and offer other mapping products for construction professionals to better help them coordinate and simulate linear construction projects," Malka added. Currently, 4M is located in Tel Aviv, but the management is relocating to Austin, Texas, where it will open a U.S. branch.
As for what makes the Israeli satellite industry so special, Malka thinks it has something to do with Israelis' nature to be go-getters. "I believe that Israelis have this ingrained DNA from serving in the military to solve problems hands on, and deal with uncertainties in highly creative and innovative ways. It's in the DNA of many Israeli companies that build great things. But at the end of the day, it all comes down to the people you have. If you have the right team, you can survive wars."