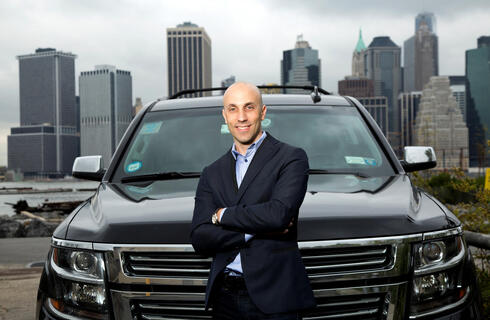 TransitTech unicorn Via raises $110 million at $3.5 billion valuation
The Israeli company, which maintained its valuation from its previous funding round in November 2021, ended 2022 with an annualized revenue run-rate of over $200 million
TransitTech company Via announced on Monday that it has raised $110 million at a $3.5 billion valuation, the same valuation the company received in its previous financing in November of 2021. Via intends to use the funding to expand its product suite and further its vision of providing the end-to-end digital infrastructure for public mobility.
83North led the round, with participation from new and existing investors, including Exor, Pitango, Janus Henderson, CF Private Equity, Planven, Riverpark Ventures, and ION Crossover Partners.
"All the funding will enter the company's account and there weren't any special clauses included by the investors," Via CEO and co-founder Daniel Ramot told Calcalist. "We would have liked to have had a higher valuation than our previous rebound, but considering the state of the markets at the moment we are very happy that our investors have confirmed our valuation from November 2021. I see this as a vote of confidence considering the market has dropped by tens of percentage points and many companies are forced to take on debt under difficult terms or give their investors additional control, which we did not have to do."
Via, which employs around 1,100 people, half of them in Israel, ended 2022 ahead of plan, with annualized revenue run-rate surpassing $200 million, more than doubling since the previous financing round.
"We previously filed a prospectus and were on course to go public, but that is not on the table right now," said Ramot. "We are ready as a company to go public and we just need to choose the right timing. We will register revenue well above $200 million this year and once the window arrives we will be ready to go public.
Via's products are used by more than 600 communities around the globe to expand access to efficient, equitable, and sustainable public transportation. The company's technology enables customers to plan transit networks that are responsive and resilient to rapidly changing needs, to operate smart multi-modal transportation systems, and to use data to optimize performance — all in one software platform.
Founded in 2012 by Ramot and Oren Shoval, Via optimizes networks of buses, shuttles, wheelchair accessible vehicles, school buses, autonomous vehicles, and electric vehicles around the globe.
"Access to transit improves health, education, and economic outcomes, and all of us at Via are inspired every day to see the positive impact our customers have achieved by adding technology to their transit networks," added Ramot. "The growth of the TransitTech market in recent years has been truly remarkable, and we are proud of the contributions we have made to create and expand the category."