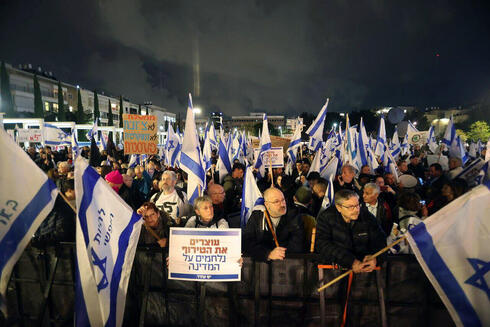 Clear and Present Danger:

The Israeli government is leading the economy and tech to catastrophe
Investors will flee. Youngsters will leave. International collaborations will go awry. The interest rate that the state will pay will rise. Companies will find it difficult to operate. High-tech leaders warn of the dangers of the legal reform and the measures being pushed by the new government that are leading to the crushing of Israel democracy and irreversible chaos in the country
On Saturday night, in a demonstration against the planned reform in the judicial system, the streets of Tel Aviv were colored with a multitude of emotions. There was anger, fear, great hope for change.
Among the many thousands of demonstrators there were also quite a few businesspeople, entrepreneurs, and investors.
Conversations held by Calcalist with dozens of them revealed the same feelings, and testified to a real concern about the direction in which the legal reform and other measures by the government are taking us.
Some of them admitted that they are afraid to be interviewed, to speak out loud. They made it clear how dependent they are on the government, on tenders, on budgets, on regulators, and how much they currently fear, not only for democracy, the state of the country and the economy, but also for the businesses they are leading, which provide for a great many people. This in itself is a clear sign of damage to democracy: people with a lot of power and capital who are afraid to criticize the conduct of the government, lest they be harmed.
And yet there were also dozens of brave men and women who refused to give in to this fear, who felt the need to say, most clearly and explicitly, that we are indeed in a pivotal moment, and that we must speak up. The State of Israel is important to them. They can be good advisors. It is worth hearing them out.
Interviews by: Diana Bahor-Nir, Sophie Shulman, Moshe Gourli, Meir Orbach, Yuval Sade, Dotan Levy, Yuval Azoulay, Shani Ashkenazi and Ari Libsker