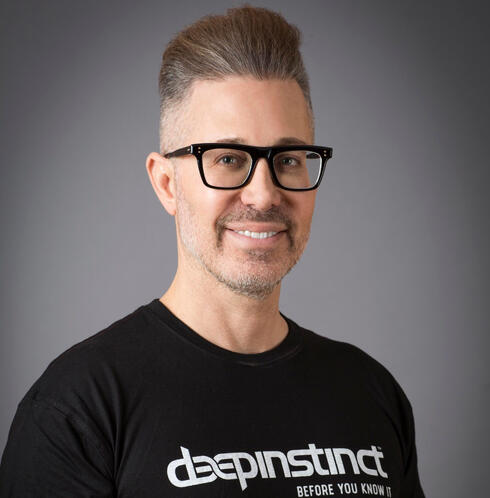 Exclusive

Deep Instinct raises $62 million from BlackRock and Chrysalis
The Israeli cybersecurity company is also undergoing a major change in its leadership team, with Guy Caspi to leave his role as CEO and become the company's Chairman and CPO. Lane Bess will take over as CEO
Israeli cybersecurity company Deep Instinct has raised $62 million from investment giant BlackRock and from Chrysalis of UK-based Jupiter Fund Management, Calcalist has learned. Deep Instinct is set to add another $18 million to the round in the coming weeks to bring it up to a total of $80 million, taking the company's funding to date to around $305 million. This is set to be Deep Instinct's final funding round before it goes public, which is set to take place over the next 18-24 months, depending on the state of public markets.
Deep Instinct is also undergoing a significant change in its leadership team, with Guy Caspi to leave his role as CEO and become the company's Chairman and CPO. Lane Bess, who had previously served as Chairman, will take over as CEO. Bess has more than 30 years of experience as an operational executive, serving as the COO of cloud-based internet security service Zscaler, as well as CEO of Palo Alto Networks between 2008 and 2011.
Deep Instinct has also come to a decision to step away from the SMB market and as a result will lay off around 30 members from its sales team in the U.S. after already parting ways with dozens of employees several months ago. At the same time, the company is planning to recruit around 60 employees for its R&D center in Tel Aviv, as well as sales employees to fit its new activity. Deep Instinct currently employs around 300 people in Israel and the U.S.
The Deep Instinct platform can predict, prevent, and analyze cyberattacks at any touchpoint of the organization from the endpoint through to the network. It does so with end-to-end deep learning technology. Deep Instinct was founded in 2015 by Caspi, Dr. Eli David, and Nadav Maman.
Other investors in the company include: Untitled Investments, The Tudor Group, Anne Wojcicki, Millennium, Unbound, and Coatue Management,