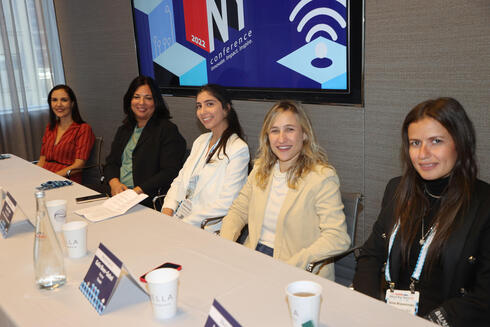 Mind the Tech NY 2022

"Only 2% of startup funding is allocated to companies founded by women"
Keren Hod, Founder & CEO of WE Women Entrepreneurship, was speaking at a panel held as part of Calcalist's Mind the Tech conference in New York
A variety of issues were raised at a panel of female entrepreneurs moderated by Keren Hod, Founder and CEO of WE Women Entrepreneurship, which took place as part of the Mind the Tech conference in New York. Some of the issues are relevant to all entrepreneurs and some are unique to female entrepreneurs.
However, one of the main points that came up repeatedly is the minority of women among founders of startup companies, as well as the small number of women serving partners in venture capital funds.
"Only 2% of funding for startups is directed at companies founded by women, is this an improvement?" Hod asked the panelists.
"Changes are made slowly, we need to make women who are successful into role models. As soon as others see it is possible, it will happen more often," noted Inbar Haham, Co-founder and Managing Partner of the venture capital fund INcapital Ventures.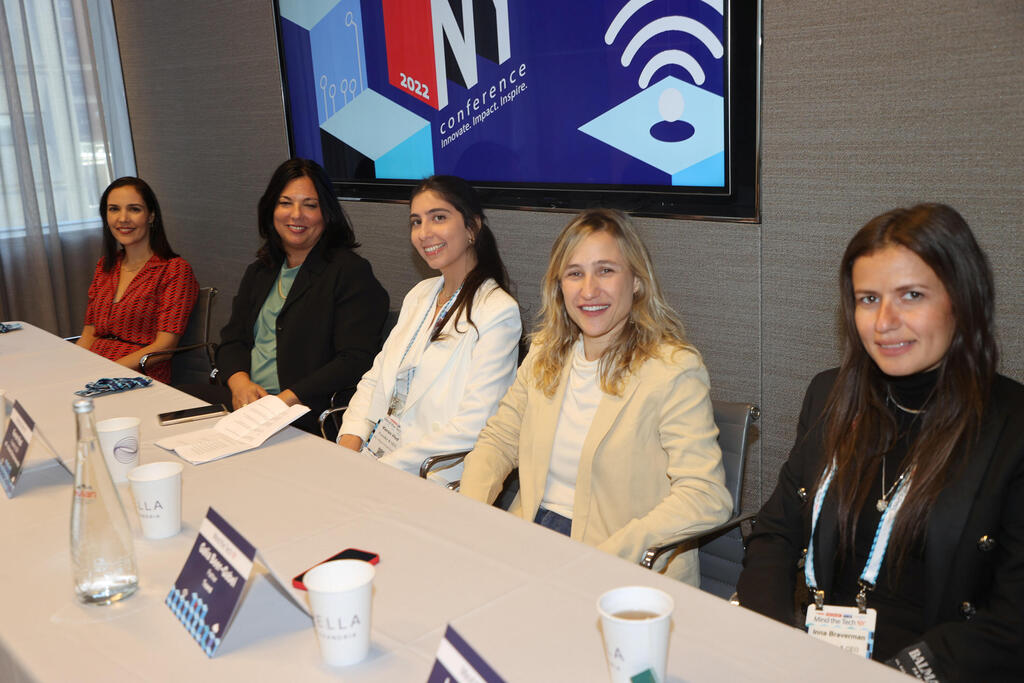 However, Timor Arbel-Sadras, CEO of LeumiTech, disagreed with Haham: "We may be seeing more women in absolute terms however, in terms of percentages there really is no progress. Only 10% of the partners in venture capital funds are women and this number has not increased for years. As a mother to daughters, I find this disturbing."
"We at Team8 are looking for women entrepreneurs and there are hardly any, it got even worse after Covid and the transition to working from home, where women still carry a larger part of the burden. Thus, out of 97 unicorns that exist in Israel today, only one was founded by a woman," noted Galia Beer Gavel, a Partner in Team8, referencing Eynat Guez, who founded Papaya, a company operating in the HR-tech sector.
Inna Braverman, Founder and CEO of Eco Wave Power, pointed out that even in the cleantech sector, where the company she founded operates, only 5% of executives are women. "When I founded the company at the age of 24, every time I went into meeting rooms to present Eco Wave, everyone turned to me only to ask if I could bring them coffee or water. Even when the participants realized that I was the founder, they did not direct the questions about the technology to me. Moreover, when in the process of Eco Wave's IPO on the Stockholm Stock Exchange I examined PR companies, the CEO of one of the largest companies in the field in Sweden, advised me to leave the position of CEO of the company and bring in a man with graying hair instead. She told me that investors trust men more."
Later, the discussion moved to more general issues regarding the management of startup companies such as the timing of entry into the U.S. market, the relocation of senior managers to the U.S., as well as considerations for the location of the activity within the U.S. Haham noted that more and more companies are moving from Silicon Valley to smaller cities such as Austin, Texas and Miami: "This is a very smart move because the cost of living outside of San Francisco is much lower, the rent in Austin costs a fraction of that of Silicon Valley. We also really like Toronto because there are many employees with a high level of education and relatively low costs. We have several companies there and some in Miami as well."
Arbel-Sadras believes that any company that wants to go public must enter the U.S. market so that it will receive more trust from investors. According to her, "In the past, startups that started to grow moved management to the U.S. This is especially important for companies that sell to end customers. However, in recent years we see management staying in Israel and today it depends on the company and its relationship with the market."
Beer Gavel added that "lately, since the end of the epidemic, entrepreneurs have begun to feel FOMO once more, they fear that they are missing out on something important, and want to move to the U.S."
Finally, Braverman was asked to give advice to women entrepreneurs: "My most important advice to women is not to be afraid to talk about money and not to be afraid to ask for money. If a woman needs a million dollars for her startup, she will ask for half a million dollars where men, on the other hand, will ask for five million."