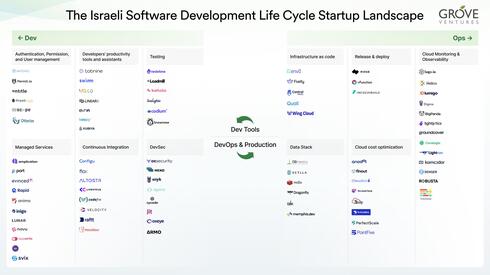 Mapping the Israeli Software Development Life Cycle landscape
With 100+ SDLC-focused startups and more than $5 billion in capital raised in less than a decade, Israel is the country of origin of category-leaders like JFrog, Redis, Snyk, and others
Israel is world-renowned for its cutting-edge technology. Although the country is widely recognized as a Mecca for Chief Information Security Officers, an equally interesting story is not getting the attention it deserves: Israel as a powerhouse of solutions for software engineers.
With 100+ Software Development Life Cycle (SDLC)-focused startups and more than $5 billion in capital raised in less than a decade – almost a third of which in the past three years alone – Israel is the country of origin of category-leaders like JFrog, Redis, Snyk, and others.
The Israeli SDLC industry map
To shed light on the Israeli SDLC industry, we mapped the 80 most prominent Israeli startups in the field, excluding public/exited companies following the software development life cycle, from left to right: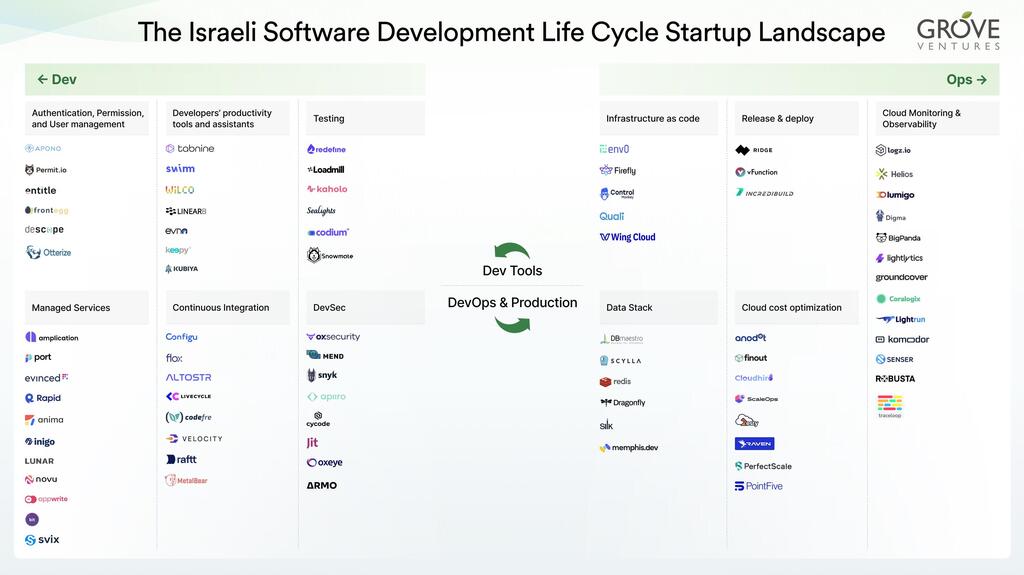 The continued momentum of Israeli SDLC-focused startups, we believe, has two unique characteristics that contribute to its strength and potential:
The country became a massive buyer of developer-oriented solutions, products, and services – in billions of dollars a year. Traditionally, Israeli startups suffered from being distant from their target markets, which hurt their chances of achieving product-market fit. After a strong decade, things have changed. Dozens of Israeli companies were created with many gaining global scale, and the country became home to large engineering organizations. It became easier for founders of SDLC-focused startups to find partners that can provide important feedback early and within reach. In addition, Israeli companies themselves were now huge customers, which signaled to other enterprises around the world that Israel is a place worth doing business with when it comes to SDLC-related innovation.

A significant number of companies are led by second-time entrepreneurs with past experience in the buyer's side of SDLC-focused products. This new generation of software-infrastructure-focused founders comes with profound domain expertise and years of market engagement. 45% of founders are second timers, 36% of them previously served as CTOs/VP of Engineering and on average founders have 12 years of engineering experience before establishing a company in the field.
The State of Software Development Life Cycle 2023
To cut through the noise, we decided to dive into the data and conduct thorough research about the sector. We interviewed dozens of prominent industry leaders and gathered top insights from (A) Israeli founders of successful early-growth-to-IPO SDLC-focused startups, and (B) their customers (CTOs, VPs of Engineering, VPs of Platform and Heads of DevOps and Infrastructure), from both Iocal and global growth stage companies and public enterprises.
These are the key findings of our in-depth research: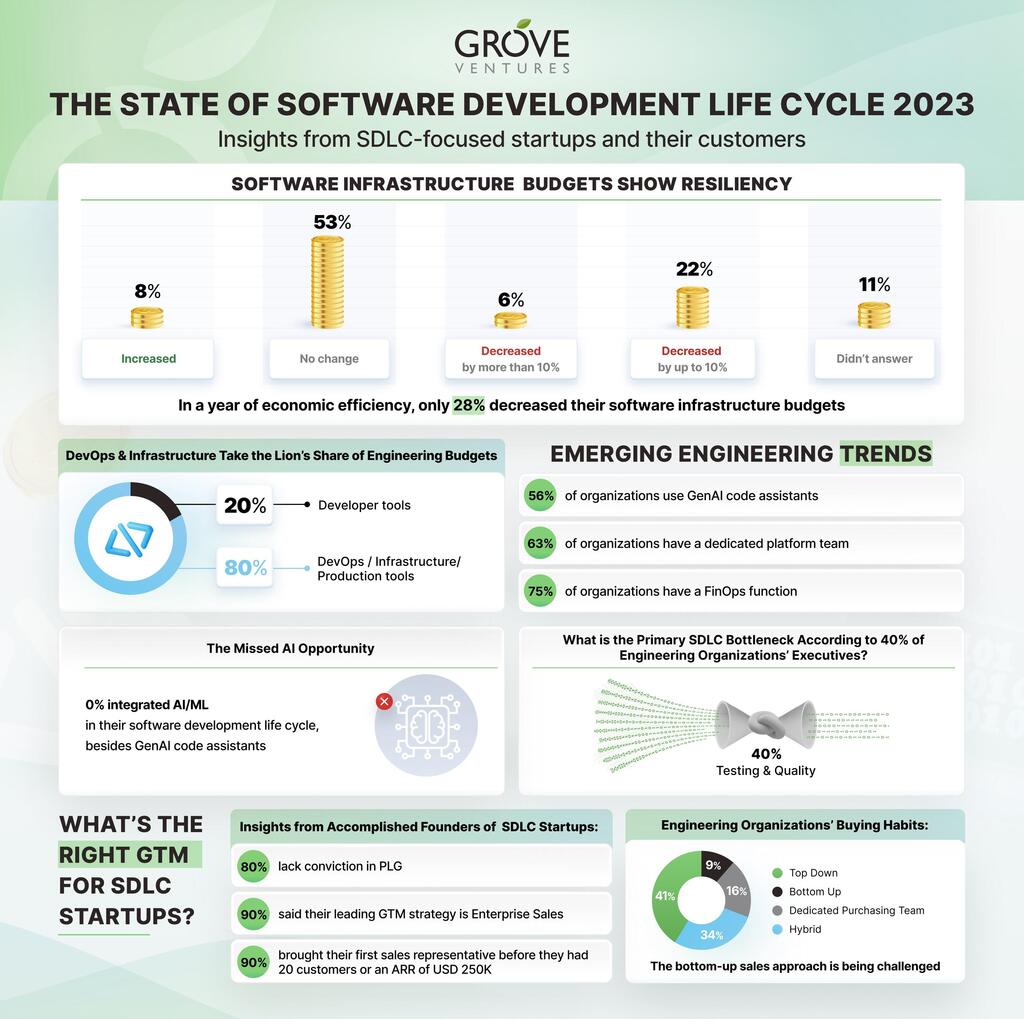 Even in a year of economic efficiency, software infrastructure budgets remained resilient and only 28% of the customers of SDLC-focused products decreased their software infrastructure budgets.

When asked to describe their budget allocation, engineering executives estimated that they spend equally (50/50) on Developer Tools and DevOps/Infrastructure/Production products. However, in reality, when we went over with customers on their major vendors list and calculated their actual expenses as part of our research work, a surprising figure was discovered: 80% of the engineering budget is devoted to DevOps/Infrastructure/Production tools, while only 20% is dedicated to Developer Tools.
GenAI Opens a Window for Mass AI Adoption in the Software Development Life Cycle:

AI is certainly a prominent buzzword this year with Github's Copilot activated by more than one million developers in over 20,000 organizations. We wanted to understand how this AI revolution has affected the software development life cycle. Here's what we discovered: the majority of organizations (56%) have already started to implement GenAI code assistants. Other than that, however, no one (0%) integrated AI/ML in their software development life cycle. Although software engineers are usually at the forefront of technology, we discovered they are cautious about implementing AI solutions, with the main reasons for their unwillingness being regulation, skepticism, and trust issues.

Platform Engineering is on the Rise:

63% of surveyed organizations have a dedicated platform team.

Testing and Quality are Still the Main Bottlenecks:

40% of surveyed engineering executives mentioned 'testing and quality' as their primary software development bottleneck. And yet, executives did not "put their money where their mouth is": Only 20% built in-house platforms for testing, and only 4% spent more than $25,000 annually on testing tools.

FinOps Adoption Skyrockets:

75% of respondents already have a FinOps function in their organization.
Founders Lost Faith in the Product-Led Growth (PLG) Model:

We asked founders to share their contrarian view on the market, a truth that they know and no one else agrees with. A staggering 80% of founders offered the same 'atypical market perspective' when asked: they lost faith in PLG. The term PLG was coined in 2016 by OpenView, and is defined as a growth strategy where the product itself acts as the primary driver of acquisition, retention, and expansion. It immediately became the main go-to-market model for most software infrastructure companies. As this strategy became more and more popular, the competition for the individual developer's attention surged and standing out became harder than ever. The widespread adoption diminished the competitive advantage previously associated with its implementation.

Founders Agree: Enterprise Sales is the Preferred GTM Strategy:

When asked about which go-to-market strategy actually works, 90% of founders mentioned enterprise sales. The majority of growth-stage companies actually prefer a mixed method: they rely mainly on outbound enterprise sales and use PLG as a marketing method to increase brand awareness and build inbound demand generation.

Organizations Assure: Bottom-Up Sales are at the Bottom:

Over the past decade, the ruling assumption was that engineers could pick and choose their own development tools, and startups heavily relied on PLG and bottom-up sales. However, it turns out that founders should not be 'religious' about creating bottom-up motions. Our research suggests that only 16% of companies purchase dev tools bottom-up. 41% adopt products top-down, 34% use a hybrid purchase method, and 9% have a dedicated team of 'gatekeepers' that decide on the purchasing of any new software development life cycle product. This marks an additional paradigm shift and corresponds with the founders' lack of faith in bottom-up PLG.
In the ever-evolving Israeli SDLC landscape – a shift has happened. Innovation pushes the industry forward, and founders, once spellbound by Product-Led Growth (PLG) strategies, now understand that enterprise sales are key to the success of their businesses and must be championed. GenAI, Platform Engineering, testing, and cost-efficiency considerations echo through the industry. As the ecosystem grows and develops, it is important to be able to adapt, respond, and let the learnings and wisdom of successful companies and individuals light the path.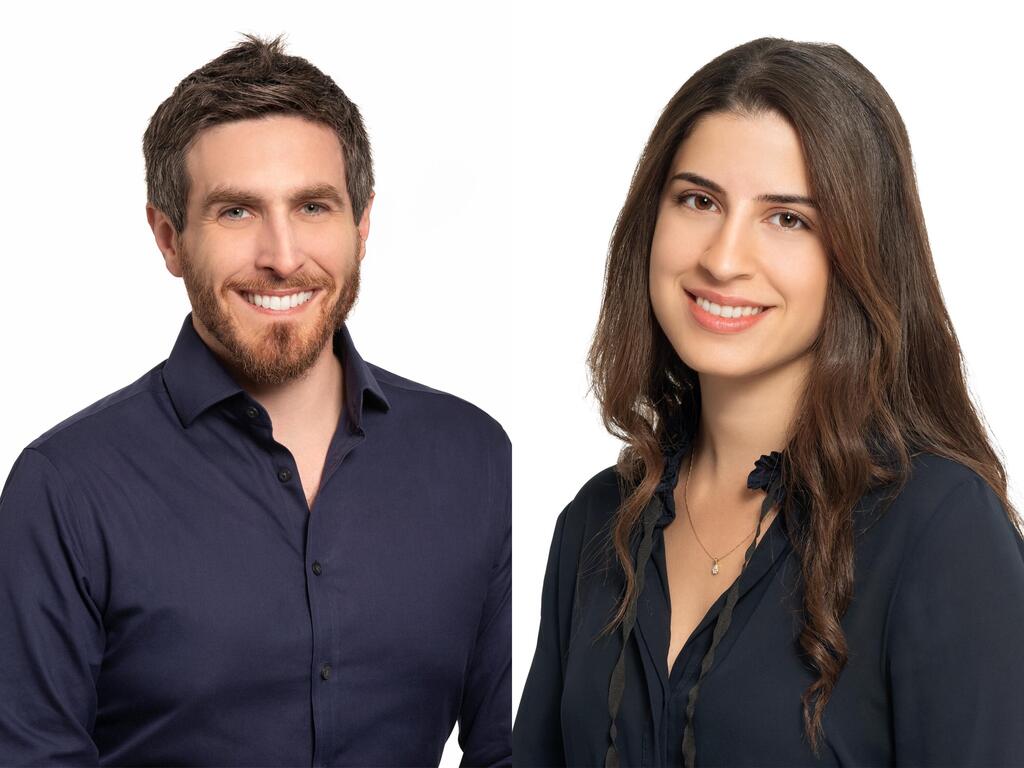 Lotan Levkowitz is a General Partner, and Tal Abuloff is an Associate Investor, at Grove Ventures