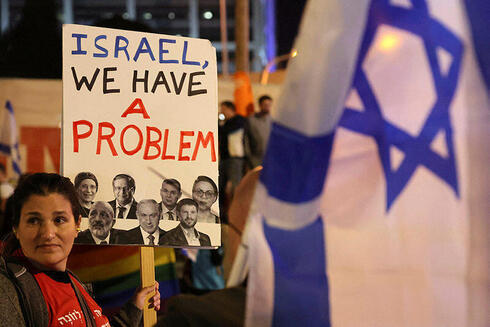 "We are sorry the high-tech industry has only just woken up, but we have arrived, and we will do whatever it takes"
The high-tech industry has an image of being disconnected, but the impending judicial reforms have resulted in the sector mobilizing like never before
Sigal Naim speaks passionately, there is urgency in her voice, a strong need to act. Naim (53), a veteran entrepreneur, is as of last week the executive director of the association of high-tech employees fighting against the threat to Israeli democracy. The association includes hundreds of people from various fields, including headquarters with dozens of volunteering activists. "As soon as I received the request to come and lead the struggle I agreed. It's like asking me after an earthquake how long it will take me to get out of the house in order to help rescue people from under the rubble," she told Calcalist.
"There is no time. We have already raised several million shekels, the phone is ringing all day and people are saying, 'Just tell me where to transfer the money and what to do.' They tell me that they want to fight because they don't want to leave the country."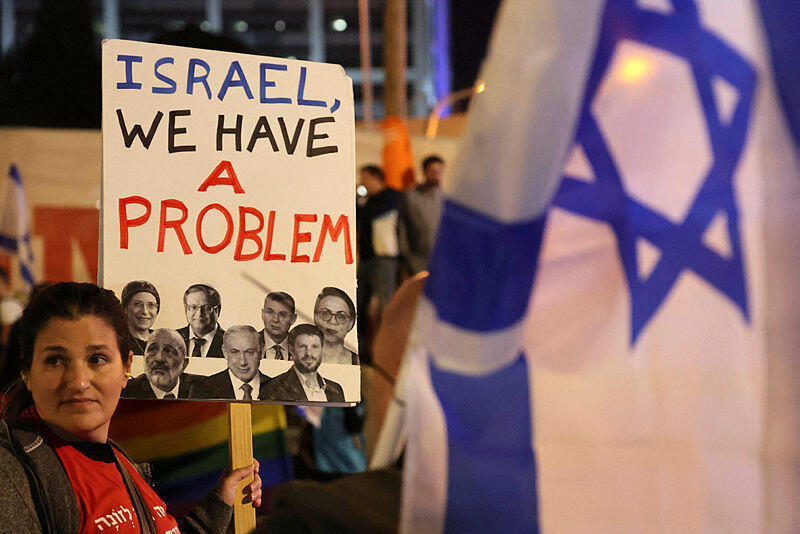 It seems that suddenly the Israeli high-tech industry is more politically active than ever before.
"Yes. We are sorry we only just woke up, but now we have arrived. Each demonstration costs about half a million shekels, and we will provide everything necessary: transportation, flags, production equipment. We did not come for just three demonstrations, but to get this bulldozer out from our home. People understand that this is a continuous war on democracy. The party that wants to destroy democracy in Israel has been trying to do so for over ten years, look at the Kohelet Forum. This is real and we just woke up."
"I am going to fundraise from everyone I know, I also donated, everyone who is active in the headquarters has put their hand into their own pockets. There is an insane amount of donors here, both in money and in time. There are people who put hundreds of thousands of shekels into the fight from their personal account and there are people who hung signs in Kaplan (the street where the main demonstration in Tel Aviv took place last week) on Saturday."
It does not end there. In addition to the fact that the high-tech sector is currently an important source of funding for the struggle, the headquarters, which is working in coordination with the protest's centreal headquarters, is also organizing lectures by lawyers who are explaining the reform to high-tech employees and are accompanying any relevant protest initiative. This week, for example, they helped organize the one-hour work stoppage on Tuesday and accompanied the demonstration that took place that day, again on Kaplan Street, near a central high-tech complex.
This mobilization is surprising when it comes to Israeli high-tech employees. This is a group that mostly abhors anything that even smells like an association, adheres to personal excellence and maximum separation between the individual and the state. An island of entrepreneurship and money, whose people did not often engage in legal quibbles or struggles across the country. In the general public they are sometimes seen as detached and spoiled, not those who go out to hang signs. And now thousands of them, if not more, are demonstrating, and some are not content with that and are playing a role in the organization.
"This is the first time that the sector is organizing in an orderly manner," admits Michal Tsur (49), founder of Kaltura and an activist in the struggle. "Lots of people who have never taken part in activism are coming forward now. They are all worried, both as citizens and as high-tech entrepreneurs. They say about Israeli entrepreneurs that we know how to go through walls - the new government's reforms are the biggest and most important wall right now."
When women have no representation
The activity - and this is not obvious in high-tech - is led by women. Alongside Naim and Tsur at the headquarters is Yodefat Harel Buchris, director of the Blumberg VC in Israel; Rona Segev, Managing Partner at TLV partners; Anat Naschitz, co-founder of OrbiMed, who "brought the entire life sciences industry here", as they say at the HQ; And Eynat Guez, co-founder and CEO of Papaya, who also spoke at the demonstration last weekend. The high-tech industry is going into battle, and women are its leading soldiers. "Women are leading because, in the current government, women are underrepresented, and this provokes a backlash," says Tsur. "There is an understanding that no one is representing our interests. After all the reforms, in the next election they will be able to say that women can't run."
"Entrepreneurs know how to formulate ideas and fundraise. We are thinking outside the box about what steps to take. I hope that the other side will look at things with a balanced perspective. That they will understand that this is a country that needs to be protected, remain economically strong and immune. Even those who claim that the judicial system reform won't harm democracy, need to understand that if it comes to fruition, it will hurt their pockets."
But the whole issue is still not finalized, it is easy for the supporters of the reform to claim that you are exaggerating, panicking.
"These are not prophecies of wrath, we hear the rumblings. Israel is already at a disadvantage due to the security uncertainty, and in the last few days data has come from venture capital funds that are raising money and it is clear that investors are freezing their investments. Foreign investors and the foreign board members in Israeli high-tech companies were asked to take immediate steps to guarantee their cash balances. Investors see, for example, the tax on the profits of pharmaceutical companies that the Hungarian government imposed a month ago, and fear that one day they will also impose a tax on high-tech companies here. If the reform passes there will be nothing to stop it."
Any thoughts on a tax revolt as well?
"There is no need for a tax revolt, we are all law-abiding citizens, and in any case there is no benefit to a momentary solution. However, if things continue, the state will simply receive less taxes from the industry. This is exactly what we are trying to explain to everyone - every citizen will be affected, this is not just an attack on high-tech."
There are different opinions on the issue of the tax revolt, but it is a small step compared to some of the ideas that were offered in brainstorming sessions. These are people who make money from taking risks, so they are forward thinking.
"I am fighting for my children, but also for the high-tech sector, without which there is no economic justification for Israel's existence," says Eynat Guez (42). "If all of us, the leaders of high-tech companies, extract even just 20% of the money we have in the banks in one day - they will collapse. Also imagine what this will do to the dollar exchange rate and the state of the shekel. And it is my right, and even my duty, to transfer the money to banks in democratic countries."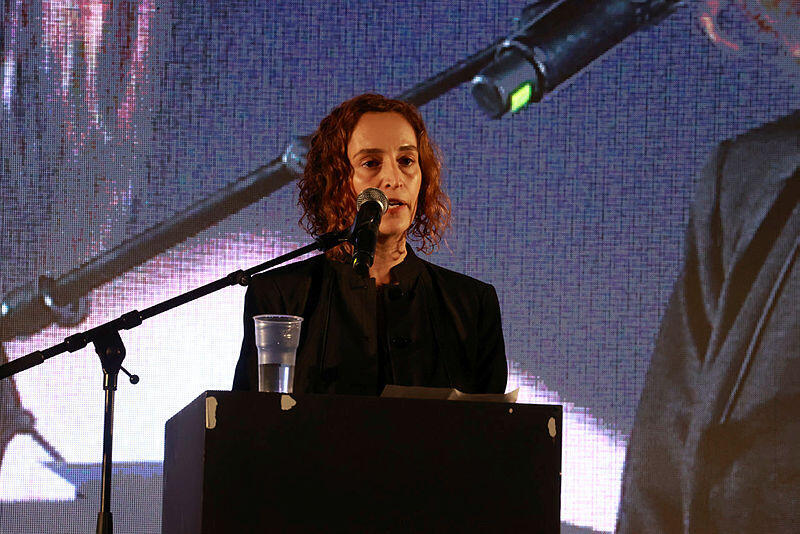 These are harsh words, but Guez says them calmly, confidently, and
officially announced that she would go ahead and withdraw Papaya Global's holdings in Israel last week
. "$54 billion have flowed into Israeli high-tech from foreign investors in the last three years. Without democracy, these $54 billion would not be here," she said on stage at the protest. Now she adds: "At the demonstration, they didn't understand what I said, but I understand very well what my board members, most of whom are from abroad, are telling me. Their attitude is businesslike and cold, and I have already received inquiries about it. People do not understand that today it is very easy for the world to react and withdraw money from where it does not want to be. This is not a far-fetched scenario. This muscle was developed during Covid and practiced under sanctions in Russia."
You were attacked for this.
"Yes, all the Twitter bots hammered me, I've been under attack since Saturday, I'm constantly blocking more and more bots."
What is your goal? After all, you do not want to harm the Israeli economy when you are trying to save it.
"True, we found out how different it is to run a company and to run a social struggle: right now there is no dialogue with the other side, there is a clear disregard. As we say, at this point we still don't have clear KPIs," she laughs; 'Key Performance Indicators' is a common concept that refers to measuring company performance. "We are still at the MVP (Minimum Viable Product) stage, a feasibility study for a product called the active involvement of the high-tech sector in the war on democracy."
One of the first to be involved is Meital Levi Tal (48), owner of a public relations office specializing in high-tech and formerly vice president of a public relations office specializing in social struggles. About a month ago, she was one of the drafters of the "High-tech employee letter", with Erez Shachar, Managing Partner of the Qumra venture capital fund, when the reform of Justice Minister Yariv Levin had not yet been published and the fear was "only" of discrimination against minorities. Since then, she sees the gap only increasing: "After the proposal of the reform, people understood the significance and also understood their weight in society."
The struggle, obviously, also creates sensitivity in the companies, since it is clear that not all employees support the activity. However, Guez has no doubts: "This is not a political protest, and it doesn't matter what I voted in the elections, because no one voted to change the system of the regime. I'm sure there are employees who have no problem with the reform, but as CEO I also have the right to decide what color to paint the walls and what cornflakes to buy. So right now it's also my responsibility to take care of the workplace of all the employees so that we don't have to resort to massive layoffs."