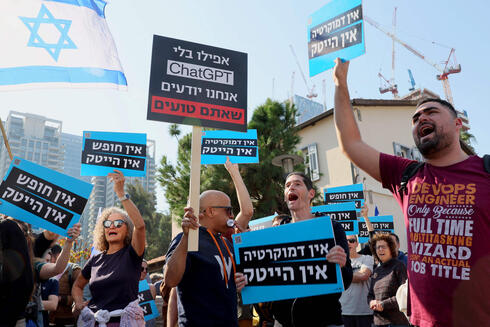 Clear and Present Danger

High-tech employees stage one-hour work stoppage to protest judicial reform
"High-tech is not cut off from the state as they have said about us over the years. The state is important to us," said the leaders of the demonstration
Thousands of high-tech employees participated in a lunchtime protest organized by industry executives. The protest, which was spread across three locations: Sharona Center and Rothschild Street in Tel Aviv, and the industrial area in Herzliya, included speeches by industry executives including Dov Moran, Yinon Costica and Shaul Olmert. "High-tech is not cut off from the state as they have said about us over the years. The state is important to us," said the leaders at the demonstration. During the demonstration some of the protesters even went to the road and blocked Kaplan Street for several minutes.
Senior executives in the industry told Calcalist that they gave employees a choice of whether to join or not. Many entrepreneurs took part, among them the founders of Wiz, Assaf Rappaport and Yinon Costica, who led a large group of company employees, Roi Adler and Erez Shachar from Qumra Capital, Idan Ofrat, one of the founders of Fireblocks, and many more.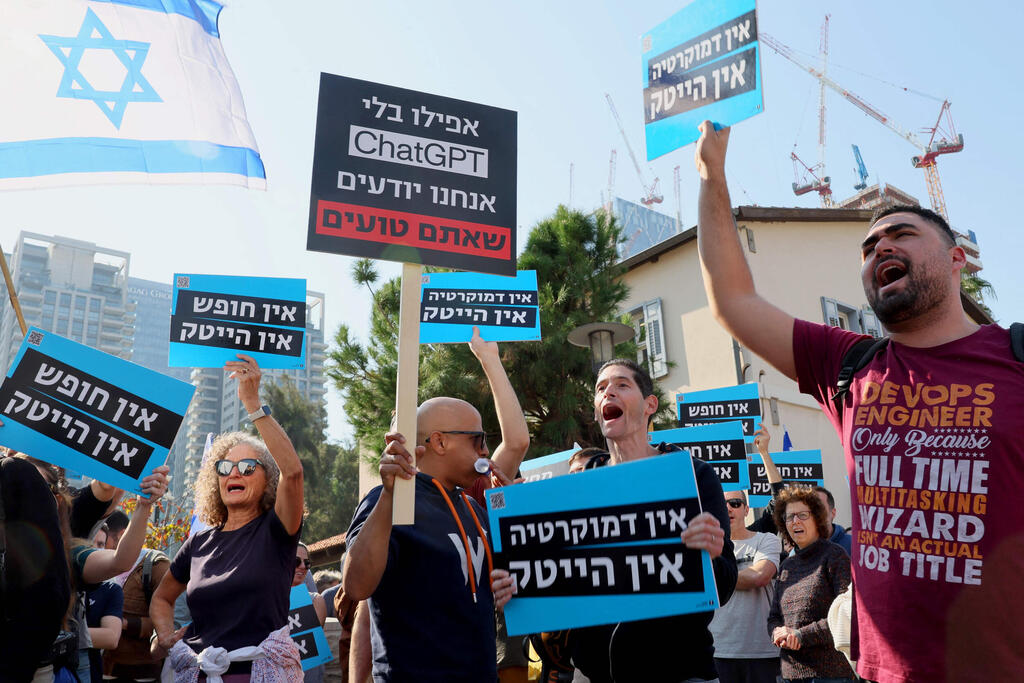 Costica, who is one of the founders of cybersecurity unicorn Wiz, told the protesters, "It's not every day that we see men and women from the high-tech industry, and many more from the private sector, who choose to stop their work and together ring the alarm bells. They are doing this because our democracy is in danger and if democracy is in danger - the economy is in danger. We are all overwhelmed by the feeling that something bad is happening here, and that it is impossible to stand by, because soon it will be too late. This is not a political gathering, and it is not a political struggle and we will not give a hand to our labeling or cancellation. We are here because we care, because this is a struggle for our image as a democratic country, for our ability to maintain, and protect, our rights as citizens and as businesses," Costica said.