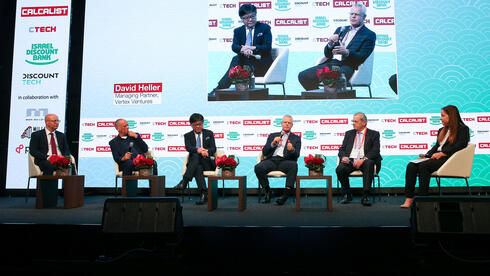 Israel-Japan Conference

Discount Tech CEO: "We have a vision to be a bridge between Japanese corporations and Israeli startups"
"It will take time for both parties to understand and learn from each other, but we are committed to the process," said Discount Tech CEO Dr. Guy Navon at the Israel-Japan Conference in Tokyo
"If you want to complain, it's best to face the mirror, because in 80% of cases, the reason why something doesn't work is you," Elchanan Harel, President and Founder of Harel-Hertz Investment, said at Calcalist and Discount Bank's Israel-Japan Conference in Tokyo.
"Everyone complains that the investments from Japan are not high enough, but there should be investments in both directions. Israelis do not recognize enough opportunities to invest in Japanese companies. Japan can be the gateway to Asia, there are many small and medium-sized businesses (SMBs) there, and in Japan these can be companies worth billions. Unlike the giant corporations more familiar to Israelis, such companies are hungrier and can be more agile," said Harel, who has been working in Japan for decades.
Harel was speaking as part of a panel moderated by Noa Asher, CEO of NTT Innovation Lab Israel. The panel focused on providing useful advice from veterans of the Israeli high-tech industry.
Dov Moran, Managing Partner of Grove Ventures, has vast experience working with Japan's Toshiba who also invested in M-Systems, which he founded and sold in 2006 to SanDisk for $1.55 billion. Moran suggested that Israel should listen more to the Japanese and not rush. "I am the Israeli who has sold the most to the Japanese," said Moran. "The relationship between us can be based not only on the basis that they invest in us, but that we sell to them. There are many ways to do business. One visit is not enough, one dinner is not enough. Invest in speaking slowly and in conveying your message. The Japanese partners are the best in the world because they are loyal, the quality is high and the relationships are long-term."
David Heller, Managing Partner at Vertex Ventures, many of whose investors are Japanese institutions, also believes that Israelis still have a lot to learn about managing relationships with the business community in Japan. "Success in working with Japan requires two things. First, understanding the differences between the parties and the second is to find the right model of cooperation. Many companies from Japan want access to Israeli technology and in the end it's acquisitions. I've learned from 30 years of experience that it can be done, but there are challenges and not everything works smoothly. You have to be aware of the differences and solve them. The decision-making process in corporate Japan is relatively long compared to the U.S. and thus opportunities are missed. The Japanese find it difficult to estimate the value of an intangible asset and most Israeli companies are acquired without revenue."
Dr. Guy Navon, CEO of Discount Tech, emphasized that from the bank's point of view, this is only the beginning and he will continue to promote the business ties between Japan and Israel. "The business relationship between Israel and Japan is already happening and we see it here. We have a vision to be a bridge between the Japanese corporations and the local investment companies and the Israeli startups. We want to introduce and help the Japanese find the appropriate Israeli technologies. We understand that It will take time for both sides to understand and learn from each other, but we are committed to the process. We have collaborations with financial institutions in Japan and next month companies from Japan will come to Israel to meet Israeli startups that we will introduce to them. We want to accompany both sides and create good business for everyone."
Tomoyoshi Noda, founder and president of Shizenkan University, provided the Japanese perspective. "I regret to say - and I'm a Japanese patriot - but unfortunately, the Japanese companies were in a coma for decades. We didn't do anything. Israel is a wake-up call for Japanese industry. Cooperation with the Israeli high-tech industry is an opportunity for Japan. It's time for Japanese CEOs to wake up. In Japan there are many social challenges and they can be translated into new ideas just as Israel created innovation from existing needs and things that were missing."
You can watch the full panel discussion in the video above.