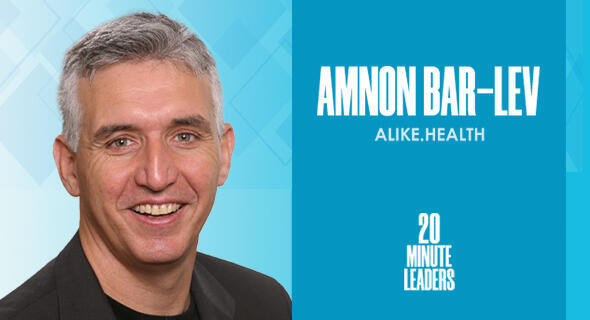 20-Minute Leaders

"There's no other way than through hard work. But the rewards at the end are amazing."
Bar-Lev is the co-founder and CEO of Alike.Health, which is building a social network that uses clinical data to help patients find others who are similar to them
After Amnon Bar-Lev achieved financial success, he says he turned his thoughts more to leaving a legacy that would help the world. He didn't have healthcare in mind at first, but through some exposure to the field, he realized that he could make an impact for patients. Bar-Lev is now the co-founder and CEO of Alike.Health, which is building a social network that uses clinical data to help patients find others who are similar to them. Users find helpful information and support from others. This B2C model is a new one for Bar-Lev, but he explains that a common thread throughout his career is that he loves challenges. He says every new endeavor requires lots of hard work, but the rewards are worth it.
You've done some incredible things from flying F-16 planes to being the president and CEO of Xpert Integrated Systems, the president of Check Point Software Technologies, and now the co-founder and CEO of Alike.Health. If you look at your career path, who are you?
I think I'm a challenger. I really enjoy challenges. You need to challenge yourself every day when you fly or when you build a company like Xpert. At the end of the day, I think it's the joy that you get from challenging yourself and from challenging others. If you gather around yourself people that enjoy being challenged, then it's great fun. Then you challenge yourself and the organization. That's what I do.
Take me to those moments when you're deciding on this new challenge. What is it that gets you excited and hooked?
It's not always fun. But when you overcome that, it's great fun. I was a squadron deputy commander on Phantom, on F-4, and then I moved to fly F-16, and you start almost from scratch. It was very stressful. The same thing when I recently started doing graduate studies at the medical faculty here in Tel Aviv. You're going to do a test in bioinformatics like everybody. Most of the people are the age of my kids. But you don't want to fail.
It all comes to the same place where it is a lot of hard work. There's no other way to do it. But the rewards at the end are amazing. I failed so many times. Nobody likes to fail. But once you understand it's part of life and you try to do the best out of it, and if it's successful, then it's a great thing.
Check Point Software Technologies. What is your role as president in that journey? How did you experience those 13 years?
I joined Check Point at the end of 2005. The company still suffered from the bubble of 2000. Income was basically stable, and so the company didn't grow. When I joined, I found an amazing set of assets. I immediately understood one thing: this company has amazing technology, but the key source is understanding your customer, and the go-to market will win. Successful companies are not just about the technology. It's all about the go-to market.
I remember going to a meeting in Ohio with a customer. He said, "You are very expensive." At that time we sold only software where you pay 20% maintenance, one-time fee, and that's it. I told him, "It's $20,000. Why is that so expensive?" He looked at the corner and said, "You see this box over here? This is a Nokia. This is $60,000. I need to replace it every four years, so this is why it's so expensive."
It was a discussion about why he cannot use some of our solutions. I told him, "If I'm going to bring you my box, with software and hardware included, would you buy it from me?" He said, "Definitely." I opened my own startup within Check Point. I bought a server from IBM for X amount of money. I took my software, put them all together, and started selling them. I didn't ask anybody.
Then we moved to a place where everything went to selling a product with hardware and software because it's easy for the customer to consume it. It was a great success for the company. If you analyze your assets and know how to leverage them, you can do revolutions.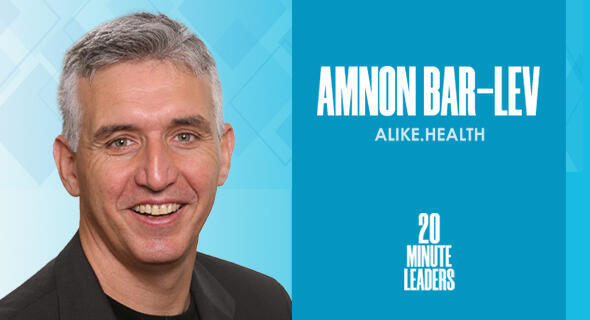 I have to take you to your transition from cyber to health. What was that about?
I decided that I did very good for myself financially and others, and it's time to try to do other stuff in life. Mostly to see if I can do something big that will help the world.
I went to the president of the Tel Aviv University and told him, "I'm very curious to understand more about academic life and to see if there's values there that I can take outside and make something big out of them." I met a couple of researchers. I chose one professor, Noam Shomron. He did molecular genetics, so it's quite fascinating things to learn. After a couple of months, I said, "I don't understand the language. I really need to understand that more."
Basically, I spent two years of my life as a student. I took massive courses, like biochemistry and cell structure and genetics. I did everything like every other student. I did exams. I did seminars. It gave me so much background because the difference between healthcare and cyber is huge. Overall healthcare is a statistical science. The ratio between signal and noise is very bad.
I understand that statistically, roughly about 30% of people react to a specific treatment. Placebo is about 25%. That led me to a question: Can I do something about it? Can I find a better way to look at people and cluster them differently? If you look at the way physicians look at people, they look at them as a specific condition.
There's an amazing article from McKinsey that shows that, if I'm looking at all things that affect my health, genetics is about 20%, my clinical data is about 30%, and 50% relates to my social determinants: where I live, my social economic status, how I sleep at night, if I do sport, my social interaction, having friends. All of that is extremely important. Then I asked myself, "Can I start collecting information from multiple aspects, profile a person, then match with another person?"
Another thing that I found out is that I don't want to sell technology to healthcare providers or insurance. If you want to do something big, you have to do it very differently. If you want to make a revolution, the best way is going directly to the patient, the consumer. It brought me a totally different challenge. B2C is a totally different animal, which I need to study from scratch.
Like from Phantom to F-16.
Even more. It's like a helicopter to an F-16. You really need to go through another journey. That's what we're doing today at Alike.Health. We're building a social network that's based on clinical data. It's all anonymized. It's very secure.
We have tens of thousands of users already in the system. I see how they talk with each other. People are asking questions. The other people are helping them, which is fascinating. If you are going to go through a specific procedure, you would be happy to speak with somebody who has already done that. That's life-changing. So that's really what happened now. It's so rewarding.
I'm relating this to when I learned how to stall an airplane and get out of it. I would talk with the instructors and read online. But those small conversations I would have with other student pilots, they raised my confidence. It was a very different experience than talking to a doctor or an instructor.
The doctor can get the information second hand, but he himself did not experience exactly the same things as a patient. They sometimes just do not know the information. I saw two people talking about how to put their continuous sugar monitoring Libre to their hand and how to stick it when they go to the shower. Or somebody else saying, "I have an IBD flare right now and I'm concerned about what I should eat." You can see all of those things happening: asking for specific advice or just going to talk with somebody so you don't feel alone. Even that is a significant importance for them.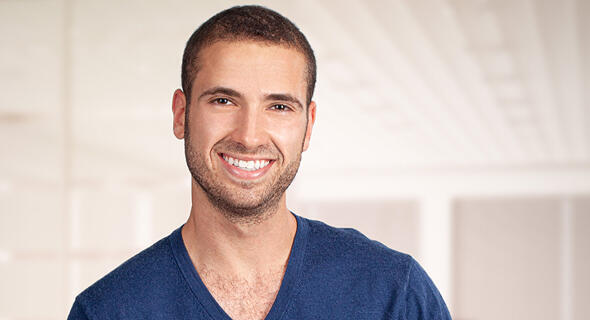 Michael Matias, Forbes 30 Under 30, is the author of Age is Only an Int: Lessons I Learned as a Young Entrepreneur. He studies Artificial Intelligence at Stanford University, is a Venture Partner at J-Ventures and was an engineer at Hippo Insurance. Matias previously served as an officer in the 8200 unit. 20MinuteLeaders is a tech entrepreneurship interview series featuring one-on-one interviews with fascinating founders, innovators and thought leaders sharing their journeys and experiences.
Contributing editors: Michael Matias, Megan Ryan