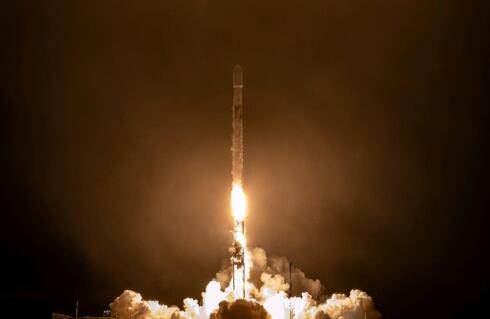 Israeli intelligence satellite launched into space aboard SpaceX Falcon 9
ImageSat International's EROS-C3 is equipped with a camera developed and manufactured by Elbit Systems which delivers very high-resolution performance for diverse applications and missions
Israeli company ImageSat International, controlled by FIMI private equity fund, successfully launched the EROS-C3 observation satellite into space on Friday. The satellite owned by ImgageSat International and developed and manufactured by Israel Aircraft Industries, was launched using the SpaceX Falcon 9 launcher at Vandenberg Space Force Base in California.
ImageSat specializes in solutions for collection imagery intelligence for security forces and private customers. The EROS-C3 is believed to be one of the world's most advanced observation satellites, thanks to a combination of technologies that enable very high resolution on a number of channels in parallel. The satellite joins the EROS-NG constellation of observation satellites, which is operated by ISI.
After being launched, the satellite entered its orbit around the Earth and began transmitting data to the ground station. ISI engineers, along with IAI engineers, began a series of pre-scheduled calibrations and tests to verify the satellite's level of performance and that it was in proper working order, before it enters into full operation in the near future. The satellite is expected to provide services to the company's current customer base as well as to new customers.
"The launch of the EROS-C3 satellite today is a significant milestone for ImageSat," said ISI Chairman of the Board, Gillon Beck, Senior Partner in FIMI. "The launch makes ImageSat a leading space player in Israel and worldwide, and its success will enable us to accelerate the company's growth. Thanks to the technological superiority of the EROS-C3 satellite, it has the potential to open the door to new commercial markets for ISI."
The EROS-C3 is equipped with a camera developed and manufactured by Elbit Systems, an advanced lightweight space camera, which delivers very high-resolution performance for diverse applications and missions.
ImageSat is Israel's largest space company and was founded 24 years ago by Israel Aircraft Industries and Elbit Systems. In November 2017, control of ImageSat was acquired from Israel Aircraft Industries by private equity fund FIMI, led by Gillon Beck, Senior Partner at FIMI, who since that time has also served as the Chairman of ISI. In July 2020, Discount Capital entered as the third largest shareholder. In February 2022, ISI went public on the Tel Aviv Stock Exchange. The company currently has a market cap of around NIS 850 million (approximately $240 million).
ISI CEO, Noam Segal, said: "The satellite will enable us to expand and improve our unique line of services that includes, among other things, very high-resolution satellite images along with development of dedicated AI-based civilian applications for both our existing and new customers."