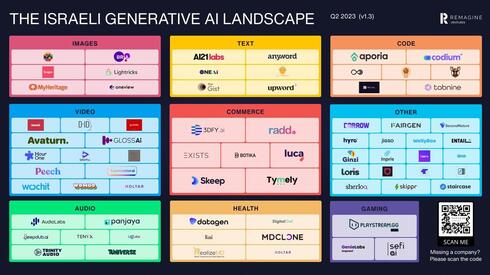 Ever-evolving Israeli Generative AI landscape - the updated map
"The talent pool, combined with Israeli entrepreneurs' high disregard of the impossible and an active early stage investment ecosystem, make us optimistic about the future of this space in Israel," write Eze Vidra and Kevin Baxpehler of Remagine Ventures
Since the day ChatGPT was introduced in November 2022, it has become the fastest growing consumer product, putting the words 'generative AI' in the mainstream. More and more people are experimenting with these new technologies that enable anyone to write better, brainstorm, invent, craft and get inspired with text, images, video, voice, music and more. Every day, we hear about new products and services that are meant to enhance human creativity and productivity.
Generative AI is advancing at a breakneck speed. The launch of GPT-4 in March 2023, with its 1 trillion parameters, introduced new plugins that will connect ChatGPT to the Internet. We are seeing Google, Microsoft, Amazon and Meta rushing to integrate generative AI features into their products for consumers, enterprises and developers, and every week we learn of new mega rounds into AI research teams looking to bring generative AI technology to every field, from health to education, commerce, entertainment, etc.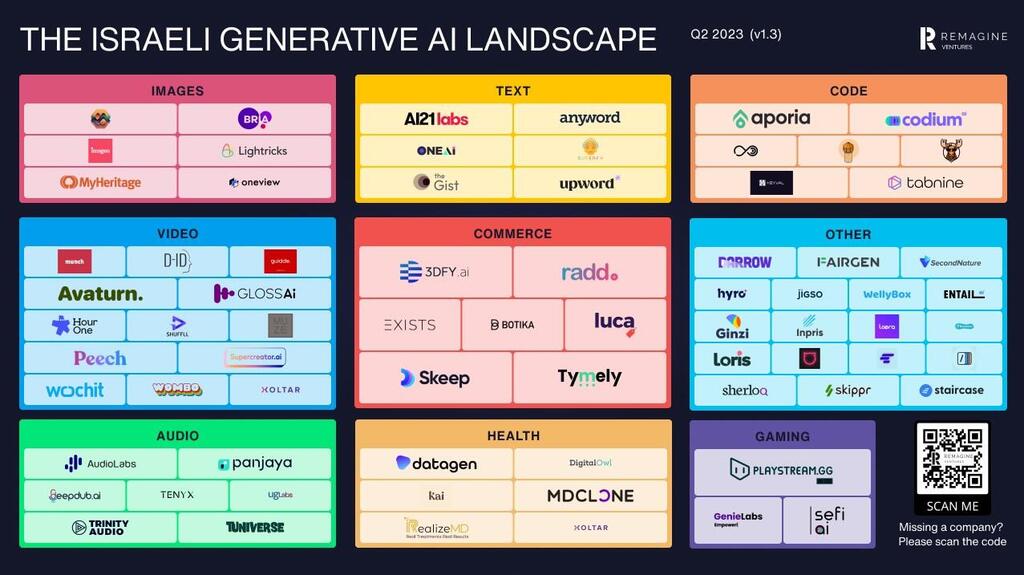 It's a global phenomenon, but to be successful in AI, startup hubs require a density of AI engineers, access to data and compute power and access to capital. The U.S. and China are in the lead, but Israel has certainly earned itself a place as one of the leading centers of excellence in the global AI ecosystem with companies like AI21 Labs, which is developing a large language model named Jurassic, which can be considered as an alternative to GPT.
But it's not only the AI startups that are active in the generative AI space. Many established tech companies like Wix, Lightricks and Fiverr, are embracing generative AI to power-up their products with richer consumer experiences which add new creative capabilities and automation. For example, Wix uses ChatGPT to enable users to automatically write the copy for their new website, and Lightricks enables users to create AI portraits powered by Stable Diffusion.
We
published the first version of the landscape in February 2023
, which included 40 startups. In just a couple of months the current verison, published here on CTech for the first time, includes 68 startups. We know a lot of founders in this space choose to remain in stealth and we expect the actual number of Israeli startups working on generative AI to be much larger and grow quickly.
At
Remagine Ventures
we started investing in the generative AI space very early back in 2019. Several of our limited partners come from the media and entertainment worlds: broadcasters, publishers, telcos etc, so content creation, distribution and monetisation has always been close to our core focus. While we didn't yet have the term 'generative AI', we called it "synthetic media" or "creative automation" and have made five investments in the space so far (3 are disclosed on our website) and have been closely following the growing landscape of Israeli generative AI startups. We believe that generative AI will become mainstream when it goes from playful to useful, and generative AI tools will exist for every role in the company across industries.
While ChatGPT is the best-known product, there are over 750 generative AI companies globally. Some focus on the core model level, developing large language models or diffusion technology for image and video creation, and others operate in the application layer, powering their generative AI experiences by combining one or a number of APIs that are either open source or commercially available.
Our generative AI portfolio includes HourOne, a text to video solution that enables companies to create high quality presenter-led video from text without the need of a camera. The characters can speak any language and HourOne uses generative AI also to help users come up with the script, based on a text prompt; Munch uses AI to create automated short clips from long form video content leveraging generative AI for descriptions, subtitles and tags. Munch and HourOne are two examples of startups that can dramatically reduce the cost and time it take to create high quality content; Piggy, which is in the application layer of generative AI, enables users to create mobile presentations based on a single prompt, by combining multiple generative AI APIs in text, images and design to make content creation on mobile easier.
The global startup ecosystem is going through a rough patch and Israeli startups are no exception. Israeli venture capital investments in Q1 2023 saw a 70% decline compared to the same period last year. It's a bit odd, considering the fact that innovation was never in higher demand, there's a growing cohort of talent which is becoming available for a variety of reasons and are willing and able to form new startups, and venture capital funds have record dry powder levels, at least on paper.
The talent pool for AI startups in Israel is deep. It includes not only 8200 alumni, but also ex-engineers at Microsoft, Google, Meta, Intel, Nvidia and others, many of which develop AI technologies, as well graduates and researchers from the Technion, Hebrew University, Weizmann Institute and other leading Israeli academic institutions, which are responsible for cutting edge peer-reviewed research in the generative AI space. This talent pool, combined with Israeli entrepreneurs' high disregard of the impossible and an active early stage investment ecosystem, make us optimistic about the future of this space in Israel.
(We'll continue updating the landscape on a regular basis. If your company is missing, please scan the QR code to make sure it's captured for the next version)
Eze Vidra and Kevin Baxpehler are Managing Partners of Remagine Ventures