Winners and Losers of the Week: Welcome to the New, 'New-Normal'
The trickle of layoffs in the Israeli tech sector is threatening to very quickly become a flood and indicates that the 'new-normal' will be very different and darker than even the relatively bright-eyed present we're experiencing
This week it began. If up until a few days ago it looked like the Israeli tech sector could battle on without giving in to the ravaging coronavirus (covid-19), this week it became apparent that the tsunami was able to make it over the formidable tech sea-wall. The trickle of reports about startups and tech companies that are cutting vacation days, sending workers on unpaid sick leave, or laying off staff has turned into a solid downpour this week and is threatening to very quickly transform into a full-fledged flood.

According to a survey that came out earlier this week, two-thirds of Israeli tech workers say they are worried that the wave of layoffs will reach their doorstep. More than a third of 300 respondents expressed a fear of being fired. Roughly 15% reported significant fear and an additional 8% believed it was just a matter of time. Nearly 30% of the respondents to the poll conducted by global job placement and consulting firm Kroll Consulting, headed by Ronit Kroll said their company had already initiated downsizing processes.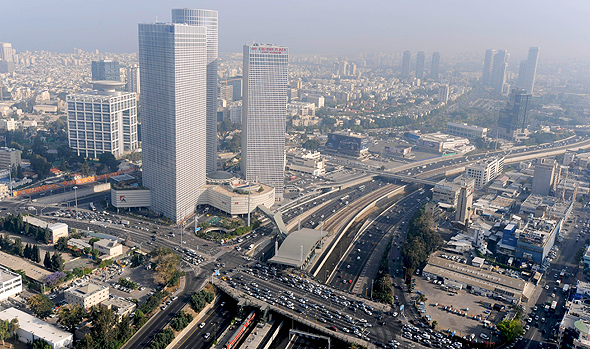 Tel Aviv skyline. Photo: Bloomberg

Since the crisis began, the tech industry's leaders have been putting on a brave face to signal business as usual. They highlighted announcements of investments piling up and new funding rounds that were taking place against all odds, spreading cautious optimism, sprinkled with acknowledgments of the dire situation. To its credit, the Israeli tech sector does have some things going for it: demand for digital products will remain solid and the sector is one that can carry on working remotely under the conditions of strict social distancing. But as the crisis continues to spread and entrench itself all over the world, it turns out that the 'new-normal' already requires some calibration.

One of the biggest buzz-phrases at the moment is 'the new-normal.' It looks like it is time to think about and clarify what that will look like. Until the last few days, we could talk about a 'new-normal' that included replacing face-to-face meetings with video conferences, fewer flights, appropriate sanitizing of facilities, keeping your distance from your colleagues, a whole lot of handwashing and a bunch of opportunities in the logistics field. Starting today it is clear that the real 'new-normal' is going to be a lot bleaker than that.

For many years the tech sector enjoyed a reputation for producing solid demand and cushy conditions for workers. HR executives fought over recruits, marketing departments swelled, office space expanded and social impact and wellbeing executives went out of their ways to make employees days pleasant. Under the old 'new-normal' plan, all that would remain. Everyone thought all it would take is a few minor adjustments to keep the companies on course to safe harbors after the tempest passes. By now though, most companies have realized that the shores they meet on the other side in two or three months, may be unrecognizable, uncharted, and with very rugged terrain. Welcome to the new, 'new-normal.'

The trouble with the new, 'new-normal' is that we still don't know what it will look like, who will populate it, how long it will last, and how we should behave in it. Governments can ease curfews and reduce social distancing ranges, but as long as people live under the threat of the pandemic and its cycles, uncertainty will continue to dominate our lives. And in times of uncertainty, survival is the primary instinct. Every company and manager will choose to cut people or activities that aren't seen as essential and every potential investor will want to ensure that the company before them is as lean and efficient as possible.

What started in recent days with cutbacks, layoffs and restructurings may sooner or later evolve into project cancelations and company closures. In a world where the tourism sector, for example, ceases to exist for a year, there is no justification for sophisticated flight management systems or tourist site navigation apps. In a world where the health industry is totally dominated by finding a cure for Covid-19, other health tech enterprises will fall to the sidelines. When culture or leisure mass gatherings can no longer take place, many technological tools will be erased from the spectrum.

All that said, however, it is important to remember that uncharted territories can give rise to new challenges and opportunities for those who can leverage the new conditions to their advantage. The new 'new-normal' can introduce the world to new ventures and companies that we can't even anticipate. Established and stable tech companies will have to stop and examine their surroundings and the new possibilities that open to them, new markets, and new client needs. Those that entered 2020 with talented workers and creative managers can use this year to prepare themselves for a strong start to 2021 and overcome their competitors who didn't internalize the fact that we are already in the new 'new-normal'.