Which Israeli company will be upgrading F-16 jets and how many employees is Teva firing?
CTech Daily Roundup: These socialist millionaires make robots to clean the pools of the world's wealthy
Swimming in cash: These socialist millionaires make robots to clean the pools of the world's wealthy. Maytronics, a pool cleaning robot company owned by a communal kibbutz, recently became one of the strongest companies on the Tel Aviv Stock Exchange. Read more

Israeli memory technology developer Weebit Nano raises $9.1 million. Its new technology can save millions of dollars in development costs and shorten manufacturing time. Read more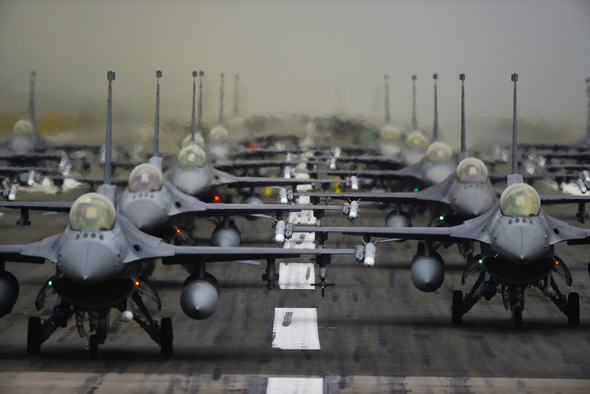 F-16. Photo: Staff Sgt. Joshua R. M. Dewberry
ALIVE Fund announces its first investment, leads financing round for mitral heart valve maker Innovalve. "After investing in a company, we are capable of promoting it in Israel and the U.S. through experiments, pilot programs, or sales agreements," says partner Michel Habib. Read more
Covid-19: Nature's accelerator program for HR Tech. The Coronavirus pandemic forced tech companies to adopt virtual strategies that were only expected to take effect in the future. Nowhere was that felt more than the human capital management sector. Read more
Teva firing 350 employees from Israeli production facility. Pharmaceutical giant says Teva-Tech plant in Ne'ot Hovav was spared in previous cutbacks but that efforts to get it back to profitability proved to be unsuccessful. Read more
Orbit inks $46 million deal to provide communications management system for Lockheed Martin's F-16 jets. Agreement expected to grow substantially if Lockheed Martin wins Indian Air Force supply tender. Read more
Israeli supermarket chain monitors unknowing buyers for emotional reactions during shopping. Neuromarketing company Drill has provided supermarket chain Victory with cameras that allow it to identify and analyze emotional reactions to products, prices, and aisle location.
Video | Israel must double down on exports amid Covid-19 crisis, urges export institute chairman. Adiv Baruch says Israel's industrial capabilities have outgrown its market capacity and must look outwards, even as the global economy shrinks. Watch video
Opinion | A renaissance of entrepreneurship and innovation is our chance to withstand the Covid-19 challenge. The global crisis presents us with a load of new opportunities for online activities in the fields of commerce, education, work, and leisure. Read more
Interview | Orbotech president takes you into the heart of the hardware enabling the 5G paradigm shift. The Israeli-based company knows that one way or another its manufacturing solutions and systems are already playing a significant role in enabling the buildout of 5G infrastructure. Read more
Interview | Former IDF cyber chief warns of red-lines being crossed and the erosion of Israel's democracy. Avenr Paz Tzuk talks to Calcalist about the ethics of surveillance, his faith in education and his fear of a military brain drain. Read more
Gloat wants to become the 'Tinder' of large enterprises. With companies changing strategies during Covid-19, large organizations can offer employees the chance to 'swipe' on new opportunities. Read more