We asked: 'What was the biggest moment for you this year?'
(Part One) It's been a crazy year of ups and downs - and Israel's tech ecosystem is here to answer the question on everyone's mind
Ahead of the holiday season in Israel, CTech asked 19 tech leaders across the country to answer one question: 'What was the biggest moment for you this year?'

Below you can find Part One of our answers. Part Two can be found here.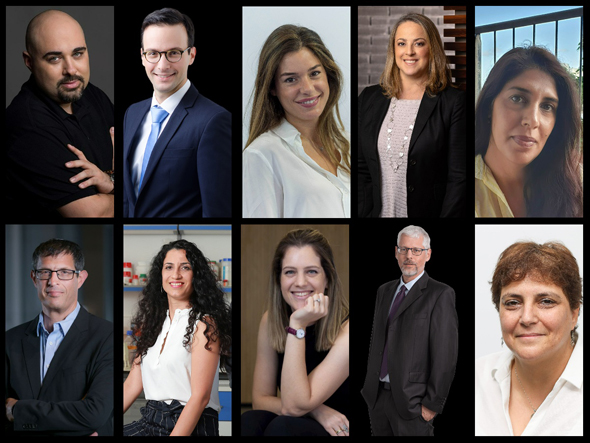 Photo: EYAL TOUEG, SHLOMI ARBEL, ZARA BROOKS, VM, TADIRAN, VARDI KAHANA, SHARON BYRON, MINE, OMER JACOBSON
Dr. Tal Tirosh, Partner in APM & Co.'s High Tech and Venture Capital department:
"The biggest moment this year for me was coming of age at the age of Covid-19. While some will refer to the mind-boggling number of the successful IPOs led by Israeli companies on Nasdaq, NYSE, or the TASE - for me the most significant event is the transition from the precautious 'pandemic uncertainty' modus operandi of last year to this year's 'how to excel in the Coronavirus era' state of mind. As counsel to hundreds of startup companies, we observed companies mastering the remote/hybrid work models, executives reinventing expansion and BD strategies to surmount the toughest challenges of lockdowns and no in-person meetings, founders' perfecting their Zoom fund-raising techniques, and entrepreneurs and investors alike seizing opportunities outside their comfort zone, becoming more resilient, creative, and ultimately thriving."
Dganit Vered, CEO of Smart Agro R&D Partnership:
"The past year made it clear that high tech and Agritech are one. This year showed us that we need to put more effort and brainpower into bringing more high-tech solutions into Agriculture technology. If we are successful in this required transformation of the agriculture world into Agritech, there is a good chance the agriculture industry will be able to feed the world's growing population in spite of the dramatic effects of climate change.
Smart Agro is actively investing in companies that enable this critical worldwide transformation and is highly involved in promoting this extremely important ecosystem."
Chanan Schneider, CEO of Millenium Food-Tech R&D Partnership:
"The most significant development in the past year was the R&D partnerships issuance, along with the "Maslul 43", which benefits financial institutions while investing in startup companies with a 40% protection over the investment. These two initiatives fueled the Israeli private investments sector and the capital markets while breaking the barrier for other institutions that have joined the ride and are investing in early-stage startups with or without the "Maslul 43" benefit. We see these trends in significant numbers in the FoodTech sector, which set an all-time record in capital raising, IPOs, and even a new sub-sector on TASE – FoodTech."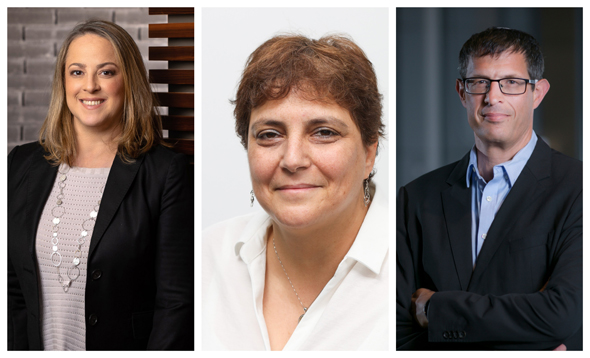 Dr. Tal Tirosh, Dganit Vered, and Chanan Schneider. Photo: Eyal Toueg, Zara Brooks, and Shlomi Arbel
Tom Goldberg Abramovici, VP Business Development and Partnerships at Mine:
"With the many headlines about the latest unicorn, IPO, or exit – the stakes and the rewards seem to become higher in the already crazed race of hiring new talents. Suddenly the conversations around high-tech have become mainly focused on compensation - more than ever before. I think this opens the debate for many talents to consider what matters most to them when they take a new job. Do they go for the potential (quick) financial gain, or do something they believe as a mission or as part of their ideal career path?"
Nofar Mamrud, VP Marketing & Communications, Tadiran:
"The most significant event for the ecosystem this year was Coronavirus. It became a major catalyst for global awareness of the importance of ordinary things, such as the air we breathe, which has led to a vast demand for unique air care technologies and for innovations that are not only improving indoor air quality but also protecting from pollutants and are validated to perform against viruses and bacteria. Virus-free air will remain an important innovation technology post-pandemic. Hence our vision of improving health and quality-of-life through Aircare02, four years back, has become essential globally. Especially today, everyone has the right to reclaim ownership over their health with safe air purification systems."
Adv. Yaniv Aronowich Partner and Co-Head of Mergers and Acquisitions at Tadmor Levy & Co. law firm:
"Mobile casual gaming is one of the sectors that has thrived under Covid-19. Lockdowns and quarantines have helped gaming companies tap into new, and sometimes non-traditional, audiences. In Israel, dozens of new gaming-sector companies have popped up, and according to data from Google, Israel's share in global game downloads has doubled during Covid, from 6% to 12%. Investments and M&As have followed. A gaming-focused venture capital firm - VGames – was announced in July 2020 and has already invested in more than 15 companies. More recently, CrazyLabs, a mobile games publisher, was acquired by Swedish gaming giant Embracer (for an undisclosed amount). As the market matures, embrace yourselves for many more such transactions."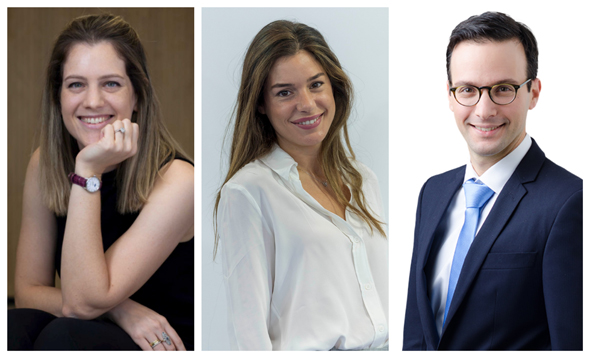 Tom Goldberg, Nofar Mamrud, and Adv. Yaniv Aronowich. Photo: Mine, Tadiran, and Tomer Jacobson
Omri Lavie Entrepreneur, Co-Founder & CEO Orchestra Group:
"Last June, Christoper Wray, FBI Director, said: "The scale of cyber-criminal attacks is something that I don't think the USA has ever really seen anything quite like and it's going to get much worse." Wray is not the only one who thinks that way. Cyberattacks make headlines and prompt corporate and government responses - this past year more than previous years. As an entrepreneur in the cyber security industry for more than a decade, I can say with complete confidence that cyber insecurity is felt across all kinds of industries and for those reasons that I mentioned above - the increasing awareness of cyber threats is the most significant trend in the global hi-tech industry. And the numbers speak for themselves: funding to cyber security companies soared to nearly $13 billion in the first half of 2021 - an all-time record - compared to "only" $11.2 billion in all of 2020. Israel takes a greater role in the global cybersecurity space and we at Orchestra are going to be part of this role by addressing the major roadblocks hindering integrated and proactive cybersecurity in the digital world."
Ephrat Mor, Head of HR at Verizon Media ISRAEL (Yahoo):
"HR accompanies and supports employees on work-related as well as personal aspects of their lives which requires much communication - preferably face-to-face. Despite the obviously related challenges of the past year, companies around the world continue growing and hiring. Remote hiring and onboarding brought in new challenges but HR's roles extend beyond that, as it's the heart of the organization. As we continue to adapt to the new normal, which is constantly changing, employees need more support than ever and HR open communication is a must. In order to understand and address the needs of both managers and employees, we need to be more flexible, keep ourselves informed, and adjust quickly."
Racheli Vizman, Co-Founder and CEO at SavorEat & co-founder at Egg'N'Up':
"One of the most significant things that happened this year is how the needs and opinions of the consumer have become a powerful tool that can change the reality in the ecosystem. One great example is how the consumer influenced the lowering of the prices of meat substitutes. The rising trend in the meat substitutes market is also indicative of the growing interest from the public and investors around new tech in that field. Seeing the synergy between technological potential and the impact of the consumer on the market makes me feel satisfied that we are doing the right thing."
Adv. Amir Zolty, Partner & Head of Hi-Tech Practice at the Lipa Meir & Co. Law Firm:
"It was the best of times (for Big Data), it was the worst of times (for the rest). Covid-19 has served as a catalyst for the Big Data industry, especially for its healthcare-related applications. While lacking ample natural resources, we discovered (yet again) that Israel's deep-rooted medical data resources were a blessing and an important tool in the fight against Covid-19. Our client, Clalit, Israel's largest HMO (and the world's second-largest HMO) partnered with the world's leading research institutes and biopharmaceutical companies and provided invaluable information about the efficacy of the vaccines. We are confident that this is merely the beginning of the Big-Med-Data era."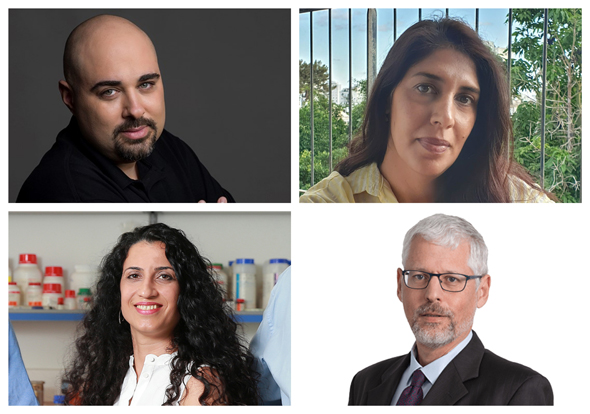 Omri Lavie, Ephrat Mor, Racheli Vizman and Adv. Amir Zolty. Photo: Kahana, VM, Sharon Byron, and Eyal Toueg