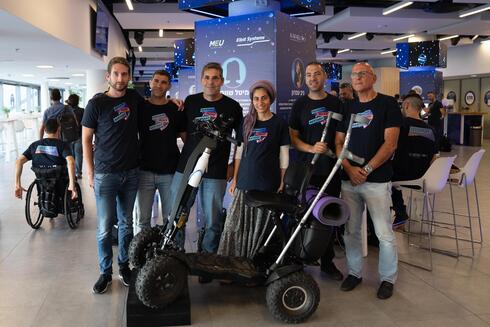 Interview

Soldiering on: Restart gets wounded veterans back on track
Wounded a decade ago during Operation Protective Edge, Restart COO Boaz Hochstein shares his emotional journey and how Makers for Heroes utilizes innovative tech to break boundaries for wounded vets
Boaz Hochstein, 31, was born in Jerusalem in 1992, but according to his "Ptzihuldet" - injury birthday - he is only 9 years old.
"It's another birthday," Hochstein told CTech with a broad smile. "It's like being reborn. When people ask me my age, I like to say I am 22 and 9 years old because that's how my life split up."
Hochstein is COO of
Restart Global
, a non-profit organization helping wounded soldiers from the Israel Defense Forces (IDF) restart their lives after physical and/or emotional trauma resulting from their mandatory service or reserve duty. But to truly understand who Hochstein is and what Restart does, one must go back nine years.
In July of 2014, while serving as an IDF tank commander and platoon sergeant, Hochstein's unit was among the first sent across the Gaza border in Operation Protective Edge. During intense battles in the densely populated Gaza City neighborhood of Shuja'iyya - a Hamas terrorist hub, from which over 100 rockets had been fired on Israel in the previous weeks alone - his unit was bombarded by enemy fire. Hochstein's tank suffered a direct hit. Boaz was severely injured in both arms and was evacuated to Sheba Medical Center at Tel Hashomer in critical condition.
"I was blown out of the tank and almost lost my arm," Hochstein recounts, noting that he was conscious the whole time. "Thankfully, the surgeons at Sheba were able to reattach and rebuild it."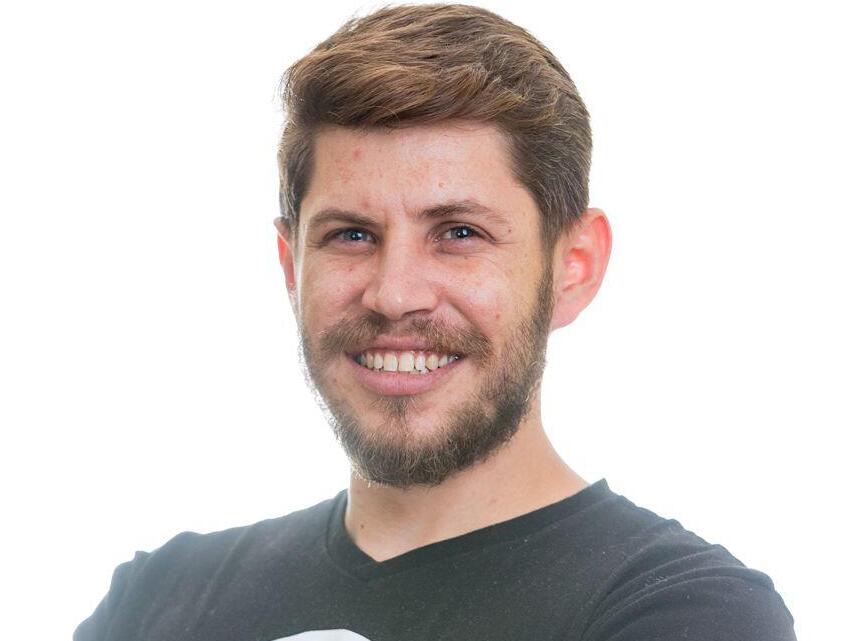 "An instant support group"
Hochstein was hospitalized at Sheba for a full year during his rehabilitation (then returned twice a week for rehab for the next 2.5 years). Early on in his treatment, Sheba cleared out the civilian patients from the rehabilitation ward and filled it with wounded Protective Edge soldiers.
"It became an instant giant support group," Hochstein recalls. "All 150 of us wounded soldiers grew very close to one another - and we still are - and our numbers keep growing."
It was during this period that the seeds of Restart were first sowed.
"The Israeli public really embraced us during our rehabilitation. They made us feel needed, vital, and young again - although we weren't that old to begin with," Hochstein said with a smirk. "They'd take us out to have a day of fun or bring us food, sometimes famous musicians would come perform for us, anything to take our minds off the pain for a little while."
So, how did Restart emerge from that?
"Some of the volunteers who came to visit us were from the high-tech and business sectors. They quickly realized that they wanted to do more than just visit and lift our spirits. At the same time, many of my group of rehabbing wounded soldiers were gradually getting discharged from the hospital. Once outside the hospital they felt a great vacuum. The close-knit support group surrounding us was gone. It became much harder to cope."
So, in a sense it was a perfect storm?
"Yes, but in a positive way. The tech and business people had a lot of skills, knowledge, and abilities and were looking to do something more meaningful for the wounded soldiers while we soldiers were looking for something to help ourselves above and beyond what was being offered. We wanted help to find our way back into society. So, with these eager business and tech leaders aboard, we started hosting workshops and lectures in the hospital. These social initiatives grew into the Mentors program (which started in 2016), which grew into the Makers program (2018), which along with Storytellers and Careers, are now the flagship programs of our organization, Restart."
"It's very intuitive. Our aim is to improve the physical, emotional and social well-being of wounded veterans, young men and women who have so much to live for. Restart helps them 'restart' their lives on a positive track."
Over 300 soldiers served - and counting
Officially founded in 2018, Restart is based in Tel Aviv and employs six workers and is supported by its dedicated army of 400 volunteers. In total, over 300 wounded soldiers have participated in Restart's programs. Noam Dadon, who was also wounded in Operation Protective Edge in July 2014 (just two days after Hochstein) is a co-founder of Restart and the CEO.
What is Makers for Heroes?
"Makers for Heroes is a remarkable initiative whose aim is to empower wounded veterans through cutting edge technology and innovations that are tailor-made specifically to the dreams and obstacles they deal with in their daily lives. To achieve this we collaborate with leading Israeli companies from financial leaders including Bank Hapoalim, to defense companies Rafael and Elbit, to tech leaders AppsFlyer, Wix, and more."
The 8-month program engages volunteer teams of "Makers" (engineers, programmers, designers, doctors, physical therapists, etc.) who join forces to create innovative technological solutions that don't exist on the market to help wounded soldiers overcome their disabilities. The process includes multiple hackathons and at the end of the 8 months the solution is presented to the wounded vet.
"Since we build around the specific challenges of the wounded veteran, we encourage that the wounded vet be involved throughout the process," Hochstein explained. "Being involved really adds to the wounded veteran's sense of capability and sense of worth, they feel part of the project. Also, for the teams it helps as well. We also encourage that the solution not look like a rehab device, that the designers make it appear as something the recipient would want to wear or use, appearance matters."
Can you give some examples?
"This year we helped Tzachi, a wounded veteran who was injured in his leg and developed CRPS (Complex Regional Pain Syndrome) some 20 years ago. When he came to us he was using a medical crutch that was not working for him. It contorted his whole body as he tried to balance which affected his life completely. He couldn't work, he couldn't stay in good spirits, and family life was difficult for him. But, we partnered with Elbit and the team produced an incredible brace that allows Tzachi to walk again. Now we are working with him on therapy to strengthen his muscles and build them up and straighten him up again - literally and figuratively. I am happy to report that he's found a job and has held it down for the past 3 months. He's also back in good relations with his family. He's a great example of the power of Makers for Heroes. Yes, the challenge was to make a brace for one person, Tzachi, so he could walk again, but the effect was so much greater - on Tzachi physically and mentally, on his ability to work and on his family. It's life-changing. And the team continues with Tzachi along his journey, taking him to doctors, supporting him in physical therapy, etc. We're making a difference. It's a full holistic solution and not just a product or device to take home."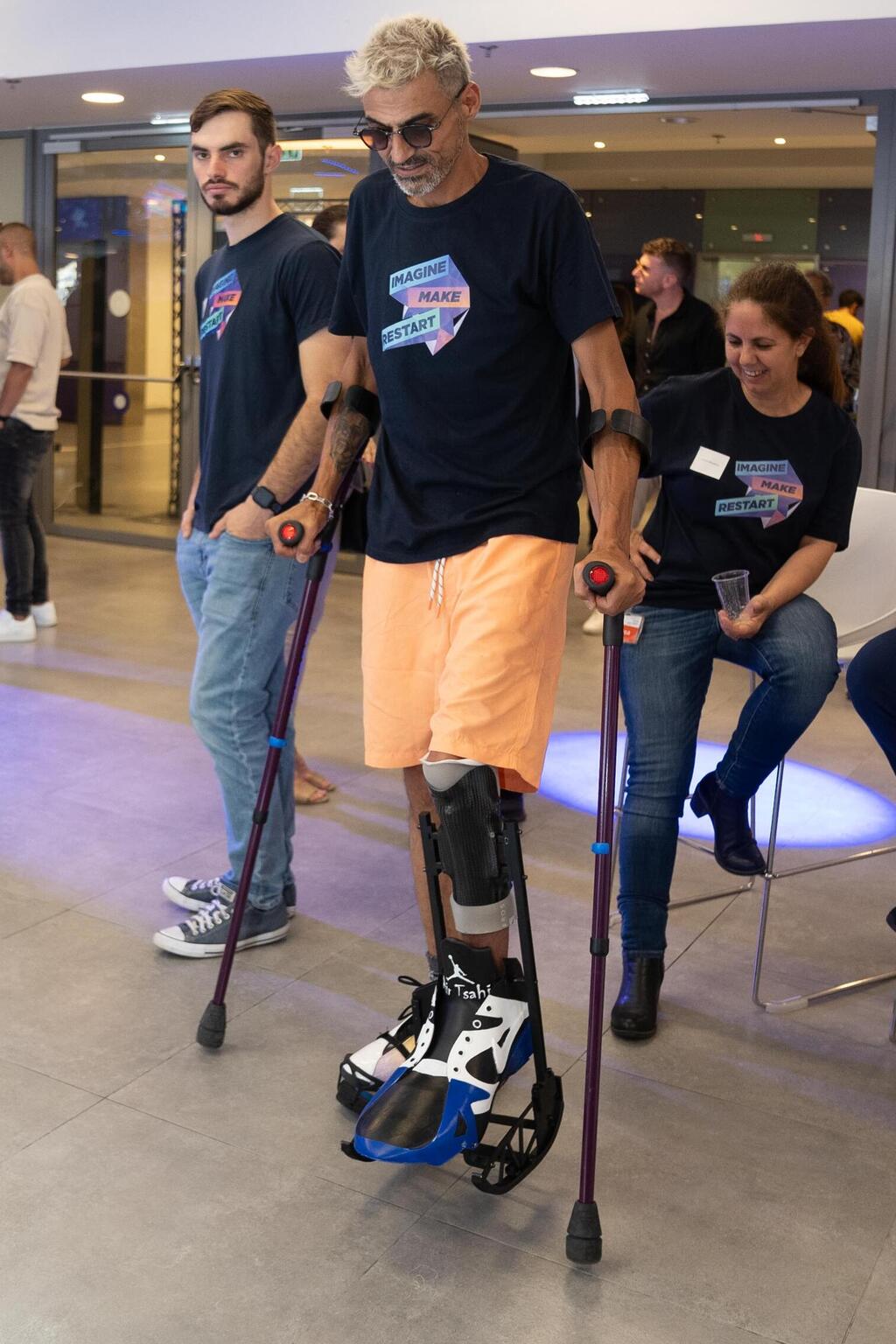 Another example is Meital, 46 who is married with 3 children and lives in Rehovot. A chemical engineer, she served in the Intelligence corps. Meital loves to walk and take trips with her children, but due to her injury suffers from many pains that limit her left side. The Makers for Heroes 'Team Meital', made up of engineers from Elbit Systems and supported by MEU, developed a special vehicle via which she can fulfill her dream of traveling with her children in the city and countryside with ease and comfort.
So, it's one product for one wounded vet at a time?
"Yes, but we also evaluate if the solution is viable for a wider variety of ailments or wounded veterans. If so, we work to reproduce them. For example, just this past year we've produced something that is marketable that we've provided to 50 wounded veterans this year. It's a crutch holder that's magnetic. Imagine that you have a crutch in each hand and you want to hold a cup of coffee. It's a real challenge. This product is a specially designed magnet that connects the two crutches together and allows for movement with just one crutch. Again, the reason we need to create something like this is that there are no such solutions on the market because these problems are too specific or overlooked."
From Mentors to Storytellers
Besides Makers for Heroes, the other branch of Restart focuses on self-development, self-growth, and career growth. Restart's Mentors program pairs wounded vets one-on-one with executives in the high-tech and business sectors in Israel and provides 12 sessions over six months training the mentees with various skill sets. The Careers program is hyper focused on helping wounded vets find, integrate into, and keep a job, accompanying them throughout the process. Last, but not least, the Storytellers program helps wounded vets learn to tell their personal stories and use it both in a self-therapeutic way and also earn income from sharing their story.
"In Israel we have a very clear life path for our youth," Hochstein explained. "You graduate high school, go to the army, maybe go on a post-army trip abroad, go to university, and then start your career and your life. When you are wounded in the IDF, everything stops. It's traumatic. Suddenly your progression is halted and you are thrown off that path. Your peers are advancing along the expected track and you are in rehabilitation. It's a parallel path, but it moves at a slower pace. When you finally complete your rehab, your peers have moved on and you are still behind. When you try to return to the path, you are no longer 22, you're 27, 28 or maybe older. At Restart we aim to close that gap, to give wounded veterans the skill set they need, including the sense of capability and self worth to get back on the path and through it."
What's your biggest challenge now?
"Fundraising has been challenging especially in the current climate with how Israel is perceived worldwide these days. But Restart helps all wounded IDF veterans regardless of sex, religion, or cultural background, and that's a strong selling point. And of course our many inspiring success stories make a powerful impact on potential donors."
What's your dream for Restart?
"I wish that we'd have no more wounded veterans to serve, because they'd all be helped or in a dream world there wouldn't be any more wounded vets at all. But realistically, my dream for Restart is to see it grow and expand and touch the lives of more wounded veterans. I want every wounded IDF veteran to be able to rebuild his or her life.
"Our organization's official name is 'Restart Global', so I hope we inspire similar initiatives for wounded veterans worldwide because injuries are universal. A wounded soldier in Israel is no different from one in other countries. The injuries may differ, but the challenges they face are the same."