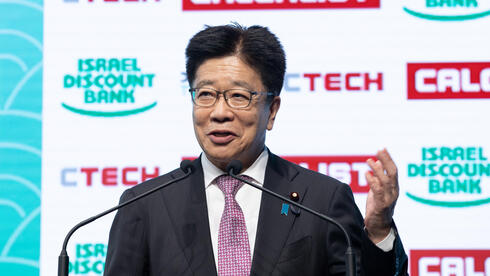 Israel-Japan conference

Japan's Minister of Health: "Japan and Israel can combine their capabilities and create a new dawn for our future"
"We are facing the challenges of a declining birth rate, the contraction of the productive population and soon there will be a shortage of workers in Japan," Katsunobu Katō, Japan's Minister of Health, Labour, and Welfare said at Calcalist's Israel-Japan Conference in Tokyo
"We have a great opportunity to deepen the already excellent relations between Israel and Japan. A conference such as this, together with direct flights starting in March between Japan and Israel that cut the flight time in half, build a new future for the relations between the two countries," Katsunobu Kato, Japan's Minister of Health, Labor and Welfare, said at Calcalist's Israel-Japan Conference in Tokyo.
"Japan is facing challenges such as a declining birth rate, the contraction of the productive population and soon there will be a shortage of workers in Japan. We need talents and are working on a policy that will make it easier for workers from abroad. At the same time, we are also thinking about technologies that will lead Japanese society into a new future. And here Israel, as the most technologically advanced country, with an emphasis on medicine, has an important role.
"Japan and Israel can combine their capabilities and create a new dawn for our future. We have the power to produce the chemical reaction that will lead to a new path that will strengthen the relationship between us through the healthcare field. This conference will be able to advance our common goals."
You can watch the full presentation in Japanese in the video above.