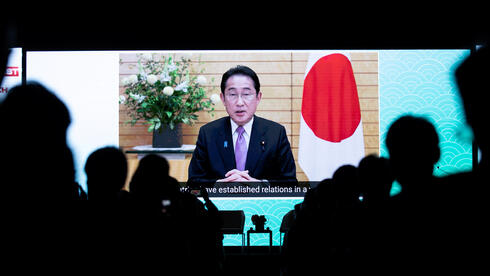 Israel-Japan Conference

Prime Minister of Japan: "The people of Japan and Israel can solve the world's social issues by pooling their wisdom and working together"
"One thing Israel and Japan have in common is that their people are a resource," added Prime Minister Fumio Kishida in a special video address at the Israel-Japan Conference
"Last year, Japan and Israel celebrated the 70th anniversary of the establishment of diplomatic relations. The two countries have established relations in a variety of areas including economics and culture. In particular, economic relations between the two countries have strengthened significantly over the past decade. For example, the number of Japanese companies with offices in Israel has tripled in the past 10 years to nearly 90 today," said Prime Minister of Japan, Fumio Kishida, in a special video address for the Israel-Japan Conference that took place in Tokyo on Tuesday.
Prime Minister Kishida is known for viewing technological innovation and startups as the two pillars of "new capitalism" and announced a five-year plan for Japanese startups in 2022.
"One thing Israel and Japan have in common is that their people are a resource. I am convinced that the people of both countries can solve the world's social issues by pooling their wisdom and working together to invent and develop various technologies," added Prime Minister Kishida.
You can watch the full address in the video above.