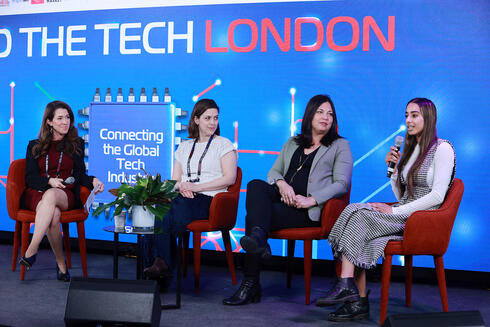 Mind the Tech London 2022

"Unequal access to investors is still a difficult obstacle for female entrepreneurs"
"We did not go to the same schools or work in the same well-known investment banks and we did not just "roll" into senior positions in financial organizations like the men - therefore we have less access," explained Ella Goldner, co-founder and General Manager of Zinc VC
"Without equal access to sources of funding - it is still very difficult for women to get over the hurdle of investors. This is not because women show insecurity in their presentations to investors - we simply do not have equal access to the investment sources," said Ella Goldner, co-founder and General Manager of Zinc VC, at a joint event of the UK Embassy in Israel and the Yazamiyot Women Entrepreneurs organization held at the Calcalist Mind the Tech conference in London. "We did not go to the same schools or work in the same well-known investment banks and we did not just "roll" into senior positions in financial organizations like the men - therefore we have less access," Goldner explained.
According to her, this was one of the motives for establishing a network that includes over 300 investors who are committed to investing in female founders. "The network now offers an investment track designed exclusively for women from all geographic sectors, mainly in the early stages of pre-seed and seed. We started our operations two years ago in the offline worlds and moved completely to online and this community has already invested in more than a hundred businesses in the amount of $5 million," Goldner said.
Elinor Honigstein, Head of the UK Office & Strategic Partnerships at the UK Israel Tech Hub, who hosted the event entitled "UK-IL Women Leading Innovation" said: "Just a year ago we launched the Women Leading Innovation program and felt the gap everyone is talking about. But there is also an opportunity here and we decided to take advantage of it and use our network of connections and specializations at the embassy to connect women to the industry and provide them with business opportunities across the ecosystem. Since the launch, we have been able to organize a delegation of women in the field of agri-food that came from the UK to Israel and we provide venture capital consulting services to women in both countries. Now our databases are loaded with information about talented women in the industry that we can turn to and offer to participate in delegations and work with corporations."
Timor Arbel-Sadras, CEO of LeumiTech, noted in a panel held at the event: "LeumiTech has a female majority at all levels and positions in the organization. This allows us to show that we are not prejudiced against women as a starting point. I say this in light of the statistics on women partners and investors in funds that show that the situation is not really improving. Although we have more and more women partners in venture capital funds, the number of funds is also rising - so the proportion of women in the field is not growing. This fact only perpetuates the problem that investors tend to invest in people who are more like themselves. So fewer women in the sector is a bit of a problem. Women know how to listen, so I suggest that those present come and let us help you, because we are happy to share the experience of our professionals with advice on how to build a financing framework for companies," said Arbel-Sadras.
Jeevan Sunner, an investor at Playfair Capital, described the women's empowerment activities of her VC fund: "We have been running the 'Office Hours' program for two and a half years, during which more than a thousand women founders participated in a program in which more than 4,000 hours of assistance took place. This is an opportunity for women to come and meet venture capitalists - women and men who invest their time to help the female founders. It is mainly about mentoring, counseling and support activities, as well as giving women the opportunity to present their ideas to investors." According to Sunner, it is difficult to make a quick impact because the feedback in the venture capital worlds often goes on for a long time. "Despite this, we have reached a point where 21% of the companies that went through the 'Office Hours' project have already raised various sums for their businesses from venture capital bodies in the cumulative amount of 280 million pounds. ($369 million)."
"UK-IL Women Leading Innovation" program is an initiative of the British Embassy, ​​launched in May 2020, to implement the UK Government's encouragement and sharing policy on the technology agenda. The network aspires to promote women in the technology and innovation industry across the UK and Israel through specially organized networking events, mentoring programs, online seminars, peer2peer matching, delegations and more. The network has partnered with leading stakeholders across the UK and Israel. This event brought together investors, accelerators, government officials and entrepreneurs who have presented contemporary opportunities for women in the technology industry, from leading investments to launching a technology venture and expanding the existing venture.
In the second part of the event, two female Israeli entrepreneurs presented the startups they founded. Sivan Baram, co-founder & CEO of Radd, introduced her e-commerce startup Radd and told about the company's platform which allows online brands to leverage the power of their social networking influencers through a storytelling experience on a dedicated platform.
Another entrepreneur, Avital Sincai, the co-founder & COO of Cydom, a cybersecurity company for the maritime industry, talked about the problems that the system that the company she established offers transport ships in protecting the supply chain and its importance today, at a time when 90% of world trade takes place by sea.