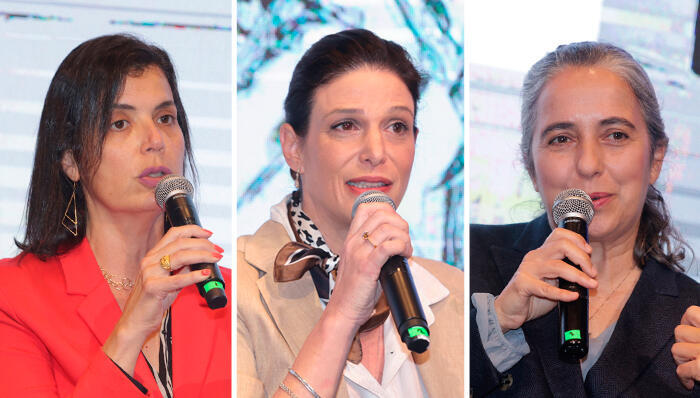 "When you come to the table without ego, you can set processes in motion"
Anat Guetta, Chairperson of the Israel Securities Authority, added that she believes "in the power of the individual to change reality and when the data is transparent, the call to action is clear." Amalia Avramov of Amdocs noted: "In high-tech, the forces of innovation create a drive to create more equality"
"In a year and a half since the establishment of the Forum +35 for gender balance on boards, we are seeing significant movement in the capital market," said Anat Guetta, Chairperson of the Israel Securities Authority and founder of the Forum +35, in a panel focused on the boundaries being broken by women in business, politics and the economy.
Moderated by Sophie Shulman, the panel also included Amalia Avramov, President of Amdocs Financial Services, and MK Efrat Rayten Marom of the Labor party.
Guetta, who ends her tenure at the ISA in a couple of weeks, said that "the most significant thing that will remain after me is transparency - nowadays everyone can see with a click what the rate of diversity is in a company and take this figure into account. I believe in the power of the individual to change reality and when the data is transparent, the call to action is clear."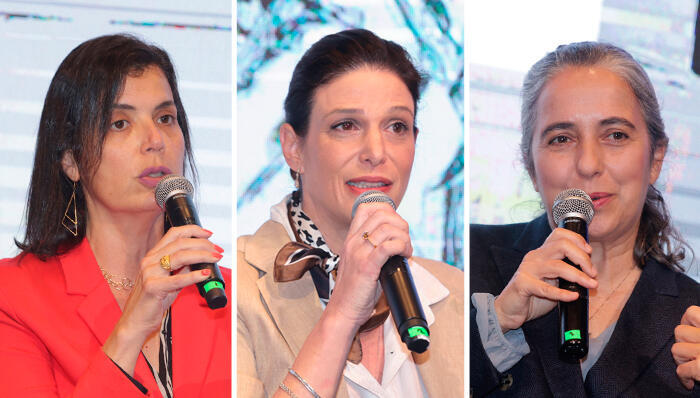 During your time, all the financial regulators were women - has the discourse changed?
Guetta: "It was a magical moment. I joined a group of five women at the beginning of 2018, all brave and egoless women, and we did extraordinary things. When you come to the table without ego, you can set processes in motion."
Amalia Avramov, you established a type of startup with 500 employees in the banking division. Did you do anything to promote women?
Avramov: "I always do. It is my duty to promote diversity, inclusion and gender equality. I established a technological solutions unit for banking and in the course of building the company I encountered situations where it is much easier to recruit men. More men send in resumes. When I was looking for sales managers it was very easy to choose a man. There are markets, for example in Singapore, where it is difficult to break through, and we specifically asked for women's CVs there. In the end, I chose a candidate who was suitable for the position - but in the world this does not come naturally or automatically. We must act in legislation and create procedures to recruit women."
High-tech is a relatively young and leading industry - why aren't women promoted?
Avramov: "The high-tech world is dynamic, fun, but it's demanding and global. It includes difficult decisions for women to make. It has to be planned. I currently help in many forums that promote diversity and inclusion, such as an equality forum, where I help 17-year-old girls decide what kind of matriculation to do, what degree, and what position to apply for in the army. And they also raise questions like 'What will I do when I become a mother?'. Today, you have to choose partners correctly, choose a supportive environment. Choose the right employer that allows you to realize your potential."
How much does misogyny affect the business world?
Guetta: "We are a small country and a small market and there is diffusion between the worlds. But there is also a bright spot that I believe in: I want to say that each of us has great power. We control the consumer decisions of our home. Besides, in the end those who can move the needle are the shareholders. The total savings managed for Israelis is at around NIS 2.8 trillion, and half of that belongs to women. When did you contact your investment manager and ask how gender balanced the investments are? This is our duty."
Avramov: "There are many studies that show that gender diversity in the management of companies contributes to the bottom line of any business. The power is in the hands of the men who focus together with us on equality. Today there are not enough women in senior positions and I believe that in the high-tech world the forces of innovation create the drive to create more equality."
What did you learn from your mom?
Avramov: "My dear mother is my role model. She is a woman of vision, she raised eight children, three doctors, a lawyer, senior industry executives, six daughters and two sons. She established a business and took us out of the cycle of poverty."
Rayten: "My father always told me that I am no less good than my two brothers. My father taught me from the age of zero that they see me as equal. That everything is open to me. It's an amazing feeling. And when you have a loving mother, then this is an amazing combination."
Guetta: "From the day I was born, my parents instilled in me the feeling that there is nothing I cannot achieve - and I have four grandchildren, three of them are girls and they are the leaders of the future."