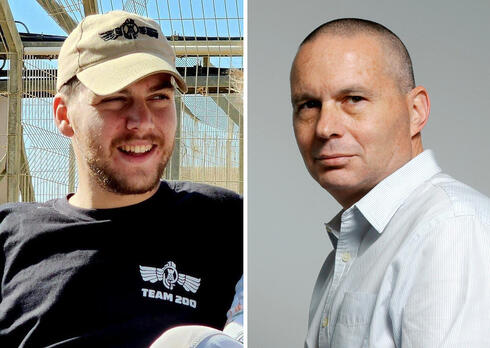 ISRAEL AT WAR

"For every fallen soldier, for every murdered civilian, let's put together a new innovative startup," says entrepreneur Izhar Shay, whose son was killed by Hamas
"Let's put together a moral response to this evil attack on humanity by putting the foundations for thousands of new innovative businesses that will make this world better in so many ways," said Shay
Izhar Shay, the former Minister of Science and a prominent high-tech entrepreneur and investor, who tragically lost his son Yaron on the morning of October 7, says that Israeli high-tech's response to Hamas' attacks should be to establish a new startup for every fallen soldier and murdered civilian.
Yaron Shay was stationed near the Israel-Gaza border with his special combat unit and was killed following fierce exchanges of heavy fire with Hamas terrorists.
"Israeli high-tech should take on a mission that for every innocent life lost, for every fallen soldier, for every missing citizen, and for every abducted person; we should establish a startup company," Shay told Calcalist. "This is a task that can be initiated and executed rapidly. The State of Israel can contribute, but we can manage without it as well. This isn't merely a contribution; it's a sound investment. Investors will play their part. The response to this destruction will be the creation of startup companies that will generate hundreds of thousands of jobs, contributing to the workforce and the overall economy.
"This is not only about the State of Israel but the free world as a whole," added Shay. "All the investors I'm in touch with believe in the fundamental values of human dignity and freedom, the right to live, work, and enjoy life. This is an attack that began in Israel but will reverberate worldwide. On the military front, the IDF wil destroy them, but investors seeking to create a better world need to invest now. We will develop solutions for agriculture, diseases, life-saving devices for children, technological solutions for the elderly, and more. This is the best way to counteract extremists.
"I make myself available for this initiative, and it needs to start from the grassroots. There are numerous investors who share in our grief and want to help immediately, and I urge everyone to invest in Israel. If necessary, I will facilitate those connections. I have no doubt that there is boundless motivation, and it's not just about donations; it's about establishing businesses and making investments."
Yaron Oree Shay was 21-years-old when he was killed in action on Saturday, October 7th. Yaron's special combat unit was tasked with the mission to keep the peace in the region and let the civilians on both sides of the border go about their lives. When attacked, Yaron's unit immediately engaged in fierce exchanges of heavy fire all across their section of the border. Their valor and courage were recently compared by former PM Naftali Bennett to some of the most famous military fights in the history of Israel. Yaron was killed while protecting civilians, fighting hundreds of Hamas terrorists, not letting them reach the civilians and female soldiers who were under his unit's watch. "The price this special unit paid was very painful, and we are still praying for some critically wounded soldiers, but the mission was accomplished – Kibbutz Kerem Shalom was not conquered by the enemy, they suffered minimal casualties, and all the female soldiers were saved without any physical injury," Shay said.
"Over the next 12 months, for every fallen soldier, for every murdered civilian, let's put together a new innovative startup which will build a product or service that will serve thousands of companies and/or millions of people around the world.
"When we have the final count of the fallen soldiers and civilians in the worst terror attack ever, let's commit to found a new startup company for each of the heroes who gave his life to protect our country, for each baby who was murdered in ways which I will not dare to mention here, for each family member who was tortured and executed in front of their loved ones.
"Let's put together a moral response to this evil attack on humanity by putting the foundations for thousands of new innovative businesses that will make this world better in so many ways.
"I am not asking for donations, I am encouraging investments. As the father of a fallen soldier, my Noni, who is going to be my personal hero forever, I swear to you: I will create new startups, I will help grow new innovative ventures, founded by the so many talented entrepreneurs who are currently engaged with endless creative activities to protect our homeland Israel. When this war is over, in a few weeks all these talented people will be ready to go, and we should be there to embrace their talent and support them in creating the next level of Israeli innovation.
"If you want to join me in building a better world for our next generations, not only in Israel but worldwide, then let's fight evil together. First, we let the IDF get rid of those brutal fundamental blood seeking murderers. And then we all join forces and put together the infrastructure for a better world."