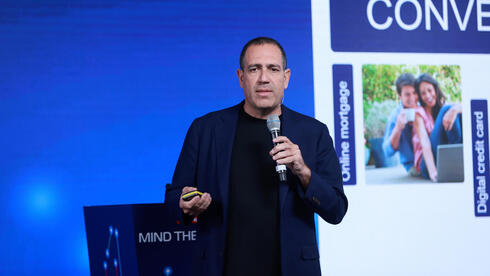 Mind The Tech London 2022

"Convenience is the most important thing to banking customers," says Bank Leumi Deputy CEO
"More than 50% of our customers prefer to conduct their banking in the most convenient way possible," says Bank Leumi Deputy CEO, Head of Retail Division, Shmulik Arbel, who also heads the Pepper app
"The competition between large banks in Israel over the past few years has mainly been over who offers the most advanced services," said Shmulik Arbel, Deputy CEO of Bank Leumi, and Head of the Retail Division, who is alsos head of the Pepper app during Calcalist's Mind The Tech London 2022 conference on Wednesday. During a joint panel with Bank Leumi and LabTech, he discussed what banking customers are looking for the most. "They're mainly looking for convenience, not just innovation. We believe that customers are looking for professional-level convenience in banking.
"Over a year ago I started working as the Head of Retail at Bank Leumi, and tried to better understand what our customers were looking for. We provide services for private consumers and also small and medium-sized businesses (SME). Recently, we asked our customers what was most important to them. Should we be more professional? Give in-person services? We realized that what our customers want most is convenience.
"Convenience isn't only digital or over-the-phone services. It's the ability to choose the simplest and fastest way to solve an issue. I thought fintech was the solution, but it's only the beginning. More than 50% of our customers consider convenience the most important factor.
"There's a difference between what was convenient a year ago, what people prefer today, and what that will translate to in the future. If we were accustomed to receiving packages at our front doors, Walmart now brings products straight to your refrigerator. In-person meetings at banks have gone down to 8%, and will decline further because people prefer to do what's most convenient. We launched several 'convenient' technologies that aren't even the most advanced ones out there. We launched a digital mortgage solution, which can be conducted over Zoom and saw how successful it has been.
"A few months ago, we launched a new cardless credit card, and the only thing consumers need is the actual number, not the flimsy pieces of plastic you get in the mail. Today, more than 70% of loans are conducted automatically. People can open up our website and request a loan, and almost immediately gain approval. And of course, there's Pepper, our special app for investing on the Nasdaq that allows consumers to acquire parts of stocks.
"You need $3,000 to buy an Amazon stock, but you can buy a part in the stock for NIS 100 ($31). We want customers to be able to remotely conduct bank operations - which don't demand they be physically at their bank branch. I believe that in the future banking will be done entirely remotely."