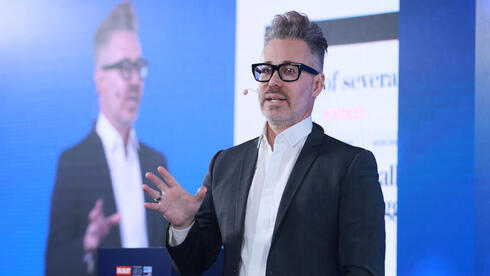 Mind the Tech London 2022

Guy Caspi: "The solution to cyber attacks is AI"
The founder and CEO of Deep Instinct described the Wipers at Calcalist's Mind the Tech London conference as ballistic cyber missiles, stressing the need for new defense technologies: "Human ability to respond today is limited"
"The sophistication of cyberattacks has grown rapidly, and with it the risk to users, companies and countries," said Guy Caspi, founder and CEO of Deep Instinct, speaking at Calcalist's Mind The Tech London conference, of which his company is one of the sponsors.
"Each of you has probably been hacked, whether directly or through your employer or the service you use," Caspi warned. "The known threats are easy to stop, but their mutations create a huge challenge to the ability to respond in time, and produce more complex and dangerous attacks. It is a huge challenge to help companies and countries prevent cyber attacks. The challenge is getting greater, because artificial intelligence is used not only by the good guys, but also by the bad - to attack in unique and dangerous ways.
"Why are we in this situation? There are so many smart leaders and cyber experts, and there are still far too many attacks. This is because we rely on people as a line of defense. Most companies have hundreds of employees who perform manual analytics of threats and analyze files and threats, but it is an irresponsible task when there are half a million new attacks every day. We need new technology, because the human ability to respond is very limited today."
The solution, according to Caspi, is in the world of artificial intelligence. "When I was in school, the teachers complained to my parents that I never went to class," he said. "They were right. I spent most of my time building AI, and since then it's been my passion in life. For the past six years I have taken that passion and turned it into cyber. At Deep Instinct we use artificial intelligence and deep learning tools to provide greater accuracy and faster detection of cyber attacks. We operate in a new category in the field of cyber defense, which focuses on attack prevention. The company currently has more than 3,000 customers and 400 employees, and we scan more than a billion files a day."
Caspi also explained how Russia's invasion of Ukraine and the ongoing war are changing the cyber realm. "The first week of the war was unprecedented," he said. "First of all, the use of Wipers. It's like a ballistic cyber missile, designed to aggressively destroy a computer system. In the first week, the Wipers shut down banks in Russia and vital infrastructure like power grids in Ukraine. At the same time we saw a lot of outsourcing of cyber activity. People and groups of hackers from all over the world are helping Ukraine in its cyber war against Russia. This is something that will escalate in terms of sophistication, and is already flowing to other countries in Europe."
First published: 14:38, 23.03.22