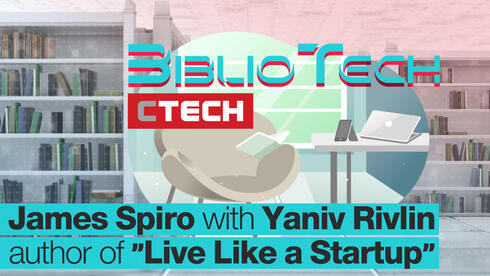 BiblioTech

"We all need to live our personal lives like a startup"
Yaniv Rivlin, author of "Live Like a Startup: Take The Initiative and Transform Your Life", joined CTech to discuss the English release of his Hebrew bestselling book
"It is totally chaotic, but our life is chaotic. One of the things that I talk about throughout the book is getting into that state of fear," explained Yaniv Rivlin, author of 'Live Like a Startup: Take The Initiative and Transform Your Life'. "When you start a startup, you take a risk. You go into that state of fear."
Yaniv is the Founding General Manager of Bird in Israel, where he also ran the EMEA Government Partnerships department. Before that, he co-founded and served as the Executive Vice President of Comtribute, a company that provided organizations with an online platform to raise funds and engage with consumers.
This month saw the English release of his latest book, "Live Like a Startup: Take The Initiative and Transform Your Life". The title, originally published in Hebrew, was a #1 bestselling book in Israel and is available now for readers looking for invaluable insights on creating genuine, lasting success in business and in life.
"If you look at the cover of the book, it is a rollercoaster, because our life is a rollercoaster like a startup," he continued. "Only when you get into that state of fear is where you actually learn and grow as a person. It is inherently that point of fear and if we look at that in our life as a startup, it is actually good to get into that state of fear. It is good for us to take risks."
Why was now the time to write the book and why was now the time for the English translation?
"The book came out in Hebrew a bit over a year ago. A little over two years ago I was starting to think about what was next and where to go. I went to a work therapist and we were talking - she told me I had an interesting story, my life story is interesting and it could inspire many people around the world.
"I explained I didn't know how to write since I was dysgraphic and have ADHD - I can't write a book! She told me about ghostwriters and that's when I started the process to write the book and write my story. It has been an incredible journey.
"I felt it was the right time for me after getting a lot of multidisciplinary experience around different sectors: from the military to the non-profit sector, to the public sector, to business which was my last five years starting the shared e-scooter business in Israel and taking it to number one market in the world. I understood there was a lot of value in my story that hopefully can help people. That's why I decided to write this book and call it 'Live Like a Startup' - because I think in the end, we all need to live our personal lives like a startup."
For the folks who aren't so familiar with Israel being a Startup Nation or startups generally: They're a crazy and chaotic time. For me when I saw the title I thought, 'Gosh, that's crazy! It's going to be stressful, it's going to be exciting, all of these things.' What does that mean when you say to live like a startup?
"It is totally chaotic, but our life is chaotic. Our life is chaotic and one of the things that I talk about throughout the book is getting into that state of fear. When you start a startup you take a risk. You go into that state of fear.
"If you look at the cover of the book, it is a rollercoaster, because our life is a rollercoaster like a startup. It is inherently that point of fear and if we look at that in our life as a startup, it is actually good to get into that state of fear. It is good for us to take risks.
"I chose the metaphor of an amusement park because I have never hopped on a ride where I was disappointed after doing it. But if I didn't hop on rides, I was disappointed I didn't hop on, because from every ride I learned something. Like every startup: You learn something new, and you grow. When I look at my journey and the new world today, it is great to hop on those rides and great to create many different startups. Get out of your comfort zone like you do in a startup. Use a dose of Chutzpah. It's something Israel taught me a lot of.
"There is a reason we became Startup Nation. We became a Startup Nation out of that necessity of taking that initiative, taking those stances, because of the environment we live in. If we treat our life and live like a startup we will get to places like Dr. Seuss says: 'Oh, the places you will go!' It's the same thing."
I want to touch on the healthy dose of Chutzpah you mentioned earlier. What does it mean for those who may not be familiar with Chutzpah or what it means to have it?
"Chutzpah to me means there is always a way. Once you understand that mentality, a little bit of Chutzpah is taking that step and getting out of your comfort zone. Everything I mentioned in the book is things I failed at in my first attempt. Most people, when they fail, they don't try again. Most of the things I got, I got the second time.
"One of the things was a program at McGill University - I failed the first time but got in the second time. I got there and met a person who told me to apply to Harvard. I applied, and as a kid who grew up in a small town north of Israel, I never thought about Harvard as a potential place. But I didn't come from money and I didn't have money when I got in. I had to get a scholarship so I found the E. David Fischman Scholarship Fund from St. Paul in Minnesota. Each year, one Israeli gets a scholarship at an Ivy League school for Political Science, Economics, and Law.
"I applied, got to the final, and they called me back and said me and 23 others were in the final stages so I should get on Webex. I said I could get on a Webex but I asked if I could go to meet them in Minnesota in December. I paid $480 and hopped on a flight from Montreal to Minnesota. I stayed in a motel and arrived for the interview - and got the full scholarship to Harvard!
"The Chutzpah of asking if I could come to Minnesota, not just see them on Webex and do what everyone does, that's the Chutzpah that I believe got me the scholarship which was the only way I could study at Harvard.
"I think that is the essence of not taking things for granted or as how someone tells you things should be. Of course, we would go the extra mile in our work, but why in life do we not live like that startup or business? That's the Chutzpah we need to have in our everyday life."
The book also includes excerpts from other people who either administered Chutzpah or who have experienced failures. Some of those people include Nuseir Yassin (Nas Daily), former Israeli MK Stav Shaffir, and Olympic gymnast Neta Rivkin, among others. Can you talk me through some of these people and some of the things they shared with you?
"That has been one of the things I was most grateful for. I thought when I was writing a book that it would be interesting for the readers to add other people with tips. I thought about who would fit in every chapter that I talk about the journeys. Nuseir Yassin is a great example, he is a friend from Harvard, and he was an undergrad when I did graduate school.
"Nas' heading to his chapter is remarkable. It's the idea that we're more than just numbers. Nas grew up in a small Arab village in the north of Israel and didn't have the grades because if you grow up in the periphery like us, you don't have those opportunities. I failed the Israeli SAT, I am an English speaker and I failed the English exam here. But as Nas writes, I believe too that we are more than the numbers we have. We are very holistic and each one of us has a portfolio of what they ring and what they gain throughout life. I think Nas' example is remarkable."
All those examples are in tech, politics, sports - all areas where people can really excel in any aspect of their lives or any form of professional areas. What can business leaders, entrepreneurs, or the founders of the startups, learn from a book like this?
"One of the big things is not to be afraid to fail. Not being afraid to fail is a key takeaway that I feel once you fail a few times, it is inherent in the way you operate which is a big thing. I also think that when someone starts something, whether it's tech or something else, one of the most important things is to understand first and foremost what they are good at. Identifying their superpower and understanding that there is no one power - it is a leadership team. When you understand what you're best at, you understand the first hire, which is always the key hire, and who you need to bring into your team in order to create the best startup ever.
"It is a position, a person, and a combination of both of those. If you are good at being a CEO, but you may not be a good communicator, you will bring that chief communication officer that will enable you to succeed. If I look at BIRD, which I started here and became the #1 market in the world, I wasn't an operations guy. So for the first hire, I understood my strength was bringing an operations person and being able to delegate in a way that is the most useful for me. A lot of people sometimes tend to take someone who is more like them, when actually you need to bring the person who will complete you.
"Also understanding and being humble, and understanding that you don't know everything and that you can't do everything. One of my core values in life is outsourcing, I believe outsourcing is one of the most important things. I wouldn't be talking to you now if it wasn't for outsourcing. My ghostwriter is the only way the book came out. I was humble enough to understand that I didn't know how to write. I need to bring that added value in order to get to that place, and I think for a leader and someone who starts something, understanding what to bring is the key to success."
So it's not about identifying your strengths but identifying your weaknesses and asking where you are lacking and how you can fill those gaps.
"The strength of the book is that it talks to people going into university and also CEOs of leading companies. They read it and say they've taken something. It's a book that really talks to everyone at certain points in life. But the lessons are the same for us in the beginning, throughout, and after."