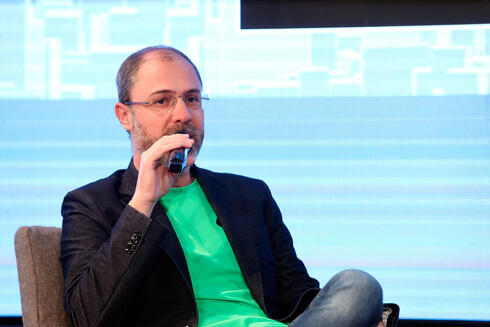 Tech TLV 2022

eToro co-founder: "We are seeing investors move from crypto to bonds and shares"
"Taking the latest collapses and making assumptions regarding the entire crypto industry is wrong," noted Ronen Assia, Co-founder of eToro and a Partner at investment fund Team8 Fintech
The collapse of cryptocurrency exchange FTX handed a painful blow to the digital asset sector, with founder Sam Bankman-Fried becoming a symbol of the problematic lack of regulation in the nascent asset class.
Despite the current low, Ronen Assia, Co-founder of trading platform eToro and a Partner at investment fund Team8 Fintech, believes crypto is here to stay.
"This is an industry with hundreds of millions of users who are dreaming of an open financial infrastructure," Assia told Calcalist's Sophie Shulman at the Tech TLV conference. "Taking the latest collapses and making assumptions regarding the entire industry is wrong. You need to look at the revolution that this sector is trying to lead. The collapse of Enron or Bernie Madoff didn't result in their entire industries falling apart. Therefore, I don't think that some of the bad decisions that have been made are going to be the end of the crypto sector either."
"In some cases it is indeed fraud, but in others it is a lack of regulation. We celebrated Bitcoin's Bar Mitzvah (13th birthday) this year. Even though this is the age in which a boy becomes a man, parental supervision is still required. I feel the same about crypto."
How much has this crisis hurt eToro?
"We aren't a single asset investment platform. We have many different investment options. Our responsibility as a company is to provide users with educational tools. Due to the pandemic many new investors entered into trading and it is part of our role to explain to them how this works. We are also seeing investors moving from crypto into bonds and shares."
eToro announced in July that it mutually agreed with the Betsy Cohen-backed blank-check company FinTech Acquisition Corp to terminate their SPAC merger deal more than a year after it was announced. The companies announced back in March of 2021 that they had agreed to merge at a company valuation of $10.3 billion. However, the deal was bogged down by a protracted prospectus and regulatory process, and worsening market conditions. Nevertheless, Assia said eToro still has plans to go public once the market improves.
"We still see ourselves as a public company," he said, noting that the company can buy time as it is profitable. "The processes we integrated as part of this have remained. You can't time the market. You just have to wait for better market conditions."