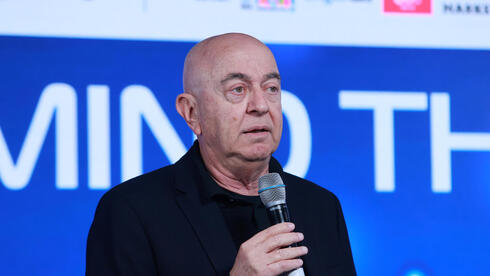 Mind the Tech London 2022

Tech community needs to help Ukraine in fight against Russia, says Calcalist Publisher
"The tech community in the West can and should act. Tech leaders don't have fighter jets or artillery, but we have technology that may help Ukraine fight against the aggressors," said Yoel Esteron in his opening remarks at Calcalist's Mind the Tech London Conference on Wednesday
Calcalist Publisher Yoel Esteron turned the focus to Ukraine in his opening remarks at Calcalist's Mind the Tech London Conference on Wednesday.
"We are all here in London, safe and sound, while Putin's war machine commits crimes against humanity in Ukraine. It's heartbreaking to see millions become refugees. It's devastating to realize democratic life is so fragile in the 21st century.
"The decision of the NATO alliance to avoid a third world war is perhaps understood. Still, as an Israeli and son of Holocaust survivors, it is very hard and sad to see the world watching this slaughter campaign and doing almost nothing. For sure not enough," Esteron noted.
"I know this is not a cheerful way to open a conference, but we need to speak out on every platform, on every stage. We should do more to stop this horrible war. We need to press our governments to do more, but we cannot leave it in the hands of politicians. The tech community in the West can and should act. Tech leaders don't have fighter jets or artillery, but we have technology that may help Ukraine fight against the aggressors. We should use it the best we can.
"Elon Musk set a good example when he delivered batches of Starlink terminals to enable internet service after Russia's invasion caused communication outages. It's time to act, even if it's in a small way," Esteron concluded.