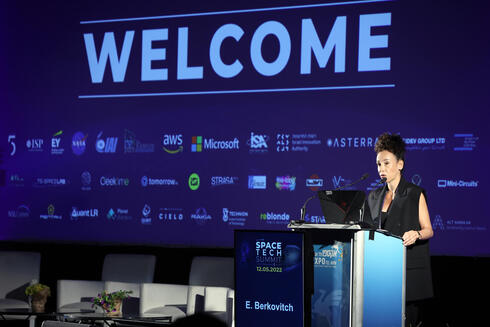 "Space tech is on the launchpad of exponential growth"
"We want to create a sustainable space economy for both life on Earth and beyond," said TYPE5 co-founder Einat Berkovitch during SpaceTech Summit
ISP-TYPE5, a private Israeli aerospace investment fund, hosted its first SpaceTech Summit at the Tel Aviv Expo Center last Thursday, gathering industry professionals, startups, and investment bodies centered on one topic: space. And the space tech industry in Israel is growing, as signified by the recent government signing of an agreement that would see the State of Israel invest NIS 600 million ($176 million) in space tech R&D over the next five years. Through the agreement, the Israel Space Agency and Innovation Authority aim to double the number of companies and employees in space tech, and launch the "Shalom" research satellite.
But aside from government-subsidized interest, the real goal is to get commercial companies on board. And the firm, which includes co-founders, Lior Herman, Yaron Sagi, Udi Danhirsh, and Einat Berkovitch, wants to do just that, and is Israel's first investment fund devoted exclusively to space technologies.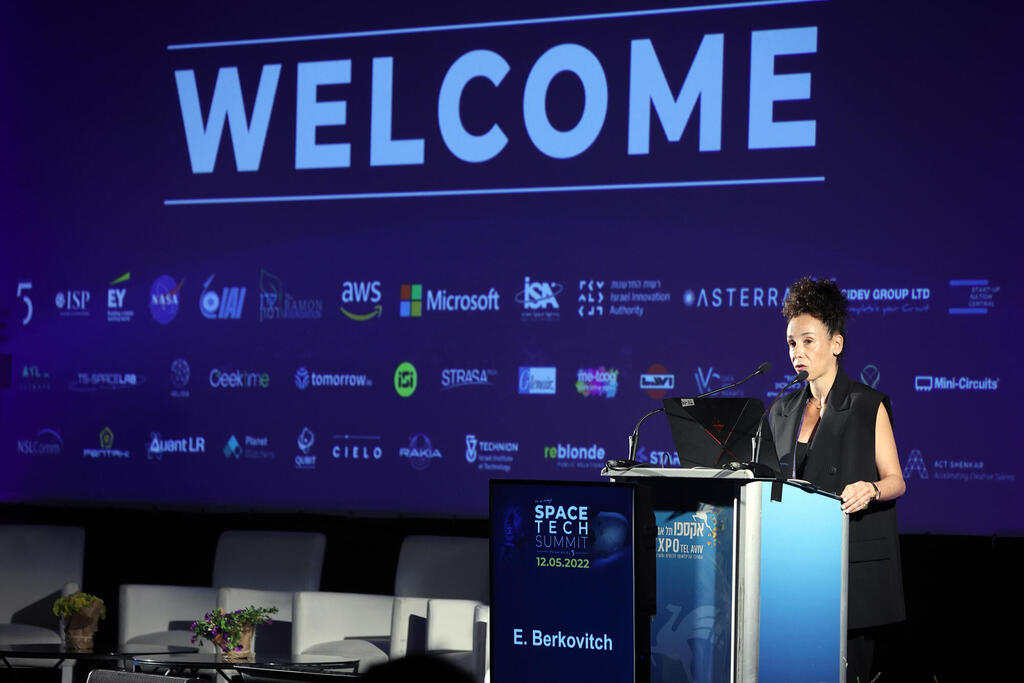 "Governments understand that they need companies to create some of these technologies. The space sector is on the launchpad of exponential growth. We're at the beginning of a very exciting era," noted Eyal Ben Ze'ev, moderator of the conference and space entrepreneur. "SpaceX is kind of like the Apple of space tech, they enabled the future and now we're going to see companies whose applications are on those NewSpace platforms," commented co-founder Sagi.
Commercial interest began with SpaceIL's Beresheet spacecraft. "It all started from an idea on a napkin to the formation of SpaceIL which built a small spacecraft, Beresheet. It was a $100 million project, which placed Israel as the seventh country to reach the Moon," said TYPE5's Berkovitch, noting the renewed technology boom over the past years.
"The growth of the space sector over the next few years is set to be phenomenal, and we want to create the ultimate vehicle to lead investments together with leading enterprises to help create a sustainable space economy for both life on Earth and beyond," she added. The conference featured multiple lectures from leading experts, and a SpaceTech Pitch Awards session, where three Israeli space tech startups gained recognition for their technological prowess. Those three included Earth observation startup Terra Space Lab, communications expert GorillaLink, and rocket infrastructure company Tehiru Technologies Ltd.
Testing out demo technologies in space will help Israeli companies gain easier entry into the global space market. Citing the recent Rakia mission, Inbal Kreiss, who oversaw the scientific research noted: "It helped create new frontiers for new Israeli startups and research institutes, and reduced barriers to enter the global space tech market." Although some of these technological needs, such as quantum computing, are not quite understood.
"Quantum computers could be used to solve climate change, and combat issues such as nitrogen fixation and carbon capture through machine learning," said Chief Scientist at Microsoft-Israel's R&D Center Tomer Simon. Microsoft, he said, is creating a quantum computer to "solve life's big issues: we want to design better batteries, design better catalysts for chemical reactions, and maybe even cure cancer." Other possibilities include devising secure communications during the Quantum era, and to that, Israeli startup QuantLR claims to have built a new degree of complex modern encryption, which cannot be copied by humans, explained Nitzan Livneh, CTO of QuantLR.
But the commercial sector can boom with government assistance, added Director-General of the Israel Space Agency (Res.) Gen. Uri Oron. "Space is no longer the sole domain of great powers or organizations or a place only for science and research. Space is now open for business. The Israel Space Agency's mission is to strengthen Israel's power in the international arena. We have over 30 years of experience building satellites. We are one of only eight countries, who can build, operate, and launch satellites," he said. While relations between private entities and the government aren't simple, Oron believes that the state needs to intervene and help build and support necessary infrastructure. Aharon Aharon, the former CEO of the Israel Innovation Authority noted how the organization plans to invest in more space tech startups. In Israel alone, in 2021, $30 billion in capital was raised by tech startups, and 79 unicorns generate 51% of national exports. Private investments in Germany and France combined are less than that in Israeli companies, he said.
Israel's expertise in space began with space intelligence for defense purposes. ISI, or ImageSat International, has over two decades of tested expertise in this field. It recently announced its initial public offering (IPO) on the Tel Aviv Stock Exchange at a NIS 950 million ($278 million) pre-money valuation. The most valuable product these satellites harbor is the data they provide, using sophisticated image processing, and the data can be manipulated by artificial intelligence and machine learning means, providing valuable insights in real-time.
To that effect, NASA has a special investment arm where it contracts companies to help develop some of the technologies it needs for future space missions. Eliad Peretz, Technology Program Manager and Lead Researcher for new space missions at NASA's Goddard Space Flight Center recalled the organization's Decadal Survey that shows which technologies NASA invests in, some hundreds of millions of dollars a year. "Investing in technology like that helps us build better telescopes and perhaps answer the famous question: are we alone in the Universe?"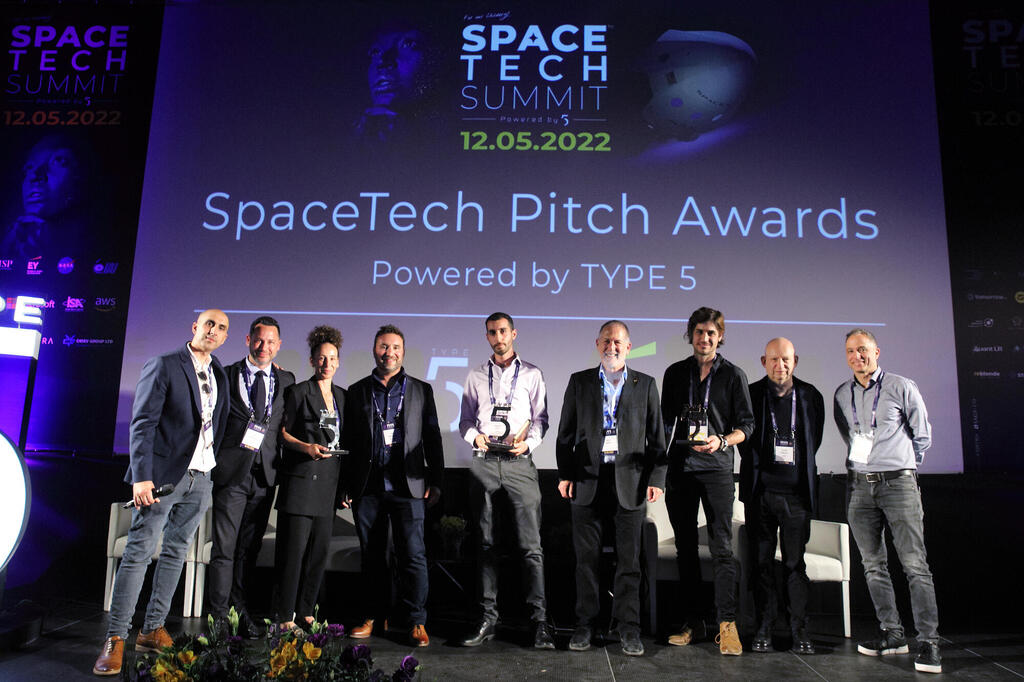 Some of these dual-use technologies have practical Earth-based applications. Ariella Charny, CMO of Albo Climate, spoke of how carbon sequestration isn't being scaled, and few financial solutions exist. The company helps people buy carbon credits, which is expected to grow to a $20 billion market by 2030. PlanetWatchers is helping insurers protect against crop damage by relying on remote sensing technologies based on satellites. Helios, another space tech startup, is generating a cleaner version of mining on the Moon, and perhaps, for Earth too.
Data obtained from Israeli space tech companies is also helping the world better decipher climate data, said Prof. Daniel Rosenfeld of TSL, a renowned climate scientist. "The climate is intimately linked to satellite measurements, and can measure radiation over thermal bodies, and help account for the Earth's energy budget. At TSL, we want to scale up this market with the use of remote sensing technology to measure the effects of the fire season on Earth." In addition, Israel, he noted, is a country deprived of water, but has in turn become a hotbed of agritech and smart water technologies.
Looking to the stars for answers
And more companies are now looking to the stars for answers. There are an abundance of constellations currently in lower-Earth orbit (LEO), noted NSLComm CEO Raz Itzhaki, whose pop-up dishes and antennas made it to the International Space Station. "NewSpace is the new private spaceflight industry. NASA is playing an interesting game by gambling on the private industry, and investing in young startups' technology." In previous years, government organizations were more conservative about space spending, but that has changed, and more companies and space agencies will enter the space sphere, he said.
The Israeli city of Yehud also wants to become Israel's first space tech center city, since it already houses many space companies. The municipality is offering subsidies to companies looking to relocate to the city.