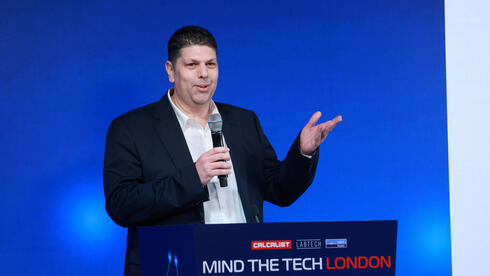 Mind The Tech London 2022

"Camden Market is at 84% from its pre-pandemic peak," says LabTech CEO
"We're breathing life into the ecosystem," said Eylon Garfunkel, CEO of real estate group LabTech, which is one of Israeli entrepreneur Teddy Sagi's portfolio companies
"Commerce at Camden Market has almost returned to its pre-pandemic levels," said LabTech CEO Eylon Garfunkel during Calcalist's Mind The Tech London 2022 conference on Wednesday. LabTech is a real estate company which is a sponsor of the conference, and one of Israeli entrepreneur Teddy Sagi's portfolio companies. LabTech owns and operates the popular British outdoor shopping venue Camden Market.
"Between 2017-2019, there was significant activity in Camden Market," Garfunkel said. "The pandemic changed everything, and we were forced to close the market completely for three months, and that followed a period of lockdowns and closures. In 2021, there was a market recovery, and now we are operating at 84% from our pre-pandemic peak."
Garfunkel spoke of the company's operating model. "LabTech is a real estate company that operates mainly in Camden, Holburn, and London.
"It operates an integral platform that includes real estate assets and an asset management system. We've breathed life into an ecosystem that combines work and entertainment for our customers. Camden Market is one of London's markets and a popular tourist destination. The market includes a joint lab workspace, Labs, where many public companies have offices, and short and long-term residential living. Camden Market was established in 1974, and the area has been part of London's culture scene since before the Victorian era, when it was full of pubs.
"Camden has three main centers. The classic market, where over 1,000 merchants generate £50 million in annual revenue. We provide full services that include marketing, maintenance, security, and additional services. The second venue, Howly Wharf, generates £20 million in annual revenue. It already has 70 merchants and another 40 will soon join, and the area also includes two Michelin star-rated restaurants. Soon, we will be opening an amusement park too. The third venue, Buck Street, is a unique ecologically-friendly market that was built using reusable materials. It already has 50 merchants."