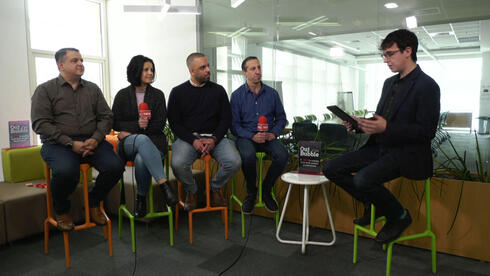 Out of the Bubble

"The strength and the beauty of Nazareth is that we can be diverse"
"This diversity leads to innovation," said Johny Abdallah, VP of Software Engineering at Amdocs at CTech's Out of the Bubble
"We believe that diversity leads to innovation and I personally believe that the strength and the beauty of Nazareth is that we can be diverse. This diversity leads to innovation. To have people from different backgrounds, different regions thinking and approaching a problem in a different way, that's what makes things by default out of the box and out of the bubble."
These remarks about Nazareth and its benefits were made by Johny Abdallah, VP of Software Engineering at Amdocs' R&D Center. As part of CTech's Out of the Bubble series, he was joined by Rabea Zioud, Co-Founder and CEO at Hasoub, Amal Ayoub, CEO at Slate Therapeutics, and Hans Shakur, Entrepreneur, Executive Director, and Business Development Catalyst at Tsofen to discuss the region and some of its unique benefits.
I'd like to talk about Nazareth today and why we are here. What makes it so beneficial and special?
"I would say that Nazareth is a very central city in the north area, I think that it is attractive and where things are happening," Abdallah said in his opening remarks. "Not just Nazareth being in the north of the country, I think that it is a place where we are close to the universities and most of all, our engineers are coming from there. It is an opportunity to go 'out of the bubble' and look for engineers away from the center of the country. So being in the location where we have more junior engineers joining the market, it's an opportunity to be here where we anticipate the future will be coming from."
Shakur has been involved for many years in bringing high tech to Nazareth, together with non-profit Tsofen and other partners. "Nazareth is changing its face entirely thanks to high tech," he said. "It has the right pool of talent of academics, who have the right academic degrees required by high tech. At the same time, it is a huge metropolis for the north and it is a unique city historically, culturally, and now also when it comes to innovation and high-tech, it is becoming a center."
Today, Nazareth has more than 1,000 engineers, most of whom are from the Arab community. "Together we are building a unique model that we can replicate to other places in Israel," he continued. "A model of Arabs and Jews working together, Arabs and Jews contributing to the high tech and selling the need of the high tech at the same time contributing to the economy… High-tech for many years was a closed garden mainly around Tel Aviv and Herzliya and its fruits weren't equally shared with all societies. High-tech should be for all and everyone should take part, anyone capable, should take part in making high-tech and making innovation. This is what we are building here in Nazareth."
Amdocs may have been the first international company to open its branch there, but today it has many companies, startups, entrepreneurs, employees, and the region is thriving more than ever before.
"I think what is unique is that first, Nazareth is the biggest Arab city so it is a major city in the Arab society and one of the benefits in the Arab site is the infrastructure," added Zioud, Co-Founder and CEO at Hasoub, a grassroots NGO helping build up an ecosystem of Arab tech entrepreneurs. "You cannot find such a facility like where we are sitting right now, where Amdocs and other companies are located in other Arab cities. The infrastructure is a very important part of it, that you have these buildings, hotels, and a lot of facilities that support the high-tech ecosystem. The pool of talent and that Nazareth is a metropolitan area of other Arab cities, is also contributing to the uniqueness of Nazareth. More and more people should be coming and working from here. Covid-19 proved that people want to work close to home, they don't want to travel two hours a day or three hours a day. Having this option to work close to home and to create this kind of ecosystem just in the neighborhood is very important."
"I agree with all that was said here," added Ayoub, CEO at Slate Therapeutics, a biotech company supported by NGT (New Generation Technology) and the IIA (Israel Innovation Authority). "For me as an entrepreneur, I think NGT the incubator that supports my company has actually made the correct decision to be in Nazareth since the incubator actually encourages and wants Arab entrepreneurs and Arab leaders, project leaders, to work together with the Jewish community and to be part of the startup scene. Nazareth is the best location for this providing the infrastructure and is very close to Technion, to universities, and there is a great community here with great talent that can be used for proving new ideas and innovation and companies."
We heard how Amdocs was the first international company to come to Nazareth and since then more have joined. How can we get more international companies and talent here, how can we bring people into this community?
Shakur: "Back in 2008, there were many Arab academics, thousands, who weren't accepted by the industry, they were excluded by the industry, though they had the right academic degrees. Today the situation is the opposite. Today the industry needs talent, and the industry should understand that in order to bring more talent, they need to get closer to the talent. So it means being closer to Nazareth and other cities. This is what brought Microsoft to Nazareth. It started as a touchdown office to be closed as they move to recruit more talented people from all around the area. Later more companies joined Microsoft, this is what brought Personetics, this is what brought Datarama, to establish its site here and many other companies. Today they understand more and more that there are many talented populations outside Tel Aviv. The shortage that the industry is suffering is affecting everything. Even now, when there is an escalation in Ukraine, many companies are reaching out to us asking for talented engineers from the Arab society because they are not able to communicate with their engineers in Ukraine. On the other hand, we are investing a lot in first bringing the raising of awareness to high tech among the young generations, working with high schoolers, working with students to expose them to high tech but also to expose them to the industry and what matters."
Today Nazareth has more than 7,000 Arab students studying high-tech domains at academic institutions. "We can double it and this is part of the efforts we have invested together with Tsofen and the national council for the Arab mayors, and many others in crystalizing a 5-year plan which was accepted by the government," Shakur continued. "It is part of the economic development plan, the resolution for the Arab society in Israel to allocate budgets to develop high tech and advance it in the Arab society, focusing on three major areas: infrastructure, digital, physical, and human talent, which is the main catalyst here, and also working with employers to open doors for more engineers."
According to him, the main issue today in Israel is with unicorns. "We have many unicorns here in Israel and most of them are employing thousands of engineers yet when it comes to multinational companies or big ones like Amdocs and Microsoft, the doors are open, they know what diversity means and they are applying policies to integrate Arabs and populations into the workforce. So this is a holistic effort for all of us."
Amal Ayoub argues that a governmental program should be established to encourage big high tech companies, big biotechs, or pharma companies to come and establish facilities in the north to bring opportunities for academic Arab young people and to keep them in the region. "I think it's beneficial for both sides, for the companies to get the talent and for the young Arab students or academic Arabs to have opportunities similar to what we see in the center of the country. I think there should be a national program to bring those companies and those entities to the North," she said.
"There are multiple pillars on how we can grow it more," said Abdallah. "First, it starts from the government - because we agree the prerequisites are here. We have the talents, we have the abilities, we have everything here. Now, we need the right push in order to make things start. I believe that the government has a key role in giving incentives to big global companies to start here, to promote the entrepreneurs to start their dreams and for education. Eventually, we need to start early, we need to invest more in our schools and children in order to be the future."
Abdallah concedes that the region didn't fully utilize the juniors or graduates in the area. "Most of the startups, or the companies in the center, are looking for new talent," he continued. "That is why we have the talent war - everyone is looking for the same experienced engineer. In the north and Nazareth… we don't have the numbers of Tel Aviv, but we have the numbers of the juniors. For the juniors, not everyone would like to give them the opportunity, but global companies like us as Amdocs and Microsoft and whoever, if the government will give them the incentives to start here, they have all the infrastructure to train, to boot camp, to bring all those people and use them to scale. I think that this is the real opportunity to scale and be 10 times the size, not just to add 10-12 people because it is a very powerful tool. Small companies don't have the ability to invest much in juniors, but as a global company, I think it is our key role to do that."
Amdocs is working with Tsofen to approach the government in a framed and structural way. "We want to help introduce success," Abdallah concluded. "Success is addictive - when they see that one company has succeeded, that Microsoft is here. It is not enough just to be successful, people need to know that we are successful. Then everyone will need to be part of this story."
Zioud: "We had a conference a few hundred meters from here in the golden crown that brought 700 participants, 40 speakers, and 17 companies here to Nazareth that came and hired people. So it's about to talk the talk and walk the walk. Microsoft came and opened a small office and is now expanding. Amazon here is hiring a lot of people. We are being approached by a lot of companies and I think what happened with Covid helped a bit because before that you didn't have the option of having not traveling to their main office every day. Today it is acceptable to work three or four days from home, or to establish a touchdown office or a small office first in Nazareth and to see how it goes. I think it is an opportunity now with the incentives that Johny, Hans, and Amal mentioned regarding how the government can push it and give the incentive. The whole thing that today you should invest in the juniors."
In a search for young talent, Zioud highlighted what has been done by companies like Monday.com. "[They] saw that they need talent, so they created something called Monday university. They need talent in sales, customer success, and HR so they created three courses in these domains. So they are training and exciting people. What's great is that even the people that weren't accepted to the work, they got the training so they can go somewhere else. I think the combination of bringing the companies here, giving some training to the people who are just starting, and hiring part of them will make a lot of change."
Today there are almost 10,000 Arabs working in the high-tech industry, mostly in R&D. Out of those, less than 1,500 are working in Nazareth. Even though Israel has 8,000 companies including startups, Nazareth has less than 40. "Most of the majority of the 10,000 Arabs are working in Haifa, Tel Aviv, and other places," explained Shakur. "There is no reason that we won't have 5,000 engineers in Nazareth and 100 companies. Now we have the model, we have shown a POC, we have built grassroots initiatives and programs bottom-up, now we need to top-down. Government should take responsibility, at least equal to what NGOs and high tech companies are taking here in Nazareth in order to make it happen and to take it to other cities… There is a huge responsibility for the government, for the local councils, to work with the government. Because they are budgeted entities, in order to make it happen we need to have industrial and employment zones, and excellence centers. Dealing with all the funnel from high schools to students to graduates to executives and also to entrepreneurs can build their companies and open their R&D centers in Nazareth. This is doable."
Does anyone have any closing remarks?
Ayoub closed her remarks by highlighting how it is not just important to try to bring big companies to the region, but also to grow small companies. "It is very important to bring investors to evaluate the opportunities that we have in the north," she said. "NGT as an incubator invests in small entities in small programs, in small companies, it's a great place that investors should come to and evaluate the opportunities, see if there are projects that can be invested in. I think it is very important to encourage investors also to invest in those small companies growing in the north and bringing more job opportunities to the young people here."
"A lot of efforts are being invested in regards to bringing more talent to the high tech and from high school to university - I think we need to invest in the infrastructure," said Zioud. "Without having the right infrastructure, you cannot convince companies to come and open, you cannot convince employees to go and work in a place with no infrastructure. There should be a lot of investment by the government, it is something they are neglecting: the infrastructure in Arab cities. They should invest more in facilities, roads, allocate the right budget, and close this gap. With the talent this is already in universities, more and more people are going towards this domain. With the fact that companies are more willing to come and open places out of Tel Aviv, I think this combination would help a lot to bring more companies and have more Arabs inside the tech and entrepreneurship space in Israel."
"I am a big believer in the future, I think the future is bright," Abdallah said in his final remarks on the panel. "I think in Nazareth being the capital city of the northern district, I think there are huge opportunities. It's important that people understand that to be in Nazareth is not just to be an Arab branch. We believe that diversity leads to innovation and I personally believe that the strength and the beauty of Nazareth is that we can be diverse. This diversity leads to innovation. To have people from different backgrounds, different regions, thinking and approaching a problem in a different way - that's what makes things by default out of the box and out of the bubble. There is no template or pattern to work and have the same solution. It's like a cycle. Once we start and there is a success, people will realize that diversity is not just a social responsibility, but it is a business case as well. Eventually, the most beautiful solution will bring a win-win. When social responsibility meets business - I think this is where the magic happens and the future will be brighter."