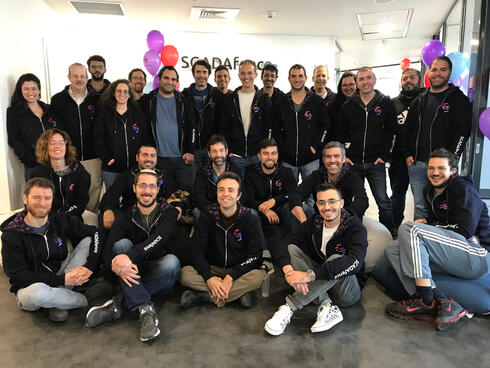 Honeywell acquires cybersecurity startup SCADAfence for tens of millions of dollars
The Israeli company, which provides operational technology (OT) and Internet of Things (IoT) cybersecurity solutions for monitoring large-scale networks, has raised around $40 million to date
Israeli OT and IoT cybersecurity company SCADAfence has been acquired by U.S. giant Honeywell, the companies announced on Monday. The terms of the deal were not disclosed, but it is estimated that Honeywell paid tens of millions of dollars for the Israeli startup.
SCADAfence, which provides operational technology (OT) and Internet of Things (IoT) cybersecurity solutions for monitoring large-scale networks, closed an additional $16 million funding round this March with an investment from Fujitsu (through a fund managed by its subsidiary Fujitsu Ventures Limited), Mitsubishi Electric, and Prosegur corporations. The Israeli company's existing investors include its first and largest investor Jerusalem Venture Partners (JVP), Global Brain, HCS Capital, and Rapid7.
The SCADAfence platform enables organizations with complex OT networks to integrate industrial IoT by reducing cyber risks and mitigating operational threats. The company, which was founded in 2015 and employs 60 people in Israel, the U.S., and Japan, has raised a total of $40 million to date. SCADAfence will become part of Honeywell's Cybersecurity Center of Excellence in Tel Aviv.
The SCADAfence product portfolio will integrate into the Honeywell Forge Cybersecurity+ suite within Honeywell Connected Enterprise, Honeywell's software arm with strategic focus on digitalization, sustainability and OT cybersecurity SaaS offerings and solutions.
Honeywell, headquartered in Charlotte, North Carolina, employed 97,000 as of the end of 2022 and currently has a market cap of $137 billion.
"We are thrilled to join Honeywell as we work towards fulfilling our mission of empowering industrial organizations to operate securely, reliably and efficiently. This combination creates significant opportunity for growth, allowing us to combine our top-tier OT cybersecurity products with one of the world's leading companies in industrial software," said Elad Ben Meir, CEO of SCADAfence. "With this acquisition, we are poised to deliver some of the most advanced OT security technology to Honeywell's broad customer base, bolstering the comprehensive Honeywell Forge Cybersecurity+ offering. We remain committed to proactively serving and supporting our customers across all verticals and geographies where we currently operate."
Kevin Dehoff, president and chief executive officer at Honeywell Connected Enterprise, said: "It is essential to protect and maintain the integrity of operational systems like process control equipment in manufacturing facilities. A simple breach in the OT environment has the potential to create safety and business continuity risk for organizations of all sizes. OT assets are inherently different than those in the IT environment as they are domain specific. Honeywell has been delivering and installing these systems for decades, which is why we launched our cybersecurity business more than twenty years ago. Adding SCADAfence's product portfolio will strengthen our capabilities and help our customers defend themselves against cyber security risks which are progressively increasing."